Nurse Jackie ended in 2015 after 7 seasons. This half-hour show on Showtime was widely considered on of the best shows on television, and for good reason. At a half hour, it may have been considered a comedy. In my mind, it was a serious drama with a bit of comedy included.
Because I don't have Showtime, I never watched Nurse Jackie until I noticed all 7 seasons were available on Netflix. It took a while, but I've now seen every episode. Let's talk about 6 reasons why it was so good. Mild spoilers ahead.
1. Edie Falco as Nurse Jackie
Let's start right off with Nurse Jackie herself, played by Edie Falco – played brilliantly by Edie Falco. As everyone probably knows, even if they haven't seen Nurse Jackie, the main character is a pill-popping addict.
Falco does addict perfectly. She lies with a straight face. She does anything – anything – to keep the pills coming. Falco keeps it real as Jackie mangles her family, her friends, her coworkers. But Jackie's a helluva good nurse. She saves lives on a regular basis. She's smarter than some of the doctors and she's really good at her job.
She's likable. Even when she's a despicable asshole, she's likable. She takes care of her patients. She cares. In spite of all her problems, Jackie never gets jaded where caring for patients is concerned. Her patients often call her a saint, she wears a medal of a saint around her neck in every episode. If she's a saint, she's a fallen one.
When Edie Falco took this part, she became one of the most complex, well-written, fucked-up women to ever cross your television screen. Falco was nominated for a number of awards and took home an Emmy for her work on this show.
2. Merritt Wever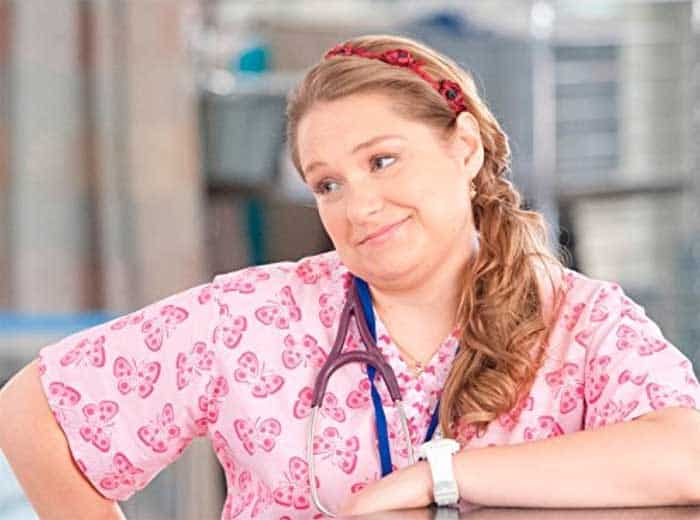 Merritt Wever stole many a scene as the soft hearted nurse Zoey Barkow. Zoey never lost her gooey heart, but she learned and grew more than any other character on the series, including Jackie. She started off playing a scared rabbit of a new nurse and grew into a strong, clear-headed woman who was capable and caring.
I particularly loved Zoey Barkow during the season she was in a relationship with the doctor played by Morris Chestnut. The way she handled him, taught him bedside manners, taught him how to do medicine in a New York City hospital instead of a tent in Afghanistan, and stood her ground with him was inspiring. We saw so much growth in her character that season.
Zoey was Jackie's friend, but in the end learned how to use tough love where Jackie was concerned, if for no other reason than her own self protection.
Merritt Wever also won an Emmy for her work on the series.
3. The All Saints Hospital Regulars
Some of the players were around for almost every episode. Among them  were Paul Schulze as Jackie's chief enabler, the pharmacist Eddie. Eddie gave Jackie anything she wanted. Stephen Wallem played the nurse Thor. Thor, a gay man, got to get married in the last season – thanks to The Supreme Court.
The always outstanding Anna Deavere Smith was the hospital administrator Gloria Akalitus. Gloria was a good name for her, because Anna Deavere Smith is glorious. Peter Facinelli was brilliantly goofy and insecure as Dr. Fitch Cooper.
These core characters circled around Jackie in many ways. They needed her, they were nervous about her limited periods of sobriety, they often believed her lies, and they depended on her nursing skills to keep things going.
4. The Less Seen Players
Jackie's family was played by Dominic Fumusa as Kevin, the husband/ex-husband. Ruby Jerins was Kevin and Jackie's eldest daughter Grace. Grace grew up right before our eyes and became an angry, drug using teen herself. The Peyton's youngest daughter Fiona was played by Mackenzie Aladjem.
Some of the more interesting characters came and went. They stayed a season or two or three and went on their way. Among these players were doctors played by Eve Best, Betty Gilpin, Morris Chestnut, Bobby Cannavale, and Tony Shalhoub.
Many wonderful familiar faces came through the hospital for one or two episodes as patients. There were some funny, or crazy, or both, peripheral characters. There were plenty of LGBT folks landing in Jackie's hospital bays for one reason or another. There were illnesses and diseases of every kind with lovely guest stars acting their way through them. I'm not going to list them all, because there were so many, but I did notice and appreciate them.
5. The Writing
Listed as series creators for all 80 episodes are 2 women and one man: Liz Brixius, Evan Dunsky, and Linda Wallem. Many of the episodes were written by women, chiefly Liz Flahive and Ellen Fairey among others. To the writers credit, they didn't try to get into the addict's mind. Instead they showed her doing what addicts do and how that affected those around her. They didn't sugar-coat the ending, which I thought was a good thing. Jackie ended the run of 80 episodes as she was when it started – an addict.
The writing was intelligent, the dialog was crisp and to the point, the story arcs, both long and short, were interesting. The surprises and cliffhangers worked. Any show that can keep your interest for 80 episodes has to be well written.
6. The Humor
A show like Nurse Jackie requires dark, dry humor. It delivers. The problem at the center of the series is realistically portrayed. In that Oxy colored world, the humor couldn't be silly or zany. Much of the humor comes from character. For example, Dr. Cooper is often hilarious although he doesn't mean to be. Thor's quips were often funny. Patients and people around the hospital brought some smiles and laughs.
In summary, Nurse Jackie was one of the best shows I've seen on television. Well acted, well written, well directed. If you haven't seen it, you should take a look. If you have seen it, I'd love to hear what you thought about it.