A Small Light is an excellent series about an overlooked part of the story of Anne Frank and the two years she and her family spent hiding in an attic in Amsterdam during World War II.
A Small Light tells how The Diary of Anne Frank found its way into the world. But the series isn't so much about Anne (Billie Boullet) as about Miep Gies (an excellent Bel Powley) and the others who helped hide the Franks for so long.
Miep and several other Dutch citizens worked for Otto Frank (Liev Schreiber). When he was ready to take his family into hiding, he asked Miep to help. They would hide in secret rooms above the Frank's business. Miep would be responsible for bringing them food and medicine and helping them stay hidden, but all his employees were involved in it.
In addition the the Frank family there was one other family and a single man – 8 people in all. It may have been the large amounts of food needed to keep so many people alive that led to suspicions that there were hidden people in the building.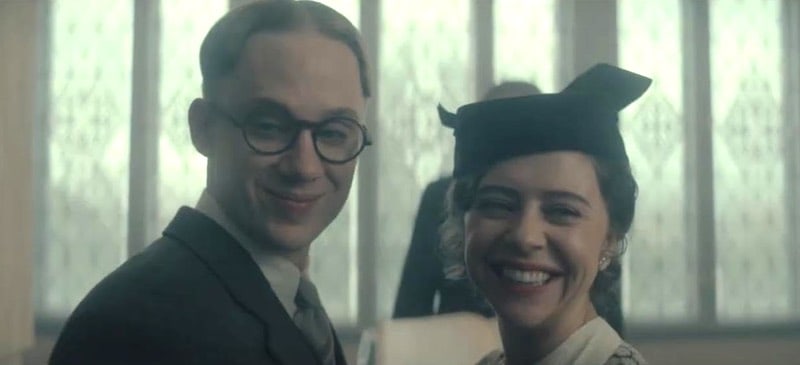 Miep's husband, Jan Gies (Joe Cole), was also part of the resistance. Both of them hated the Nazis and did many dangerous things to help people. Jan helped several children escape to the countryside where they were cared for by foster parents until the war was over.
The Gies couple also hid people in their own apartment.
The series has 8 episodes, which were used to tell many stories. The Gies's relationship, the personalities of all the people involved, the other resistance fighters, former friends who became allied with the Nazis, Miep's homosexual foster brother – all these stories wove into the perilous wartime situation they were in.
Miep and Jan Gies were admirable and brave. They weren't able to save everyone, but they did so much good. It's time their story became more widely known.
The series was shot with filtered light, giving it a dull and dim appearance that I always find difficult. A subject like this could hardly be shot with bright, sunny light, however.
Women directors include Susanna Vogel and Leslie Hope. The series was created by Tony Phelan and Joan Rater.
You can stream the series on abc.com or Hulu. It's excellent and well worth the watch.