Bomb Girls was a Canadian series, canceled after 2 seasons. It was a WWII story about women who worked in a bomb factory called Victory Munitions. It ran in Canada on Global TV and in the U.S. on Reelz. It's  available on Netflix.
The show had a huge and enthusiastic following. After it was cancelled, a #savebombgirls campaign started on social media, especially Twitter, lobbying for a movie. The campaign worked!
Here's a report from The Star, Bomb Girls return with TV movie.
The original cast, including Jodi Balfour, Charlotte Hegele, Ali Liebert and Canadian Screen Award-winning actress Meg Tilly, are all back for the movie, which is set in spring 1943. The workers at Victory Munitions are tasked with making newly developed sonar equipment, but there may be a saboteur in their midst.
To celebrate the upcoming TV movie, I decided to rewatch the entire series on Netflix. I am up to season 2, episode 6, "Where There's Smoke," which is the episode these screen shots came from since that's what I was about to watch when I started writing this post.
The series focuses mainly on a few of the many women who work at Victory Munitions. They are led by Meg Tilly as Lorna Corbett. Meg Tilly so seldom appears in movies or on TV, and she is so wonderful when she does. It's worth watching this series just to see her in action.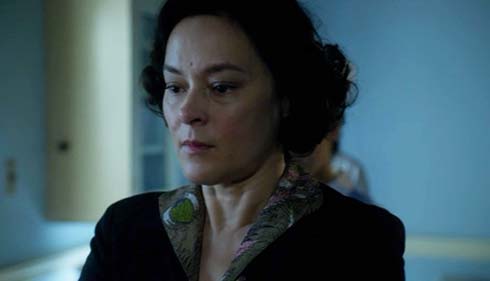 Lorna has grown children – played by Natasha Greenblatt and Brett Dier – and a husband crippled by his service in "the great war," WWI. The husband is wonderfully played by Peter Outerbridge. Brett Dier does a great job as the son, a tail gunner home from the war to go on a Victory Bond tour as a hero, but he suffers from what we now call PTSD.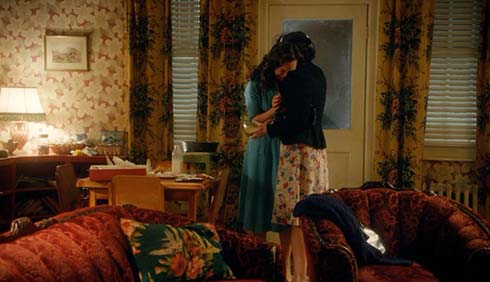 Lorna is the "floor matron" and mother hen to all the young women who come away from their former lives to work in the bomb factory.
Part of the story deals with the fear and ostracism of Italian and German Canadians who were sent to camps as soon as Canada entered the war. Lorna's character is involved with trying to get a particular Italian, Marco (Antonio Cupo) fired from the bomb factory as a security risk. Marco is a handsome Italian and is a temptation to Lorna as well as several other women in the story. I don't want to give you any spoilers about Marco, but he is important to many storylines in Bomb Girls.
The theme of prejudice and bigotry appears in other ways in Bomb Girls, with German POW's, Italian internment camps, Japanese-American soldiers, and an Indian doctor that Lorna's daughter falls in love with.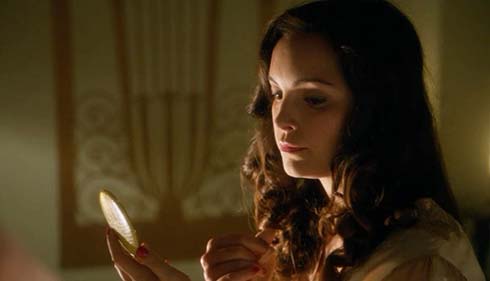 Jodi Balfour plays the rich Gladys Witham. Her parents own Witham Foods, an important supplier of rations to the soldiers. Gladys is engaged to an American (Sebastian Pigott) who her father (James McGowan) is bringing into the company. When America, enters the war, Gladys' fella enlists.
Gladys is a rebel and wants to work in the factory, on the floor, making bombs. She does this, although it causes a lot of family conflict. She becomes friends with the other girls who work on the floor. She also rebels against the sexual standards of the day in ways that her parents think "could ruin her." She rebels against her parents view of the war as a great opportunity to make huge profits. If one member of the cast could fill the role of what modern women were set to become after the war, Gladys would fit the bill.
Tahmoh Penikett joins the cast as factory security head toward the end of season 2 and gets Gladys involved in security. This storyline apparently continues in the movie, because Tahmoh Penikett is in the movie and the mention of saboteurs would fit his and Gladys' part of the story.
Charlotte Hegele is Kate, a runaway from her oppressive and abusive father. She's using an assumed name and trying to find a new life. She's a wonderful singer and performs a number of songs as the stories unfold.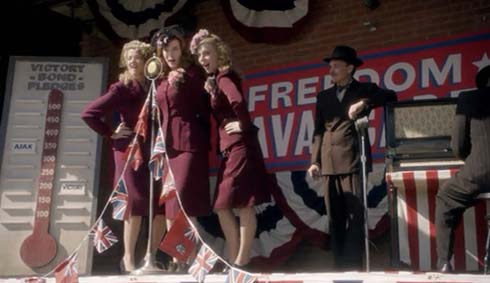 One of the times Kate performs, she's part of a trio doing a jingle for Victory Munitions. In those days, women's trios all sounded like The Andrews Sisters, but Kate also sings jazz, religious songs, and ballads.
Kate spends a lot of time hiding her real identity and name, a habit which causes her problems when she finds a steady boyfriend.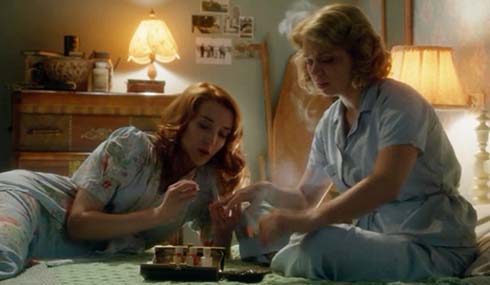 Kate and Betty (Ali Liebert) live in the same rooming house, work the same shift at the factory, and soon become fast friends. Betty's feelings for Kate run to love, not friendship. Kate is not able to return Betty's feelings in the way Betty wishes she would, which causes some conflict between them. Even so, Betty is very protective of Kate and helps her escape from her father for good.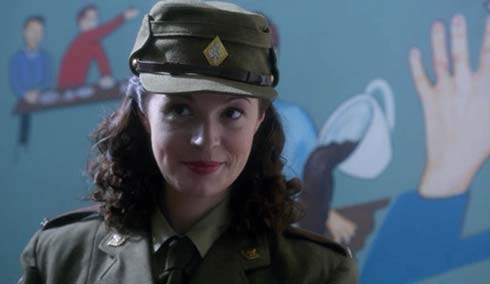 One of Betty's ploys to try to fit in at the factory was to have a boyfriend – a very unsatisfactory relationship for her. About midway through season 2, episode 6 to be exact, Betty meets a soldier named Teresa (Rachel Wilson) who makes it plain very quickly that she understands Betty's sexual inclinations and shares them.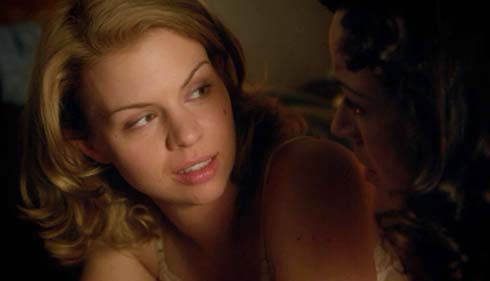 When Betty is with Teresa, she finally has her first sexual experience that feels right to her. Betty is what might have been called "a tough cookie" in the 40s, yet she is complex and vulnerable in surprising ways.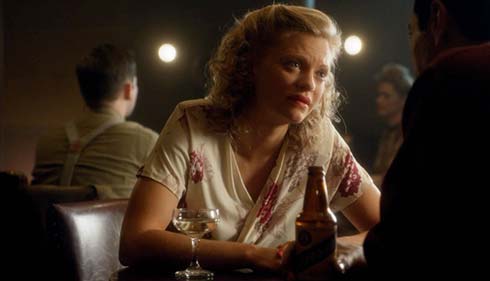 Anastasia Phillips as Vera is the final major female character in the story. She is injured while working the line and has a terrible scar.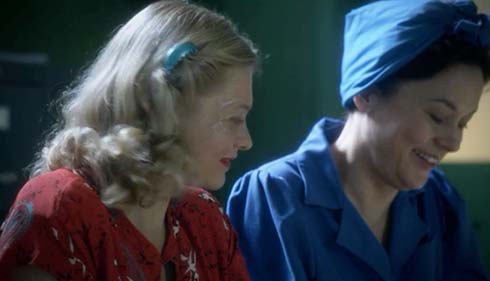 The scar affects Vera's self-esteem in interesting ways – it brings her near suicide, but she comes out of it.  She uses sex to help heal herself on the inside as the scar heals on the outside. In her job at the factory, it turns out she's really smart and capable and she ends up bringing all sorts of good ideas to Victory Munitions. Vera is the kind of woman who probably went on to run a business of her own after the war.
Themes of friendship and feminism permeate the stories in Bomb Girls. All of the women in Bomb Girls teach each other lessons and offer each other strength. They also teach their male bosses, boyfriends, and families exactly how vital and important women are to the war effort. It was an exciting time for women in Canada and everywhere, and their stories explain how women's early steps into feminism and the workplace happened.
Rosie O'Donnell does a turn as a newspaper reporter who inspired Lorna to ask for raises for herself and the girls, making equal pay another theme in the series.
You may not be old enough to remember how things looked and sounded in the 40s, but I am. The details in Bomb Girls in costuming and sets and props and music and radio broadcasts and magazines and every other way are perfect. And all those women's hats! It's a complete treat to watch just for the way it looks and sounds.
If you haven't watched this series about women's lives during a pivotal period of history, I think you'll enjoy checking it out.