City on Fire is a complex series with mystery and suspense that presents itself as edgy and dark. It's ultimately about family. Interconnected plot lines all resolve around family bonds and fractured families.
City on Fire used a number of seeming unrelated characters to weave together a story. I'll describe some of them without giving away any plot spoilers.
Characters Galore
We're taking into the story by Charlie (Wyatt Oleff). It's 2003, not long after Charlie lost his father in the twin towers on 9/11. He's a senior in high school.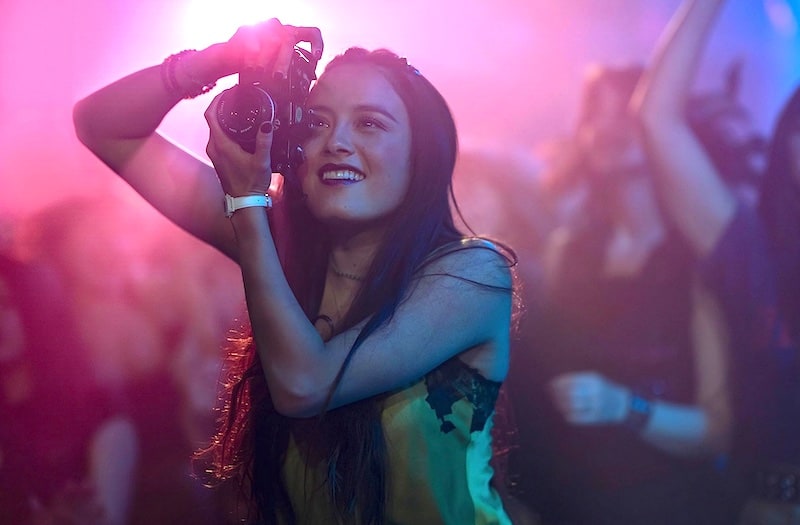 Charlie runs into Sam (Chase Sui Wonders) in the city. She was a year ahead of him in their high school and now attends NYU. She's into photography and obscure bands. Sam leads Charlie into a world of rebel musicians who follow the lead of Nicky Chaos (Max Milner).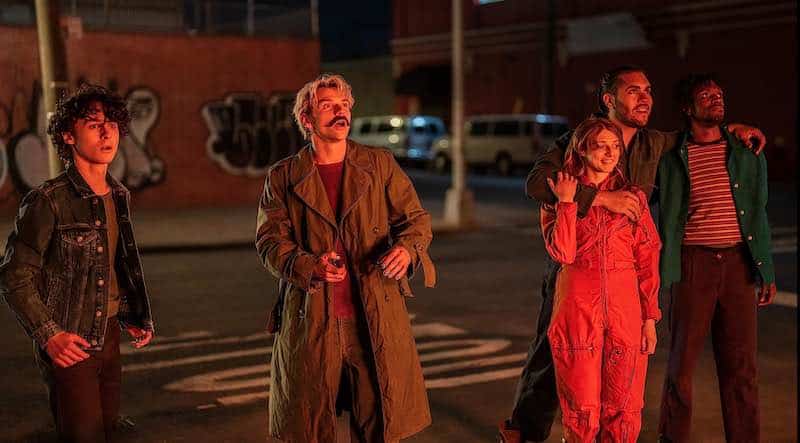 Nicky is the band leader, but he's also a cult-like group leader who wants to burn the city down. He starts fires and makes bombs, destroying parts of Brooklyn.
Charlie is a good kid. Kind, moral, pure. He doesn't fit in with this group at all, but he wants to because he's crazy about Sam.
Step back from this group a bit, and meet the family pictured up at the top. They are Regan (Jemima Kirke), Keith (Ashley Zukerman), and their son Will (Chaise Torio). They also have a younger daughter.
Regan's father is a wealthy businessman. He's in legal trouble. Regan has a creepy step-uncle, Amory Gould (John Cameron Mitchell), who is doing his slimy best to get to the top of the family business and displace Regan on the board of directors.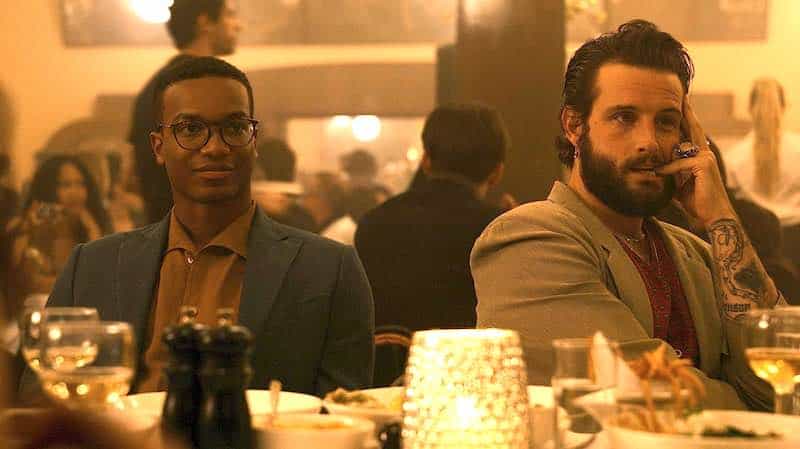 William (Nico Tortorella) is Regan's brother. He's been estranged from the family for 15 years. He was in the band with Nicky, now he calls himself an artist. What he really spends his time doing is shooting up and lying to his live in boyfriend Mercer (Xavier Clyde). Mercer is a straight arrow, Eagle Scout kind of guy. William is definitely not.
Action Galore
Sam and Keith are having an affair. Sam gets shot in the head in Central Park on July 4th right across the street from where Regan's family is having a party. She spends the rest of the series in the hospital in a coma and we see her part in the story as flashbacks.
That brings two cops into the story, Det. Parsa (Omid Abtahi) and Det. McFadden (Kathleen Munroe). They uncover connections between Sam, the band of fire bombers, the rich and greedy side of Regan's family, and several other crimes.
There are guns and fights and chase scenes and murders and plot twists. But all that action and excitement really comes down to the connections and love of family and how those bonds affect people. What the characters do as parents and as siblings is what drives the story forward.
A few plot points were left hanging at the end. Not so much as cliffhangers, just unanswered questions. I felt the series resolved itself well enough not to be screaming for a second season in spite of those incomplete story lines.
This Apple TV+ series was based on a book by Garth Risk Hallberg. It was created and written for television by Stephanie Savage and Josh Schwartz. Two of my favorite women directors, Haifaa Al-Mansour and Liz Garbus, directed half of the 8 episodes.
This wasn't a great series, but it was compelling and interesting. The aesthetic was definitely gritty, contemporary, and arty. I think the way it looks will appeal to a lot of viewers.
Have you watched City on Fire? What did you think of it?