Dive (La caída) tells a story of a swim coach who takes advantage of the young girls striving to reach the Olympics under his care. The story is set in Mexico, but represents a world-wide issue for young female athletes. Karla Souza, from How to Get Away with Murder, stars and produced.
A lot of women worked together to get the truth based story in Dive (La caída) told. The film was directed by Lucía Puenzo. The writing staff was all women, as were many of the producers.
Diving champion Mariel (Karla Souza) is pushing 30. It's her last chance at the Olympics, a goal she's worked for since she was 13. She's had opportunities before and blew them. It's now or never for her.
Her coach, Braulio (Hernán Mendoza), introduces a new girl to the team. She's 14 year old Nadia (Dèja Ebergenyi). She's a diving prodigy, just like Mariel was as a young teen. Braulio wants Mariel and Nadia to dive together as synchronized divers in the Olympics.
As Mariel and Nadia and work together, long suppressed memories come to haunt Mariel.
Karla Souza is outstanding as the troubled Mariel. Mariel is promiscuous and prone to UTIs. When the team doctor gives her yet another prescription for antibiotics, she overhears Braulio in a nearby cubical telling Nadia to spread her legs. It sets off a chain of thoughts for her that she's tried to ignore in her quest to make it to the Olympics.
Mariel watches Braulio with Nadia. He touches her, isolates her, showers her with attention. Mariel finally faces that he did the same to her as a young girl.
Nadia's mother accuses Braulio of sexual abuse. Nadia denies it. Mariel says nothing to support her; she just works harder on her diving practice.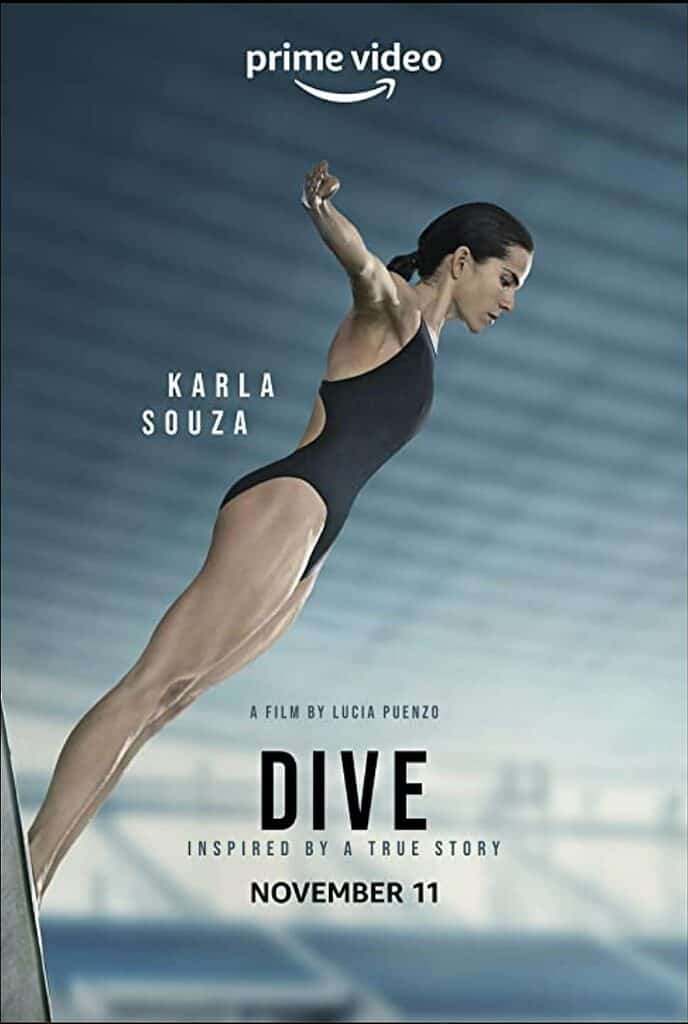 In the end, Mariel does something startling and brave to heal herself and protect Nadia.
Dive tells a story based on truth, but unlike documentary films like Athlete A, real names are not used. The story is fictionalized. The characters are representatives of a vast problem facing female athletes. It looks at not just the predators who destroy young women in their care, but the people who know about it and protect the predators in hopes of achieving Olympic dreams for themselves or for their children. It asks the ultimate question: is taking home an Olympic medal worth the cost?
This is a powerful film with an outstanding performance from Karla Souza. It can be seen on Prime Video.