I've loved Warehouse 13 since first I spied the steampunk version of a facetime phone that Artie uses to communicate. Every gadget and artifact in Warehouse 13 continues to enamor me. The premise of the show is that artifacts from the past – say Lewis Carroll's looking glass or Alfred Hitchcock's shower head – contain supernatural powers and must be stored in a warehouse for safekeeping. The artifacts are based on a shared cultural reality, but they cause effects that are twisted and bent. The cast runs all over the world trying to find and safeguard artifacts.
I love the creativity that goes into dreaming up what each artifact is and what it does – it's sci fi at its very best. I'm fond of a lot of shows on the SyFy channel, but Warehouse 13 is a delight and will remain a favorite long after it departs.
It is in the process of departing. The final season of Warehouse 13 just got underway with six episodes. A long goodbye, or a short goodbye, depending on how you look at it. The final season features the regular cast battling a villain played by Anthony Steward Head. Could anything beat that?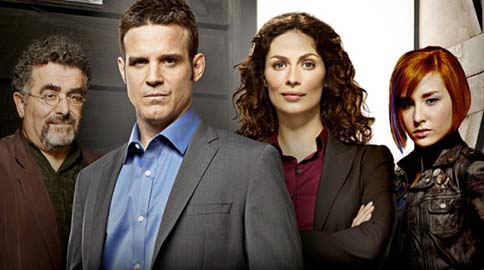 The regulars in the cast include Eddie McClintock as Pete, Saul Rubinek as Artie, Joanne Kelly as Myka, Allison Scagliotti as Claudia, Aaron Ashmore as Steve, and CCH Pounder as Mrs. Frederic. Add to this core cast an imposing array of talented guest stars including Jaime Murray, Kate Mulgrew, Lindsay Wagner, James Marsters, Jeri Ryan, Judd Hirsch, Joe Morton, Dee Wallace and more and you have reached a level of sci fi nirvana. In fact, if someone has been on another sci fi show anywhere in the universe, they might show up in Warehouse 13.
Warehouse 13 is funny, especially Pete, but everyone gets in some good lines. The special effects are both awesome and delightful. The plots are always just a bit off. H.G. Wells, for instance, is a time traveler who shows up from time to time. But on this show H.G. Wells is played by a woman, the gorgeous Jamie Murray. Everything has a creative twist to it.
I plan to cherish these last few episodes and when it's all over I'll probably go back and watch all 5 seasons again. So, to the cast and crew and creative geniuses behind of Warehouse 13, I say thanks for the delight, thanks for the entertainment, thanks for the characters. Thanks for that goofy computer with a keyboard from an old typewriter. You made me laugh.