Christian Torpe is the creator and writer for the Danish series Rita, which is available in the U.S. on Netflix. In this exclusive interview, Torpe answered some questions about Rita and his work.
Torpe was nominated for "International Producer of the year" and "European producer of the year" at the Monte Carlo Television Festival for the breakthrough hit Rita, which began airing in Denmark in 2012. Before Rita, he wrote for the Danish shows Park Road and Maj & Charlie. He wrote the movies Får and Almost Perfect. The series Rita now has a mini-series spin off called Hjørdis.
The lead actress in Rita was nominated for and won best actress awards for her work in the series.
OAD: Congratulations on Rita. It's a big hit on Netflix here in the US. I think the main thing on everyone's mind is will there be a season 4 of Rita? The ending of season 3 could be either a cliffhanger or a finale. I'm hoping it's a cliffhanger!
CT: What I like about the last episode of season 3 is that it can be both – unlike season 1 and 2 that felt less like an actual ending. When I wrote it, I had no idea if we would do a season 4 (and I still don't), so I wanted to at least convey the feeling that while it may not be an ending it's at least the end of a chapter in Rita's life. If Netflix wants more, then I'm happy to open a new chapter!
OAD: Rita is a fabulous character. Did she come from someone you know in real life or did you simply dream her up? She has so many flaws, but she's absolutely lovable. How do you see Rita?
CT: There's a lot of anger in her. Anger is a drug, it prevents you from feeling anything else, which can be handy if you carry a lot of pain, like Rita does. She's deeply flawed, especially as a parent, but she does the best she can, and that's really all you can ask of a human being. I guess there's a lot of myself in her. Hiding behind sarcasm is something I relate to a little too well and she basically says all the things I'm afraid to say out loud.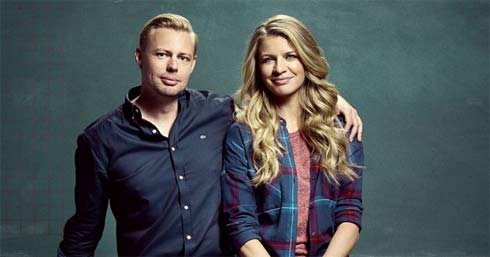 OAD: Mille Dinesen is so perfect in the role of Rita. How did you pick her for the part?
CT: I wish I could take credit for that, but that's all on our director, Lars Kaalund – and on Mille of course. We had so many Danish actresses read and Lars kept suggesting Mille. I was reluctant to see her – I knew she was a brilliant actress, but she had just played the Danish Bridget Jones, and I just couldn't imagine her making the shift from sweet and clumsy to angry and self destructive. Finally she came in and read – and as Lars had known the entire time, she was perfect.
OAD: The other characters on Rita are also wonderful in their parts. Do you have any particular characters you found especially important or really liked? I thought Ellen Hillingsø as Helle was especially compelling.
CT: Ellen is such a great actress and I love writing her character, Helle. Helle is annoying even when she is right – which she often is – and that energy brings out the best/worst in Rita. I have a soft spot for Jeppe as well. I am gay and always wanted to write a gay character where his sexuality was not a problem or a concern or something that made him a victim, but just a backdrop to do a coming of age story.
OAD: I enjoyed Jeppe's story very much! He was well played by Nikolaj Groth. The character Hjørdis got a spin off mini-series of her own. It will continue with Lise Baastrup as Hjørdis, but no Mille Dinesen as Rita. Tell us about this mini-series called Hjørdis.
CT: It's a 4 episode special focusing on Hjordis and a group of students who are all misfits in some way, kinda like Hjordis herself. The show is like the Hjordis character: warmer, cuter and more kid-friendly than Rita, something you could watch from age 7 or 8. For me it was such a big challenge doing something without sarcasm, something that was just fun and uplifting, but I love the result and Lise is wonderful in it.
OAD: I know Netflix supported you for season 3 of Rita. Is there anything we Americans can do to encourage Netflix to support a 4th season of Rita? Do you know yet if Hjørdis will be on American Netflix? [Note: Hjordis is now available on Netflix.]
CT: You can write them and tell them you want more! If you succeed, beer is on me. Hjørdis will be on Netflix at some point, not sure when though.
OAD: Both these series are set in a Danish school. Do you have a particular interest in schools as a source of stories? Were you trying to say something about Danish schools with the series Rita, or were you more interested in the characters? Some of the themes you included brought up issues about homosexuals, immigrants, family relationships, women's health, politics, drugs and more. With Rita as the perpetual iconoclast in the school, you made many important points through her.
CT: For me, it started with the character. As I developed Rita, I fell in love with the idea of a grown woman who was basically still a child. Once I had her, I started looking for an arena where the themes that are present in her – childhood, upbringing, authority, identity – would resonate, and the school was a perfect fit. Then I started looking for school stories and themes I wanted to explore through that arena, but it started with the character.
OAD: You've been writing for Danish TV since 2002. With Rita and Hjørdis, you've been executive producer as well as writer. Writing is your first love. Are you looking to expand your options in the future? I saw in one of your tweets that acting is definitely out for you.
CT: I'm a firm believer that it takes about 10 years of hard work to master any craft and I have too much respect for the craft that goes into acting or directing to venture into that. Also, acting is up there with flying and sharks and flying sharks when it comes to my biggest fears. Writing is what I love, but when it comes to that, I am curious by nature and want to try out different genres and formats. I did a movie last year with Bille August in a totally different genre and loved it, and I am currently writing a couple of pilots for some US cable networks, which is a lot of fun.
OAD: Ah, best of luck with that. It would be wonderful to see you work directly for the American audience. Thank you so much for agreeing to this interview. Is there anything else you'd like to mention about Rita?
CT: Thanks for watching! And hmm. No, nothing except that I am thrilled that Rita resonates with audiences in the US as well! When we did the first season we were sure it was a distinctly local show, from the Danish school system to Rita's sense of humor, her sarcasm, her sexuality, her sometimes offensive nature – all things we thought we handled in a very Danish way. It's been so much fun to see that what we thought was Danish was in fact universal.
See also: the Old Ain't Dead review of Rita.
Featured image of Christian Torpe via BT.