In my other life as a web educator, I spoke on a panel at WordCamp last weekend. The panel was billed this way:
Developer Diversity: The Mars/Venus Thing and WordPress
Moderator: Karen Arnold
Panelists: Suzette Franck, Alison Barrett, Daryl L. L. Houston, Virginia DeBolt, Mark Casias
The discussion was about how to get more women in tech fields, among other things.
One of my talking points whenever I get to talk about this is to bring in how pop culture affects perception. I like to bring up the acceptance of gay couples on TV, the changing acceptance of openly gay people in our everyday world, and the changing acceptance of the idea of gay marriage. I think the visibility of gay characters on TV has changed the majority attitude of society. It's my example of what needs to happen to visibility for girls in tech.
If that worked for LGBT visibility, why wouldn't it work for women in tech? Why wouldn't it work for girls who are interested in science and math, but who drop the idea around middle school in favor of being popular or not viewed as geeky and weird? If they saw a lot of geeky teen girls being successful and in leadership roles in popular shows, I think it would change attitudes.
If you can get girls through middle school still owning up to their interest in science and math, they can go on to careers in those fields. But they hit middle school and nerdy girls get teased and bullied and don't get the attention of cute boys. That could be changed to a large degree by pop culture. We need to reframe and reset the popular image of female geeks.
One of the audience members at the panel discussion pointed out the geeky women in both NCIS shows, and one on Numb3rs. That's great, but those aren't shows that young girls are watching. There is a geeky female character on Big Bang Theory. I think young girls probably watch this show. Am I missing any current shows?
Where we really need geeky female characters are on shows like Pretty Little Liars that millions and millions of teen and pre-teen girls are watching.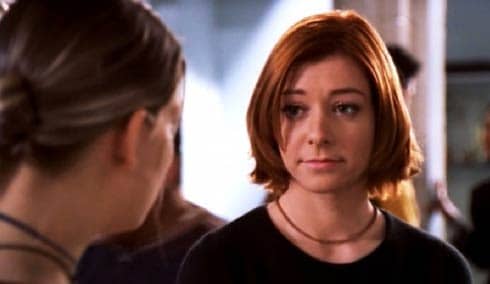 We need more characters like Tina Majorino as Mac on Veronica Mars or Alyson Hannigan as Willow on Buffy the Vampire Slayer or Miranda Cosgrove as Carly on iCarly.
A lot more characters, not just one every few years. In fact, I'll say that every show aimed at pre-teens should feature a geeky female character – hackers, programmers, scientists, and engineers who are teen girls or young women and are leading characters in an engaging drama or comedy. Geeky girls with lots of friends, interesting adventures, and a great personality.
It would make a difference.
Veronica Mars image @TheCW. Buffy the Vampire Slayer image ©Mutant Enemy Productions