Episode 4 of Happy Valley was directed by the series creator Sally Wainwright. In this episode the police finally learn about the kidnapping. And things get brutal. There are spoilers in every paragraph.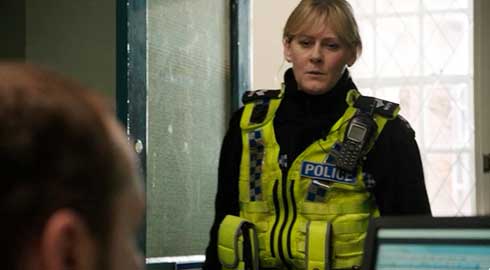 Things get off to a good start when Catherine (Sarah Lancashire) convinces her superior officer to send a crime team to investigate the suspicious nature of the "unsecured" house she "discovered."
Later in the episode, the same superior officer insists she drop the charges against the councilman she arrested for drunk driving and possession of drugs. The package containing the drugs is damaged somehow and can't be used as evidence. Well, well, an inexplicable evidence problem involving a person of power.
The house is owned by the caravan park owner Ashley Cowgill's (Joe Armstrong) wife. Her name is Julie Mulligan (Rachel Leskovac) so I'm not sure if they are still married.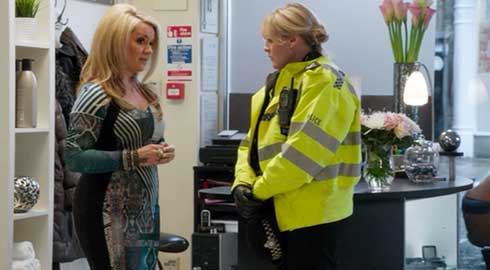 When Catherine talks to Julie, she explains that the house is in her name for tax purposes and is meant to be a rental, but has never had tenants. The second Catherine leaves, Julie calls Ashley and tells them there's a copper on her way to talk to him. This gives him time to make sure Tommy Lee Royce (James Norton) and Lewis (Adam Long) are out of sight with Ann.
Tommy's been in a caravan with Ann (Charlie Murphy). He assures Lewis she won't make any noise because he's drugged her senseless. Bastard probably raped her again, too – he's not wearing his pants.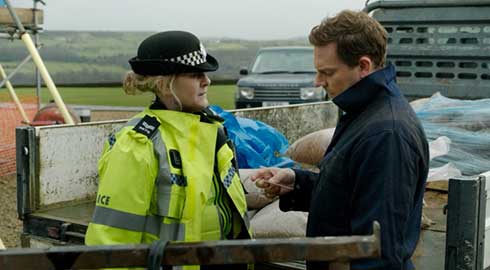 Catherine goes to the caravan park to ask about the house. Ashley plays dumb to all her questions, including one about recent prisoner releases whose names he might know.
Catherine goes to Tommy Lee Royce's mother's house. According to his parole that's where he's supposed to be. His mother (Caroline O'Neill, I think) says she doesn't know where he is. Catherine says to tell him that she wants to talk to him.
Before Catherine leaves, the mother says, "Is your grandson our Tommy's lad?"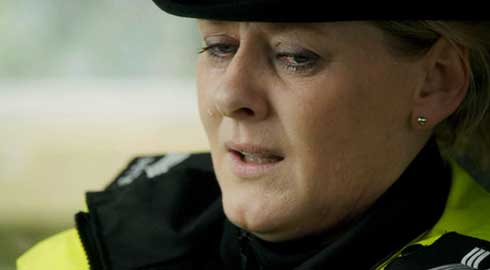 Knowing that Tommy's mother is aware of Ryan upsets Catherine so much she sits in her car trying to catch her breath. She freaks out again and sees her daughter's death scene in the mirror of the car.
The Kidnappers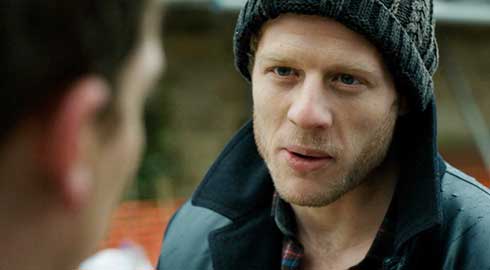 After a lot of arguing, Ashley, Lewis and Tommy decide Ann must be killed. Tommy offers to do it if they will both pay him £5000 of their share. Deal. (Since he's been wanting to slit her throat since episode 1, I think they overpaid him quite a bit.)
Tommy's goes to his mother's and pays her £200 to keep a "dog" in their basement. A dog that requires a new padlock on the basement door.
Kevin has decided that if he tells Nevison Gallagher (George Costigan) that he might know who is responsible for the kidnapping, he can make himself look innocent. He's frantic to find a way to get himself out of the situation he's created.
The Gallaghers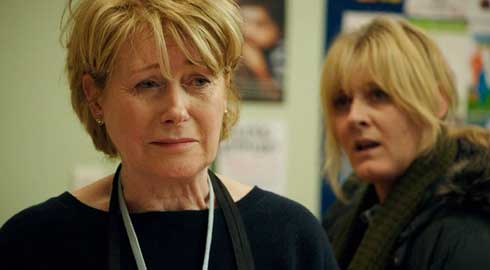 Catherine goes to the mission to talk to Helen Gallagher (Jill Baker). Helen finally cracks. Just as Catherine's walking away, she says, "My daughter's been kidnapped."
Catherine calls in all sorts of help, including a Detective named Phil Crabtree (Alan McKenna) with whom she clearly has some sort of history. They were once detectives together before Catherine tried to simplify her life by going back into a uniform. The way she looks into his eyes suggests more than just a working relationship somewhere back in their past.
The Gallaghers finally tell all, including how the money was delivered, how calls came in, and what Kevin's (Steve Pemberton) part in the delivery was. It connects the dots with Catherine when Kevin is mentioned. The police move quickly to do all the things they do with phones and witnesses and tracking down Kevin. They tell the Gallaghers to continue to cooperate with the man who calls about money.
Richard
Let's take a breather and enjoy a happy moment or two with Richard. Richard (Derek Riddell) calls Catherine and tells her he's been investigating the drug problems in Happy Valley and he thinks there's really a story there. Catherine basically says, "Duh," and cheers him on.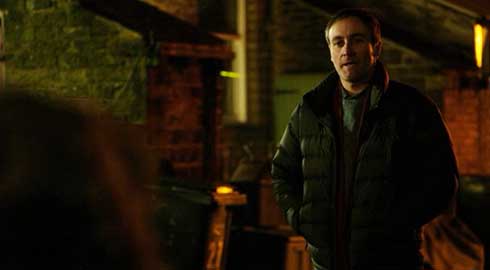 The other thing he does is show up in Catherine and Clare's back yard one evening and offer to play football with Ryan (Rhys Connah). They kick the ball around and start getting to know each other. When Clare has to go pick up Catherine, Richard stays there with Ryan.
Looks like Richard might be changing his position on the nature vs. nurture question.
Saving the Worst for Last
Tommy hears about Ryan from his mom. He follows Catherine and Ryan to her car after school. He talks to Ryan.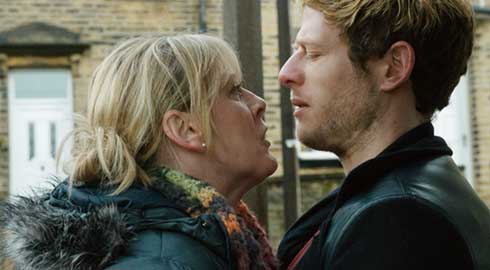 Catherine pushes Tommy up against a wall. She gets in his face and tells him to stay away from Ryan. As she drives away he's yelling in the car window, "You're my son. You're my son."
Tommy says, "You're my son," not "I'm your dad." Tommy makes a claim, not on the basis of caring or concern, but of ownership. May I interject that Sally Wainwright is a genius at writing dialog that tells a story with clarity and power.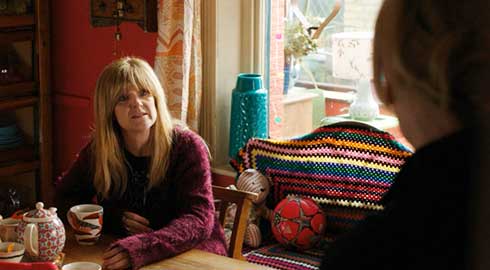 Catherine talks over this revolting development with Clare (Siobhan Finneran) as she does pretty much everything. As they process the possibility of Tommy somehow proving he has a claim on Ryan, Clare realizes the house Catherine's been investigating would be a good place to hide someone you've kidnapped. Go, Clare!
Finally the crime scene in the house, the kidnapping, and Tommy Lee Royce all come together in Catherine's brain.
She goes back to Tommy Lee Royce's mother's house. The mother complains that she doesn't see him for weeks and then he brings a dog over that she's not allowed to see. Catherine breaks off the lock and goes into the basement.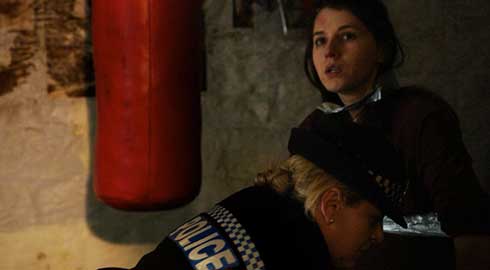 Catherine's undoing duct tape telling Ann she'll be all right when Tommy shows up. There's a brutal, vicious fight between Catherine and Tommy. Catherine falls to the floor and Tommy kicks her several times. Catherine manages to pepper spray or Mace him in the eyes. This disables Tommy for a few moments.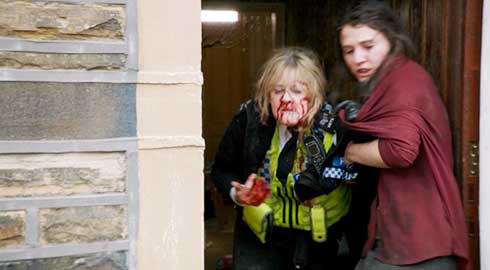 Ann drags the seriously injured Catherine out of the house and climbs into her police car. Catherine collapses on the car door as she calls for an ambulance. She drops like a stone.
Some Thoughts
Catherine looks nearly dead lying there in the street, but there are two episodes left in the series, so I'm going to assume she will recover. She gave as good as she got, and I think she hurt Tommy pretty badly. I'm hoping she hurt him really badly!
The fight scene was so well done. They sounded like two snarling dogs attacking each other. There was shoving and hitting and kicking, all perfectly orchestrated. Catherine's aggressive nature and her bravery under attack combined to make the fight a real battle. Sarah Lancashire: my new favorite action hero.
Tommy Lee Royce is evil and without remorse. That's pretty plain. But what about Kevin? Kevin with his sick wife and two little girls in their normal looking house. Kevin with his normal job. Kevin who dreamed up the kidnapping scheme that put Ann in that basement. Is a sneaky little snake like Kevin equally as evil as Tommy? Kevin is only in it for the money, while Tommy likes the raping and the killing. Does that make a difference?
The whole area called Happy Valley is infected with the good vs. evil problem. This valley with its ironic name is emblematic of so many problems that exist in the world today.
There are so few people like Catherine who have the moral courage to resist and fight back. And look where it's gotten her – she's unconscious in the middle of the street all beat to shit.
All images from Happy Valley © Red Production Co.