"Big in Japan" is episode 3 of season 5 of Lost Girl. Tamsin (Rachel Skarsten) is taking Kenzi's (Ksenia Solo) place as Bo's (Anna Silk) bestie. It had to happen that way, but, dang, I miss Kenzi.
I'll recap the episode in pictures. Many spoilers ahead.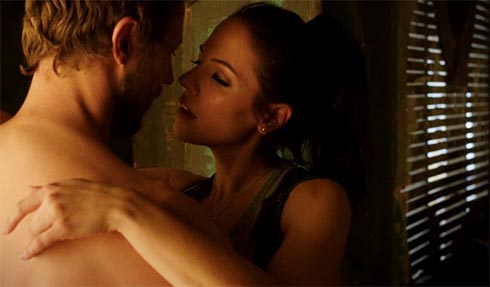 Bo is redecorating. Painting, hanging drapes. Dyson (Kris Holden-Ried) helps – shirtless, of course – and Bo discovers she has no interest in sex. Our favorite succubus is blocked!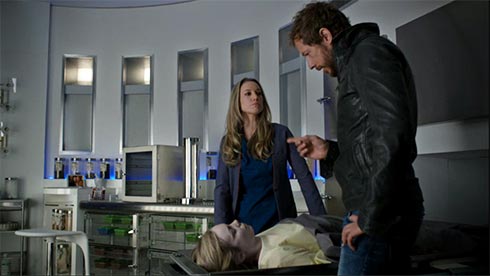 All the people in the elevator died. Three had Fae DNA, including this one (Amanda Walsh). The other two were a family man and a bike courier. Dyson worries that Lauren (Zoie Palmer) is in danger because she turned The Morrigan human. Lauren admits to death threats.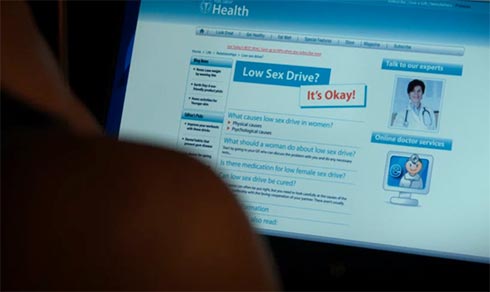 Bo tries to figure out why she has no sex drive. Tamsin interrupts and suggests they go out.
Musashi (Scott Yamamura) from the Dal's Karaoke night picks up Bo and Tamsin. Bo only agrees to go after she realizes that having Tamsin inches from her face incites not a single urge.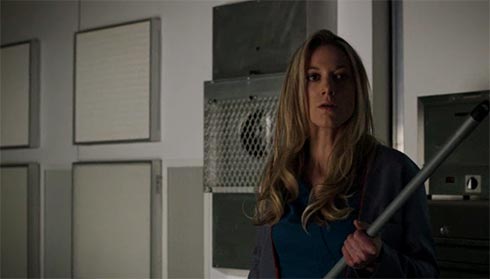 Lauren is frightened by things that go bump in the night. But she's armed and well toned.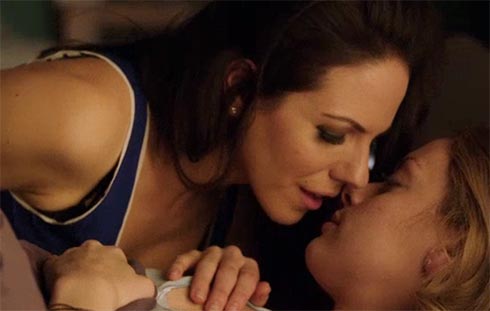 Bo wakes up, hungover, with Tamsin in her bed. (They didn't) Bo tries to feed off a willing Tamsin, but can't. Still no sex drive.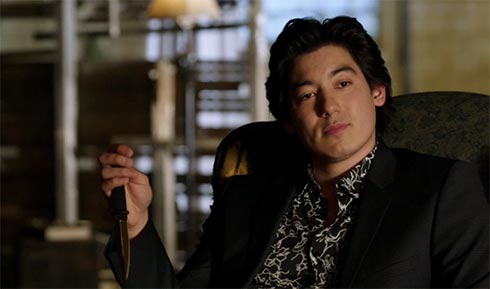 Look who's in the bedroom with Bo and Tamsin. Musashi wants bodyguards because of the assassin who's after him.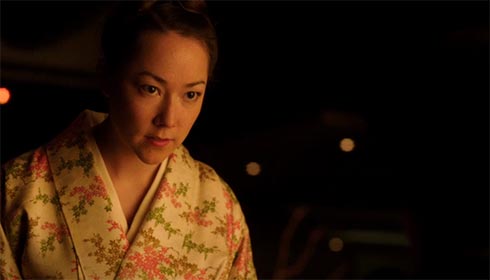 Bo and Tamsin take the bodyguard gig. At a tea house, they meet Musashi's sister (Emily Piggford). She serves but spills hot tea on Musashi and basically calls him a jerk.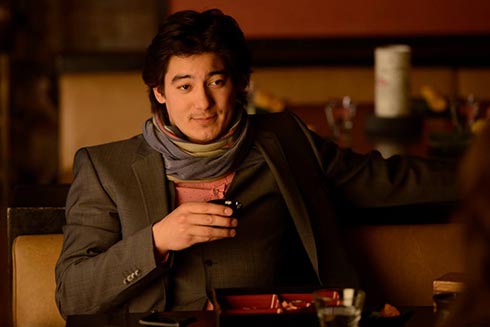 Musashi claims to be a hero who can bring light, leap over armies, and cause blizzards.
Oh my, Musashi is set to ascend – to become a god. That's what heroes do.
Lauren is now scared enough to ask Dyson to train her in self-defense. If he puts his shirt on.
Bo gets sliced in a bodyguarding mishap. Lauren has to sew her up. She still can't heal herself, hence the needle and thread. She tells Lauren she has no sex drive. The doc thinks it's psychological.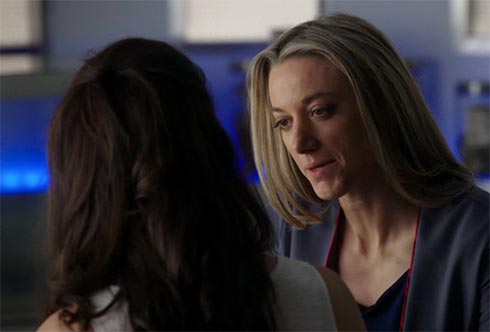 Bo has no heat for Dyson or Tamsin, but Lauren is a medical professional. She offers to help. No go. Even the good doctor cannot fire up Bo's inner succubus. Lauren worries about how vulnerable that makes Bo.
Bo is so upset she talks to Trick (Rick Howland) about sex drive. He says Aife lost it for A YEAR! He even uses the word orgasm. Trick thinks it could be psychological. Luckily Tamsin comes in with new info on the case and takes Bo away. Tamsin thinks the assassin was hired by one of the brothers.
Bo pretends to give Musashi's brother a massage while pumping him for a confession. She realizes she's lost her charm, too. He jumps up and tries to strangle her. Bo is rescued by the sister.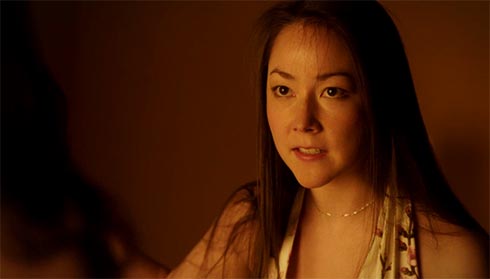 Bo realizes the sister is the one who ordered the hit. She says it's because Musashi cannot be allowed to ascend. Seems Musashi is taking credit for his sister's accomplishments. She's the hero. If her brother ascends without telling the truth, he will be reduced an Akaname – cleaning toilets for the rest of his life. You can't pretend to be a hero, but admitting dishonor will save you.
Bo and Tamsin dress up like Ninjas and crash the ascension ceremony. Musashi won't tell the truth. His sister reveals herself as the hero. She brings the light and she causes a blizzard. Now she's the god and bubba has to clean toilets. Forever.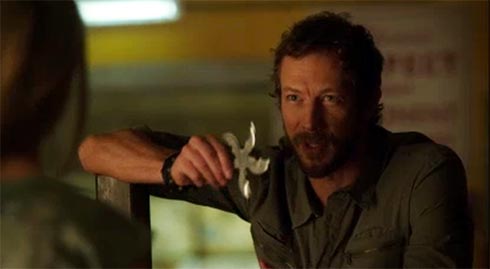 Dyson is still teaching Lauren self-defense. He says she should learn to throw from her gut. They talk about how guilty Bo feels about everything.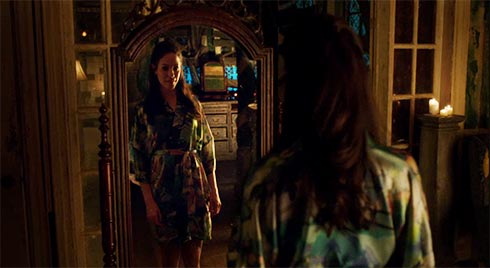 Love the new kimono. Bo spends a lot of time in this episode looking in mirrors and telling herself she's okay. But during this self-help mirror talk, a very angry Musashi shows up and stabs her. Makes a big hole right in the new kimono.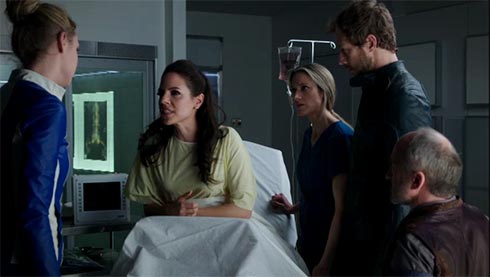 Someone finds our bleeding Bo and takes her to Lauren. After she's stitched up, Bo confesses that she's responsible for so many losses: her mom, dad, Kyle, Rainer, Hale, Kenzi. Being The One means she loses everyone and will always be alone. Everyone takes a turn telling Bo how much they love her. Well, Tamsin isn't quite as sweet as the others, but she's effective. All that love eases her guilt.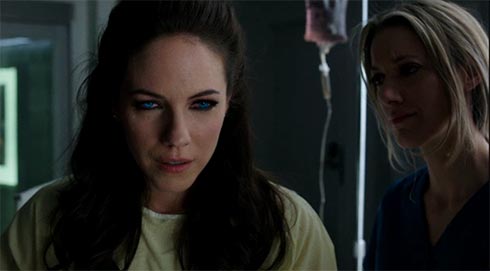 All the words of love give Bo her mojo back. Bo's back, bitches! She sends everyone out of the room but Dyson.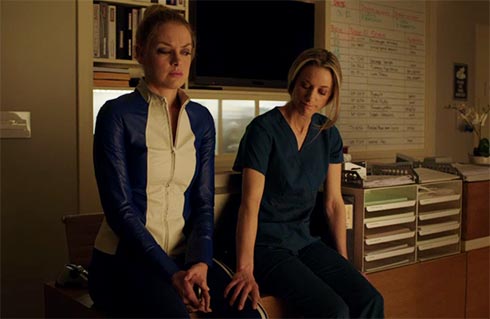 Tamsin and Lauren listen to Bo and Dyson bumping parts in the next room. Lauren says she's okay with it. She tells Tamsin thank you for helping with Bo.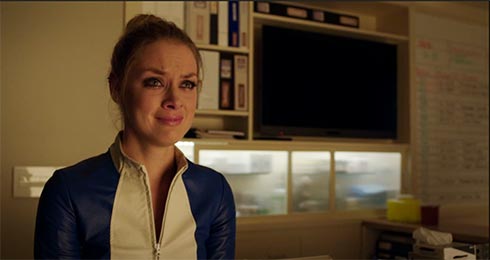 The kind words and affirmation from Lauren reduce Tamsin to tears.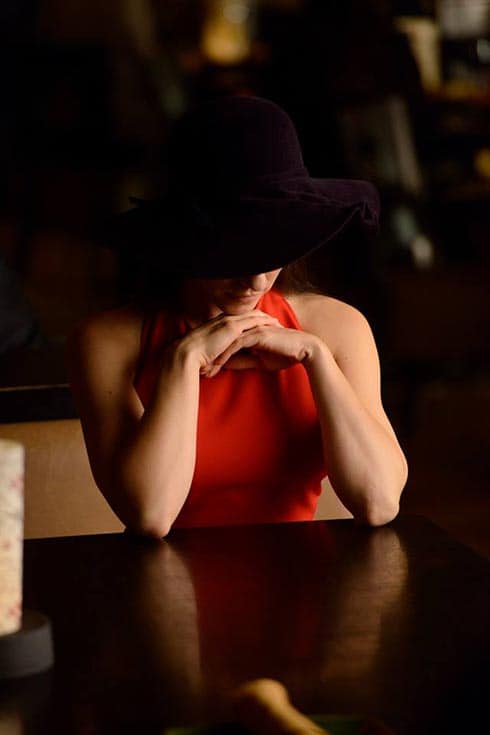 Wow. This image. Had to give you the full length – couldn't crop off a bit. Bo goes back to the tea house. Musashi serves her tea before he has to go clean toilets. They have a heart to heart about being chosen to lead, being the hero, being vulnerable and open to the truth.
Bo leaves the heart to heart saying being chosen is bullshit. Look at her in that hat and that red dress. Honey, Agent Carter ain't got nothing on Bo Dennis.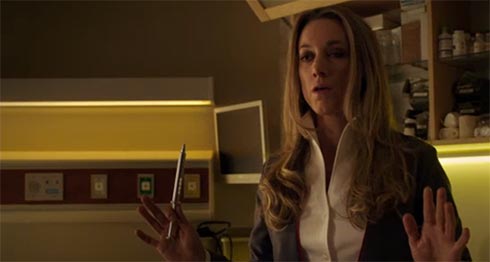 A late night patient wants the Fae/human switcheroo serum. He threatens the nurse at knife point, but Lauren dispatches him with a well thrown syringe. Thrown from the gut.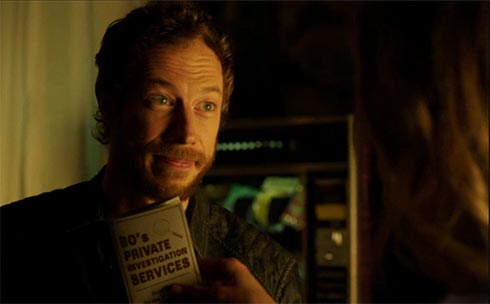 Party at the clubhouse! Dyson and Tamsin talk about Tamsin leaving the police and becoming Bo's partner in the investigating business. Dyson says it's a good thing, it works.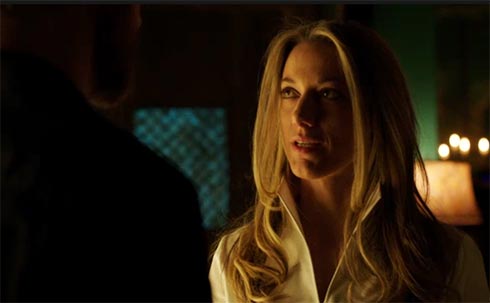 Lauren brings beer and wine but no news about the DNA of the three Fae from the elevator.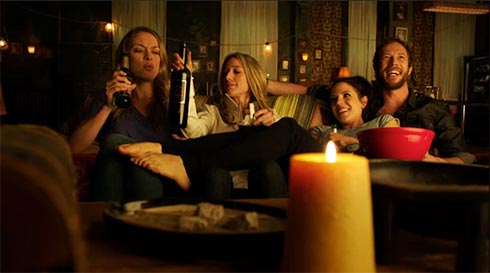 The gang settles in for a night watching horror movies. The candle is burning.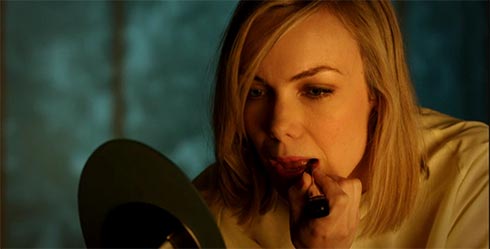 Guess who wakes from the dead? Yep. She kills the nurse, takes her lipstick and says, "I needed that." When will we find out who the devil she is?
Some Thoughts
It makes me sad seeing the gang reduced to just 4. They all fit on one couch. Tamsin is great. She's developing a heart. She's going to make a good sidekick for Bo. But it's hard without Kenzi. Damn.
Rachel Skarsten is the reason the phrase "Nordic beauty" was invented.
Why, when sex happens in another room, is it always noisy as furniture throwing? With very vocal, loud moaning? When we are in the same room with a sex scene it is nothing like that. Yeah, the sound effects are funny, but they don't fit, they don't belong. That bothers me.
Men have been taking the credit for women's accomplishments since the origin of the patriarchy. But it's never been a theme on Lost Girl before. The Lost Girl universe is one of equality: no sexism, no homophobia, no racism. I'm wondering if using this theme now is foreshadowing something ominous about Bo's father – who may or may not be Hades, King of the Underworld.