Love at First Sight is straight romcom all the way with some original touches I enjoyed. Haley Lu Richardson and Ben Hardy play the two who fall in love while getting on a plane to London.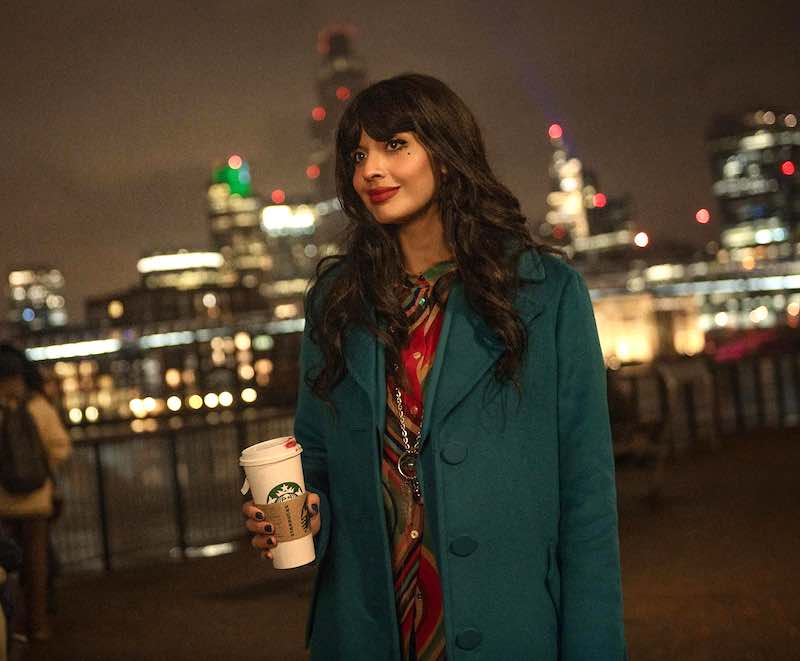 Jameela Jamil plays several parts, all of which add up to the theme that fate (Fate with a capital F) wanted to bring these two together. Jameela Jamil is listed as Narrator on the cast list, but she really played Fate. When the movie began and Jameela Jamil's voiceover started I thought it would be a deal breaker for the film. But it actually turned out to be one of the fun parts of the story.
Here's the plot. Hadley (Haley Lu Richardson) is headed to London to attend her father's (Rob Delaney) wedding to Charlotte (Katrina Nare), a woman Hadley has never even met. She misses her flight by 4 minutes. She's always late to everything and her phone is always dead. She gets on the next flight by buying an expensive seat in business class.
Oliver (Ben Hardy) is on the same flight. They meet over phone chargers. Flirting and charming follows. They have a meal while waiting for the plane. Oliver lets Hadley believe he's also going to a wedding in London.
Fate puts them together in business class and by the time they reach London their fates are set. They've both got it bad.
The film was directed by Vanessa Caswill with a screenplay by Katie Lovejoy based on the novel "The Statistical Probability of Love at First Sight" by Jennifer E. Smith. Oliver was studying statistics at Yale and quoted statistics for everything. There were a lot of numbers in the film with the Narrator inserting them at appropriate moments as well.
Once they land in London, all the complications and impediments in a romcom happen. Hadley meets Charlotte, who turns out to be pretty nice and good for her dad. Hadley thought she had Oliver's phone number but her phone (as usual) is dead.
Oliver gets together with his eccentric family. His brother Luther (Tom Taylor) lives in a van. His parents, Val (Dexter Fletcher) and Tessa (Sally Phillips), are Shakespearean actors. They are throwing a very special kind of costume party. Oliver is going as Hamlet.
Oliver doesn't trust the emotions he feels for the woman from the plane. There are no numbers for what he feels.
Fate intervenes. Fate demands a happy ending for these two, so how do they get there? I'm not telling.
If you read this blog with any regularity, you know I watch a lot of romcoms. This one was different enough to be extra charming and original. It's streaming on Netflix.