Ma Rainey's Black Bottom tells the story of one afternoon in a Chicago recording studio in 1927. Two white men were determined to record 4 songs by Ma Rainey and her band. They intended to make big money from the records. It's streaming on Netflix.
Ma Rainey's Black Bottom is the latest in a long series of films and TV series teaching me, an elderly white woman who grew up in a small town with one Black family, what #BlackLivesMatter and Black rage is about.
In the last 10 years or so, I've read so many books with my book clubs that instructed me in what it is to be Black in America. Here on the Old Ain't Dead blog I've talked about works such as Queen Sugar, The Hate U Give, Just Mercy, When They See Us, and Queen and Slim. It's changed me. It's helped me see what writer August Wilson was talking about in his plays.
A couple of days prior to seeing this, I watched a documentary called Giving Voice. It tells the story of one year of the preparation and work going into the August Wilson Monologue competition for high school kids. It helped me understand August Wilson and his body of work. I'm so glad I watched it before I watched Ma Rainey's Black Bottom. It gives me a different perspective from watching a one-off like Fences or this one.
August Wilson writes plays which are disguised long speeches allowing his characters to make a points about racism, racial justice, and what it is to be African American in the United States. He's famous for his monologues. The beauty in this production is that they don't feel like monologues – they're a natural part of the conversation.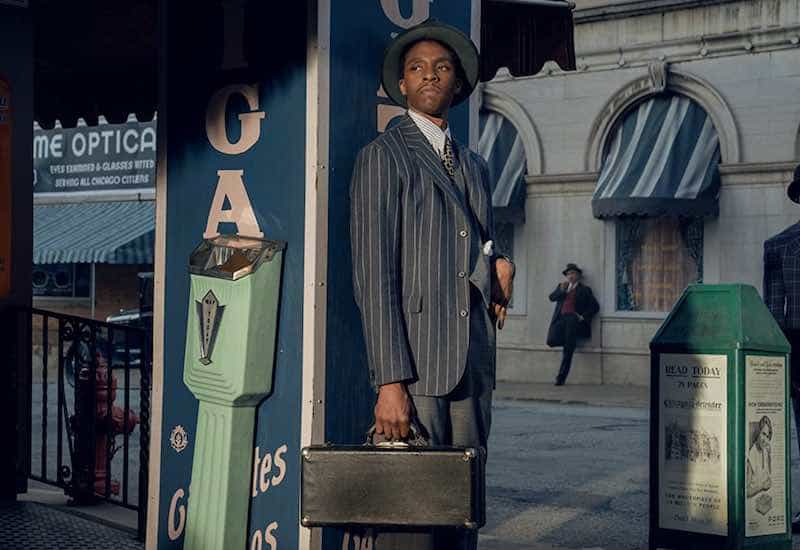 I wanted to see this film because of Viola Davis. But it is Chadwick Boseman's film. He's the trumpet player Levee. Levee has big plans to write his own music, front his own band. He's restless and young and the other members of the band don't much like him. He wants to change Ma's music. He wants to play a solo. He's a disruptor.
If Chadwick Boseman had never made any other film but this one, he would still have a legacy as a brilliant actor.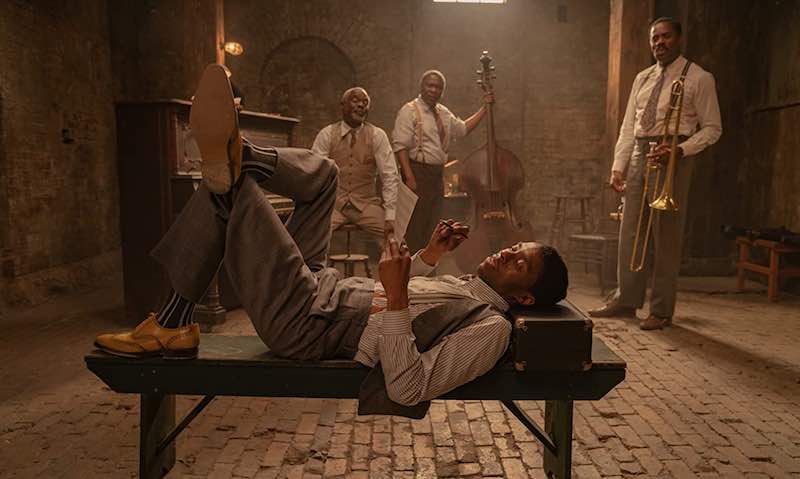 The band includes Cutler (Colman Domingo) on trombone, Toledo (Glynn Turman) on piano, and Slow Drag (Michael Potts) on bass.
They hang out in a basement room rehearsing, telling stories, talking smack. Levee tells a heartbreaking story about his mother's encounter with a gang of white men. He tells how his father got revenge on them.
The recording studio boss, Sturdyvant (Jonny Coyne) promised he would record Levee's songs with Levee and his own band. He blew off that promise and instead offered Levee $5 for each song. Levee hadn't learned from Ma how to be demanding of respect from white people, how to be insistent. The results were tragic.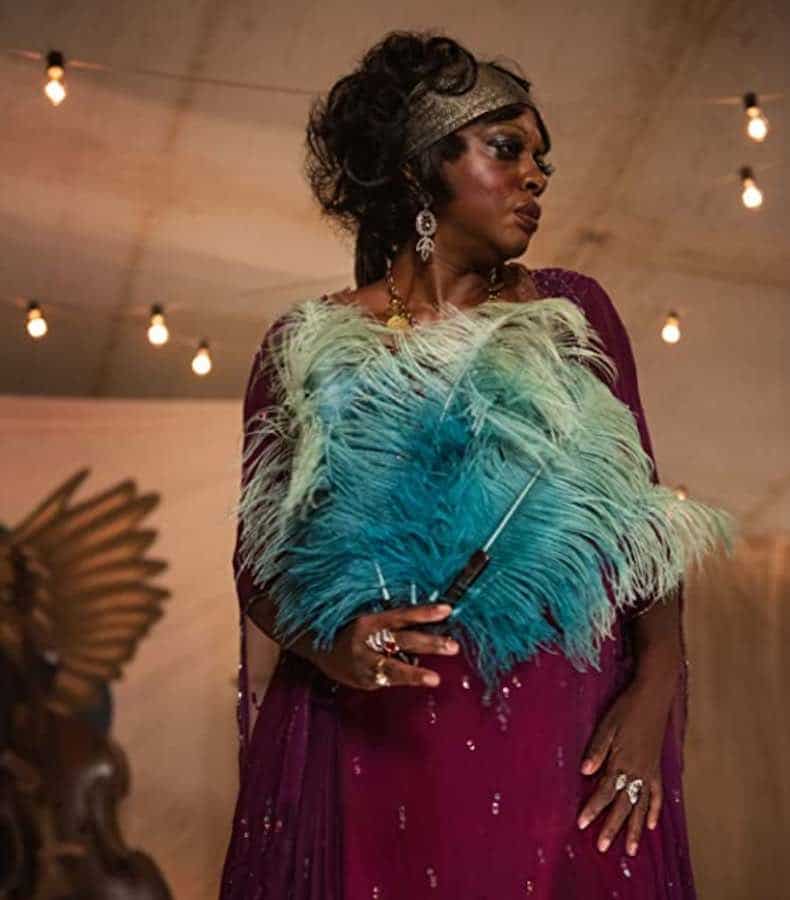 Levee's story takes nothing from Viola Davis' bravura turn as Ma Rainey. Ma Rainey fought for respect with every breath she took. It was exhausting and brave. If she didn't get the respect she wanted, she used her power, her power to refuse to be used. She had the voice, she had the blues. They were nothing without her.
Viola Davis got a nice monologue of her own, talking about the blues.
It was a constant battle for Ma to get something as simple as a cold drink. To play her music the way she wanted it. To use the people she wanted on her records.
Ma flaunted her right to the beautiful young Dussie Mae (Taylour Paige), daring anyone to comment. She wasn't taking any crap from anyone about anything.
Her agent Irvin (Jeremy Shamos) paid her $200 for the four songs, and made her sign a release to the rights. According to Google, that's equivalent to not quite $3000 today. Peanuts. She got no where near what she deserved from the sale of her music. Nor did the band members, who got $25 each.
The final scene (which was not in the original play by August Wilson) shows without a word how African American artistic talent and genius has been stolen and exploited for profit by people incapable of creating it themselves.
We all have something to look forward to as more of August Wilson's plays are adapted for the movies. This one in particular is a tragedy of Shakespearean proportions.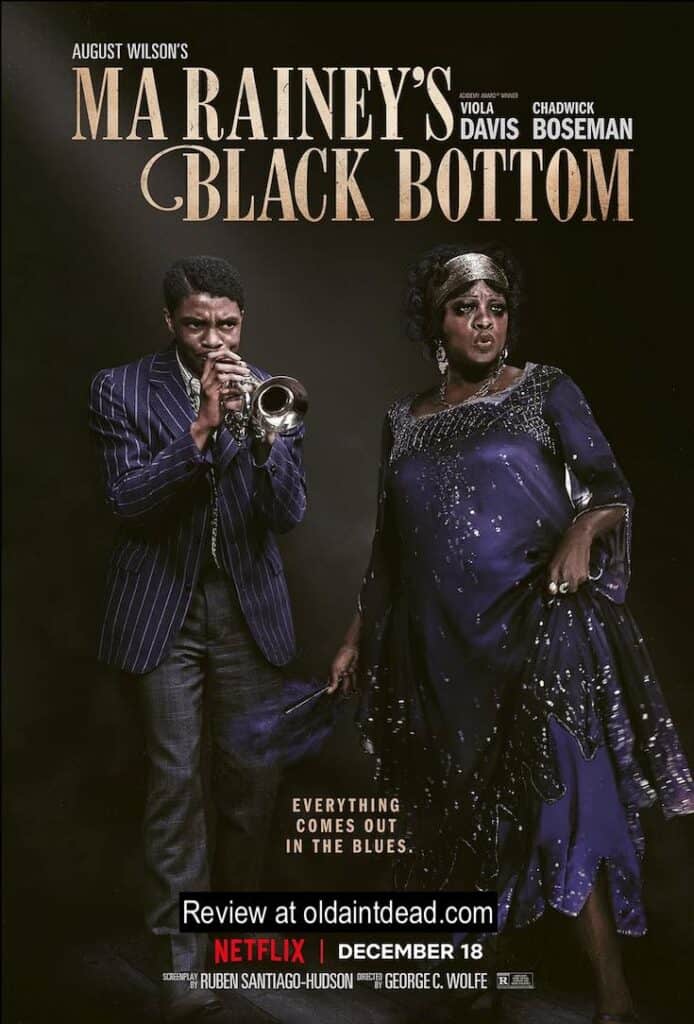 Here's the trailer for Ma Rainey's Black Bottom.
Have you watched this one yet? What was your reaction to it?