Season 4 of Orange is the New Black is on everyone's mind now. I've barely had time to watch it all. This post collects some random observations and stray musings on season 4. It is not meant to be a review of the season, but there are some spoilers. 
Let's start with some funny stuff.
The scenes where Red (Kate Mulgrew) searches for a way to silence Dwight's (Shannon Esper) snoring are laugh-out-loud hilarious.
Taystee (Danielle Brooks) petitions for a showing of The Wiz on movie night. There were a lot of funny remarks about a musical in general. (The racial bickering about the film wasn't funny.) But the laugh for me came because Uzo Aduba, who plays Suzanne, recently appeared in a live television production of The Wiz as Glinda the Good Witch. When Suzanne started in about how much she liked the movie and especially the character Glinda, I fell out of my chair laughing.
Another clever call out to the actor's other lives was Elizabeth Rodriguez mentioning The Walking Dead, because she is in Fear the Walking Dead.
Taystee gets a job as Caputo's (Nick Sandow) assistant. She figures out the password on his computer and goes online. What does she do with all the knowledge of the universe at her fingertips? She tries to learn whether Beyoncé is really getting a divorce and watches funny videos on YouTube.
There were plenty of good one-liners. Topical jokes about current news and TV shows, literary jokes, sex jokes.
Meg Ryan, You've Got Competition
You recall the hilarious fake orgasm by Meg Ryan in When Harry Met Sally. Yael Stone and John Magaro as Lorna and Vinnie give her some serious competition in the orgasm department. They moaned through a crazy sex scene in the visitation room. Seated on opposite sides of a table, not touching – it was a stop-the-tour-bus-and-watch moment they played.
Gay for the Stay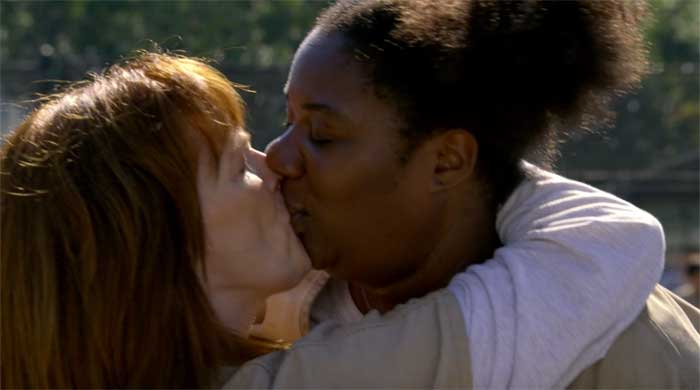 The celebrity Judy King (Blair Brown) is accused of racism when old video of her surfaces. To spin herself in a new light, she gives Black Cindy (Adrienne C. Moore) a big kiss in the yard. She has the moment photographed and sold to magazines. Judy King keeps up the pretend relationship with Black Cindy for quite a while. But she has real sex with Yoga Jones (Constance Shulman) and Luschek (Matt Peters) – both at once. And not because Jones and Luschek were in favor of it. Sexual power is one of many examples of white privilege that Judy King's presence in the prison demonstrates.
Okay – Blair Brown. Her first acting job was in 1971. That was 45 years ago. As far as I know, she never kissed another woman in a scene before. All those years acting out lives imagined by men, written by men, photographed by men. Actresses of Blair Brown's age must look at the roles younger women get now and envy the freedom and depth of women's stories. Once in a great while, an older actress like Blair Brown wanders into a piece like Orange is the New Black where she can grab just a bit of that artistic freedom and rock it out by playing a Southern white woman kissing an African American Jewish woman. And just a few scenes later, have a threesome.
Soso (Kimiko Glenn) and Poussey (Samira Wiley) have a mostly sweet relationship in season 4. It suffers a bump when Soso reveals her racist version of what a black woman might be. They make up, but Soso isn't really committed. If she was outside she'd want to be with a man. If she was outside, she'd want to be with a white man. She likes Poussey. She likes what Poussey does to her and for her. But she doesn't give back. She's not clear if they would even be friends on the outside. Nevertheless, Soso tells Poussey that she loves her. Gay for the stay, but at least she's honest about it.
The Cast is Massive
In one of the episodes, I ticked my way through the opening credits to count 17 regulars listed before the song. Then I counted 15 more names listed as the episode began. And then there are all the names listed during the closing credits.
That's a big cast. If you're going to tell a story about an overcrowded, racially divided, American prison, you need all kinds of people. On Orange is the New Black, they figured out how to make it work.
Some of the people who were prominent in past seasons like Norma (Annie Golden), Figueroa (Alysia Reiner), Stella (Ruby Rose) and COs like Wanda Bell (Catherine Curtin) and O'Neill (Joel Marsh Garland) get seen. It may only be in one scene, but we know they are still around.
Other characters rise to the front.
In season 4 we see a lot of Lolly (Lori Petty). Lori Petty pretty much owned season 4. A.MAZ.ING performance. We also see a lot of Blanca (Laura Gómez), Aleida (Elizabeth Rodriguez), Maritza (Diane Guerrero), Maria (Jessica Pimentel), Frieda (Dale Soules) and Judy King. Except for Lolly and Judy King, who are new, several of the characters who've been background for 3 seasons get to show their stuff in season 4.
The Hollywood Reporter ran an interview with OITNB casting director Jennifer Euston about finding the fabulous cast she put together on this show. Jennifer Euston is great at what she does.
Do you have any general comments or stray observations about season 4? Share below.