"Insolvent Phantom of Tomorrow" is the title of this episode of Orphan Black. Sarah (Tatiana Maslany, a multitude), Felix (Jordan Gavaris) and Mrs. S (Maria Doyle Kennedy) head for London in search of the original Castor clone. Bodies fall like ninepins and surprise twists hit every plot line.
In London Town
Mrs. S, Sarah and Felix enter a bar where Mrs S has a friend named Terry (Daniel Fathers). They learn from him that the number Rachel transcribed out of "The Island of Dr. Moreau" is a number from the English prison system.
They talk about the old days a bit. Terry reveals that Mrs S was in a band. Her old band mates show up – she calls them geriatric wankers.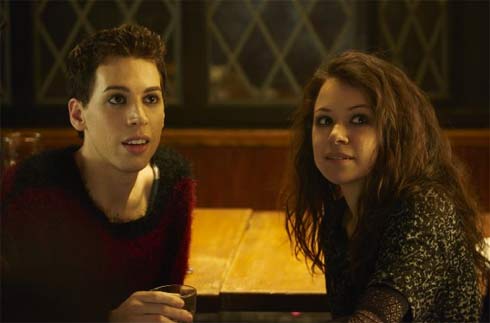 Sarah and Felix are delighted to discover things about Mrs. S's past, including where she used to go to shag Carlton.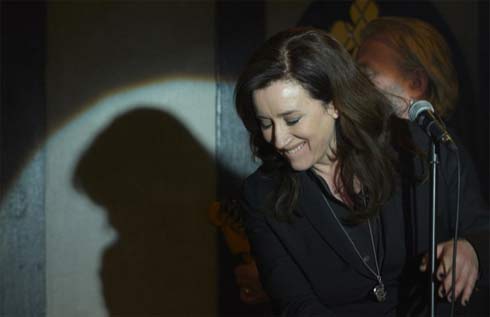 Mrs. S gets up and sings a song with the old band. While she's singing, Terry goes back to his apartment, where he gets beaten to almost dying by Ferdinand (James Frain). When Mrs. S finds him there, he whispers the information about the Castor original in her ear and dies. Mrs. S tells Sarah and Felix that it's over, they're going home. She sends Sarah and Felix out.
As Sarah leaves she picks up a phone. She calls a number from the phone as Ferdinand observes them. Sarah and Felix get picked up in a cab. They guy driving knows Mrs. S. He  delivers them to the house of someone named Kendall Malone. The house looks dark. Sarah goes inside looking to "kill an innocent old man."
The cab drives off. Ferdinand jumps in and kills the driver. Then he calls Delphine and tells her he's been chasing Sarah Manning around London when she was supposed to be locked up at Dyad. Delphine asks Ferdinand to come to Dyad for a meeting.
In the house, Sarah finds a photo of a younger Mrs. S holding a baby. A woman (Alison Steadman) appears and says she is Kendall Malone. Sarah was expecting a man.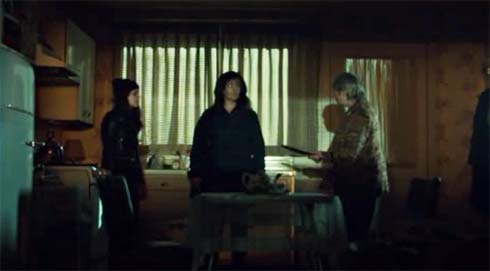 In walks Mrs. S and says, "Hello, mother." Mrs. S obviously hates her mother, but she asks what Professor Duncan had to do with her. Kendall says Duncan came through testing inmates when she was in prison. He was looking for a donor and he found one in Kendall. She was both the male and the female original because she had absorbed a male twin while in the womb. She laughs, "I got two cell lines, me."
Mrs. S wants to burn down the house with her mother in it, but Sarah points out that Leda needs the original cell line.
Cosima & Her Girlfriends
Cosima reads the file Delphine (Evelyne Brochu) gave her about Shay (Ksenia Solo). She immediately concludes that Shay is not trustworthy when she sees a photo of Shay in an Army uniform.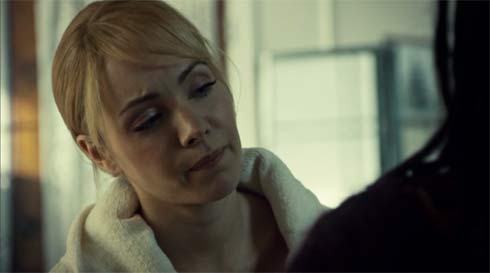 Cosima rejects Shay's attempts to talk about dinner and blows out of Shay's apartment like her pants are on fire. Shay is puzzled by her behavior.
Cosima talks it over with Scott (Josh Vokey), who points out that nothing in the file really proves that Shay is the spy. Cosima feels that she's put everyone in danger by being fooled once again by her attraction to someone.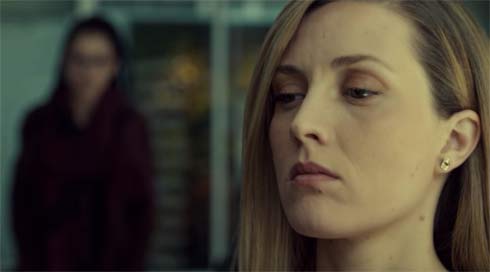 Cosima goes to Dyad to "eat shit" in front of Delphine. She admits that Sarah is in London looking for the Castor original.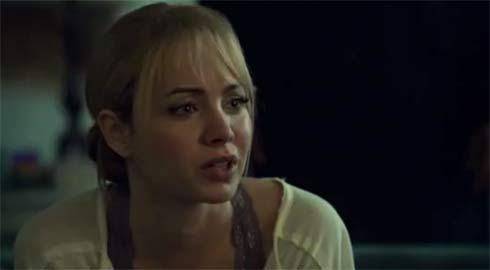 Delphine goes straight to Shay's. Shay seems innocent. She claims not to know what Castor is. Delphine threatens to put her in the bathtub and slit her wrists and the arteries in her ankles if she doesn't talk. Delphine fills the tub and brandishes a razor blade.
The Hendrix Family Business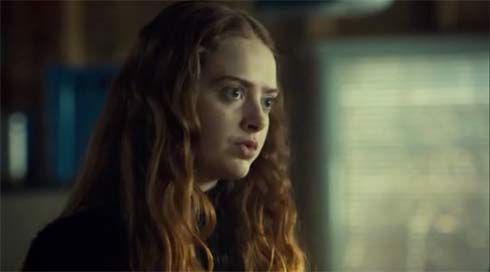 Gracie (Zoé De Grand Maison) begs off work to Alison, claiming an appointment.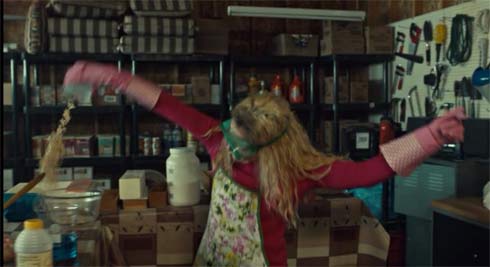 Gracie stops by the garage where Helena is gleefully dancing and making soap. She hugs Helena in a lingering goodbye.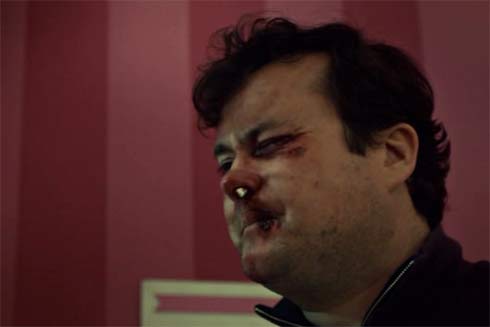 Donnie (Kristian Bruun) was beaten to raw hamburger. Now the drug dealer Pouchy (Tony Cianchino) want all the pills back because Jason no longer vouches for the Hendrixes. A thug comes to get the pills. He takes Helena's canister of frozen embryos with him because he can't find the pills.
Donnie goes home to get the pills and Helena makes some gunk to put on his face to stop the pain. He tells her that the bad guys took the tank. "My babies?" Helena asks. She wants to know where the drug dealers are.
Donnie takes the pills to Pouchy. They give him the nitrogen tank, but don't return his money. Helena, who was supposed to wait in the car, comes in. Pouchy refuses the refund and threatens Donnie's kids. Helena pushes Donnie and the tank out the door.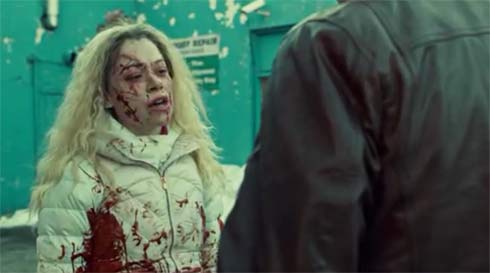 When Helena comes out, she's carrying a bloody machete, a very large bag of cash, and a pound or two of extra blood. She tells Donnie, "We should go now."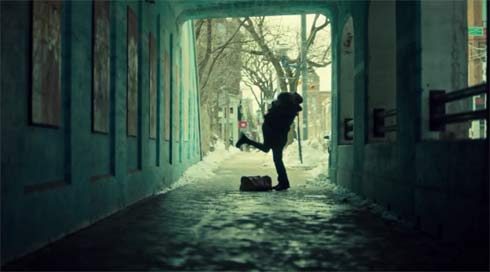 At the same time that Delphine is threatening Shay, Gracie calls Cosima and apologizes for being the rat. She was trying to save Mark (Ari Millen). Gracie runs away with Mark.
Cosima calls Delphine and says that Shay is not the one who stole the book or told Castor that she was sick – it was Gracie. Delphine looks at Shay like she wants to kill her anyway, but she leaves Shay in one piece.
Some Thoughts
You can buy albums of music by Maria Doyle Kennedy from her website. So glad we got to hear her sing a bit in this episode.
This episode changes a lot of things and we have one more episode before the season ends! What can they possibly have left to amaze us with?
Mrs. S's mother is the original for both Leda and Castor clones. That's an amazing plot twist, but in looking back on all three seasons, I'll bet John Fawcett and Graeme Manson had that in mind from the very beginning. It's so delicious. Even though Mrs. S didn't know it herself, it explains so much.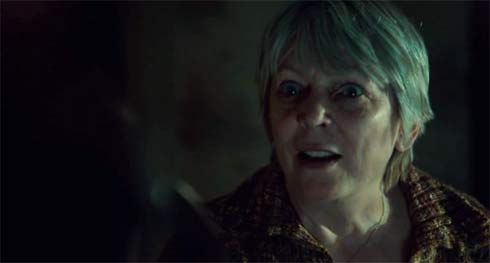 Alison Steadman as Kendall Malone is an excellent casting choice. She looks believably like Tatiana Maslany might age to look, although it's a stretch to see any of Ari Millen in her face.
Then there's the plot twist with a whole shit ton of money in the Hendrix deep freeze while a litter of dead drug dealers mean their new business is kaput. Probably a good thing – Alison and Donnie are terrible criminals.
And Shay! Shay is apparently just a girl, standing in front of a beautiful lesbian, wanting to be loved. Hot diggity dog, maybe that means Ksenia Solo will be around in season 4!
The Title Quotation
Dwight D. Eisenhower's Farewell Speech to the Nation in 1961 pointed out everything we were going to get wrong in the future and advised us against it. We didn't listen. Here's the paragraph with this week's title.
"Another factor in maintaining balance involves the element of time. As we peer into society's future, we – you and I, and our government – must avoid the impulse to live only for today, plundering for, for our own ease and convenience, the precious resources of tomorrow. We cannot mortgage the material assets of our grandchildren without asking the loss also of their political and spiritual heritage. We want democracy to survive for all generations to come, not to become the insolvent phantom of tomorrow."