Orphan Black season 4, episode 5 is "Human Raw Material." All that raw genetic material is manipulated at Brightborn into perfect babies and that's where a lot of the action takes place in this episode.
Krystal (Tatiana Maslany – the whole enchilada) is back! Amazing the trouble a naive clone can cause when she knows something is wonky but not what the wonky is.
Krystal is in martial arts training. She can toss her trainer (Lamont James) to the floor and she's strong. She's still obsessing about the look-alike twins who almost kidnapped her and the inexplicable goings on at the Dyad Institute. She will tell anyone who will listen all about it.
Sarah is suspicious of Felix's (Jordan Gavaris) newfound sister Adele (Lauren Hammersley). She learns that the outfit that matched them up – Gene Connexion – is related to Brightborn Group. She tells Cosima and Alison. Naturally, they decide to go undercover into Brightborn. This time Cosima will go to a meeting with Donnie and pretend to be the surrogate for Donnie (Kristian Bruun) and Felix's pretend baby.
Sarah and Kira (Skyler Wexler) are having a mommy/daughter togetherness day. Sarah tries all day to get Kira to tell her about the "dream" she described to Auntie Cosima. You know, the one where they set Sarah on fire. Kira doesn't explain.
Much to Sarah's dismay, she goes to Felix's place and Adele is there. Kira is with her, so Adele meets Kira.
Sarah sneaks Felix's and Adele's hair and wine glass and gives them to Scott (Josh Vokey) for a sibling DNA test.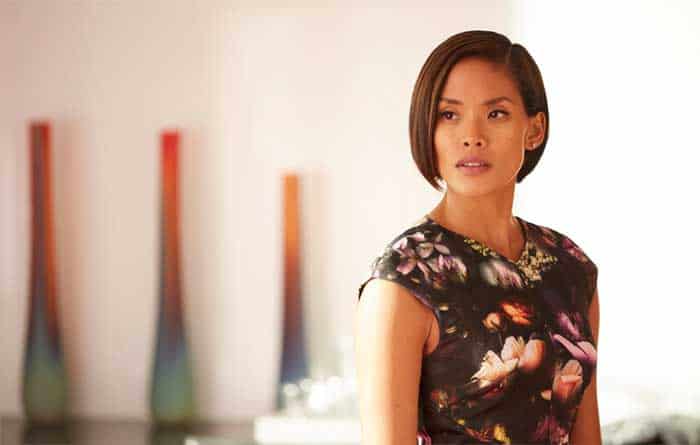 Who's greeting all the prospective moms and dads at the Brightborn Group? Evie Cho (Jessalyn Wanlim) explains how she got interested in genetic engineering, and how perfect everyone's new baby is going to be.
Cosima and Donnie, listening to Evie Cho's talk, are more concerned with not letting Evie get a glimpse of a Leda clone she's sure to recognize.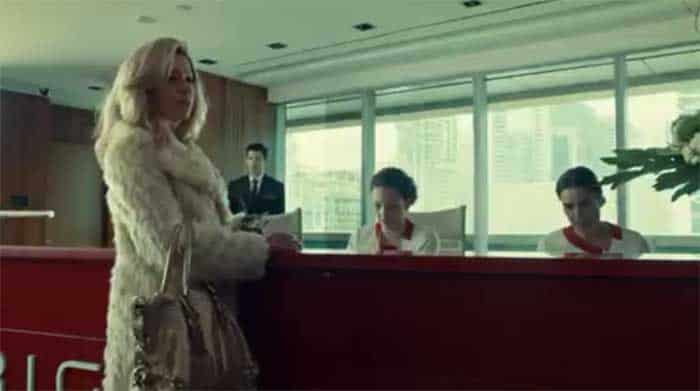 Who shows up at the front desk wanting to hear all about Brightborn and having babies? Krystal. Evie walks out of the meeting and sees her. Not exactly the clone Cosima was worried about her seeing. Evie thinks it's Sarah in disguise.
Cosima sneaks off to go explore where she shouldn't be. About that time Donnie sees Krystal. He runs off to tell Cosima. She tells him to deal with it and get rid of her so she doesn't mess things up.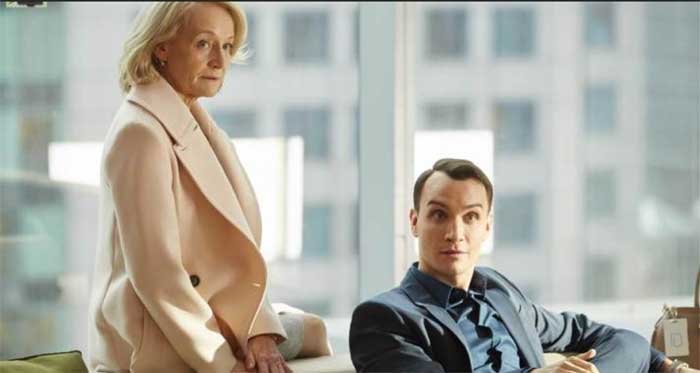 Evie goes to her office where Susan Duncan (Rosemary Dunsmore) and Ira (Ari Millen) are hanging around. Evie thinks maybe they should have called first. Evie tells them Sarah is there.
Art Bell (Kevin Hanchard) learns from Det. Duko (Gord Rand) that the cops have connected the Hendrixes to drug selling from the soap store and the triple homicide of the Portuguese drug dealers. Yeah, not good.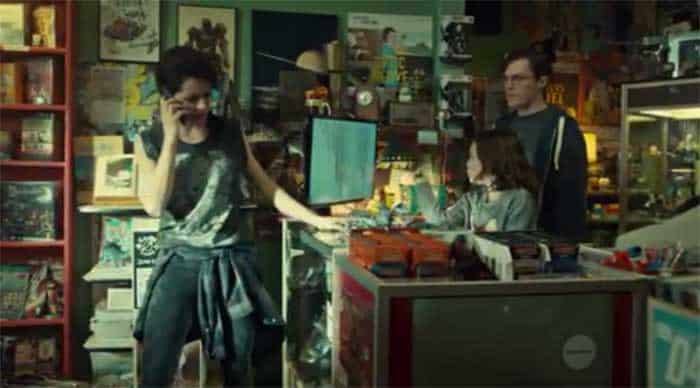 Art tells the bad news to Sarah. When Sarah calls Alison about the cops being on to the soap store as a front for drug dealing, she learns that Helena has disappeared along with some camping gear. That explains the strange text Sarah got from Helena at the beginning the of this episode of Orphan Black saying not to worry about her.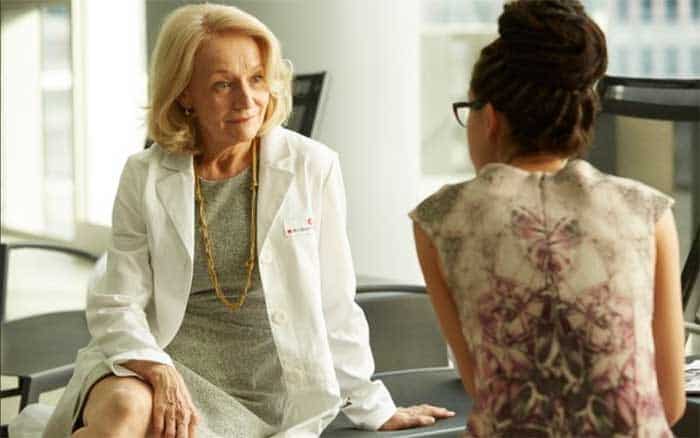 Susan Duncan spots Cosima wandering around. She talks to her, introduces herself simply as Susan. Cosima asks her all kinds of very smart questions about the genetics work going on at Brightborn. Germline editing is brought up. Cosima drops a bunch of pamphlets and lifts Susan's ID badge as she picks them up. She learned something from Sarah after all.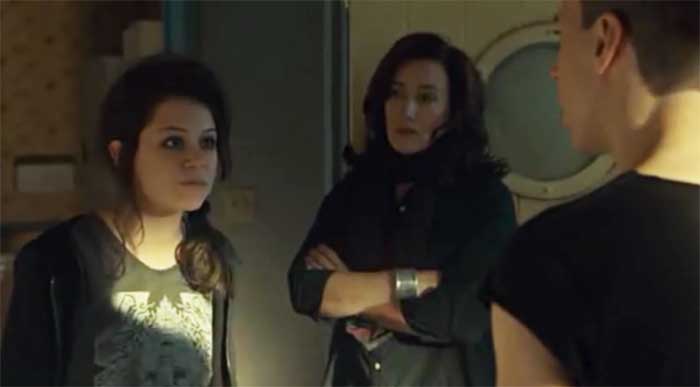 When Sarah went to Felix's earlier, she invited him to family dinner per Mrs. S's (Maria Doyle Kennedy) request. When he gets there, he has Adele with him. Felix and Sarah argue about him bringing Adele. Mrs. S has to settle them down repeatedly, even while reminding Felix that this was supposed to be a safe house and he's blown it.
Donnie finds Krystal stealing cosmetics. To distract her from wandering around and being seen, he pretends to be an employee and offers to give her a massage. She tells him she thinks the Dyad institute is doing stem cell research on cosmetics. Krystal thinks she's going to blow the whistle on the whole operation like that guy who went to Russia. She mentions a blonde French doctor. Donnie slips up and says Delphine's name, then he calls Krystal by name – which he shouldn't know. Krystal leaps up, gives Donnie a swift kick and overpowers him.
Krystal throws on a robe and runs out. She's nabbed by Brightborn's favorite grave digging, maggotbot removing, season 4 muscle Roxie (Miranda Edwards). Roxie puts Krystal in a room by herself. Krystal talks to a camera. Susan and Ira watch with Evie Cho. Susan says Krystal is harmless and they should let her go.
Cosima dons a pair of scrubs and uses Susan's ID badge to enter all the off-limits places.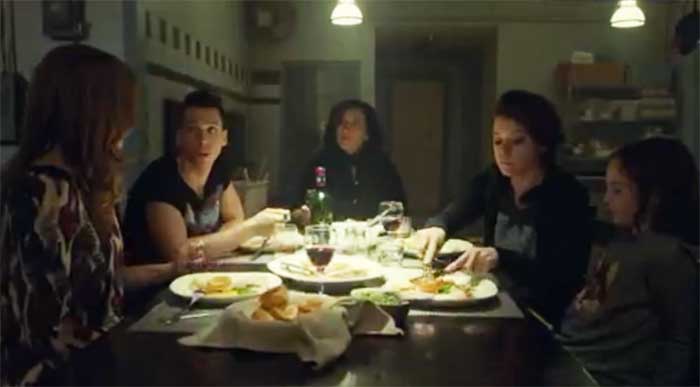 While the squabbling between Felix and Sarah continues over dinner, Scott calls Sarah. Sarah tells Felix that Scott confirmed that he and Adele are real siblings. She doesn't look like she means it, however, and she tears up after she says it. I'm not sure whether she was lying, or was hurt because she feels she's losing her brother.
Later Kira and Sarah talk about how Kira knows how all the aunties feel. And she feels how her mommy feels, too. It's a sweet finish to the mommy and daughter day for them.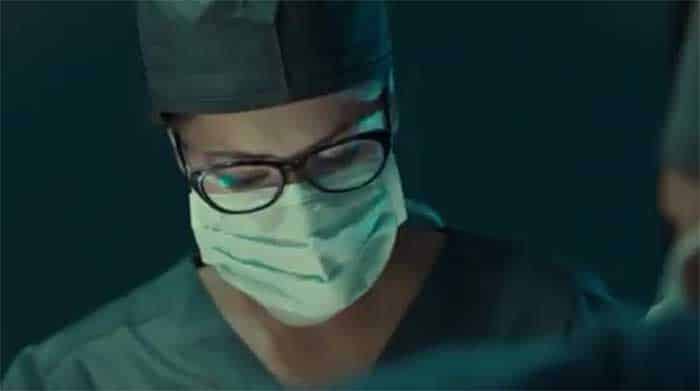 Cosima gets dragged in to help deliver a baby one of the "carriers" is about to give birth to. It's severely deformed when it comes out.
When Cosima's leaving the delivery room, Susan appears and Cosima clicks to the fact that it is Susan Duncan.
As Krystal is escorted out, she catches a glimpse of Ira and yells out about knowing his face. Sarah and Cosima really do need to bring Krystal into the secret, because she's flailing around going crazy the way it is.
Susan has a heart to heart with Cosima. She tells her the Leda clones were a baseline. Cosima comments, "We're your Oncomice," which refers to a Harvard study of genetically modified mice. Susan mentions the thing in Sarah's cheek – she says it's brutish compared to Leda. Then she says, "You're dying. You don't have the resources to save yourself. But share the original genome and together we can make a cure." Cosima doesn't want to turn over the original genome (AKA Kendall) as a lab rat.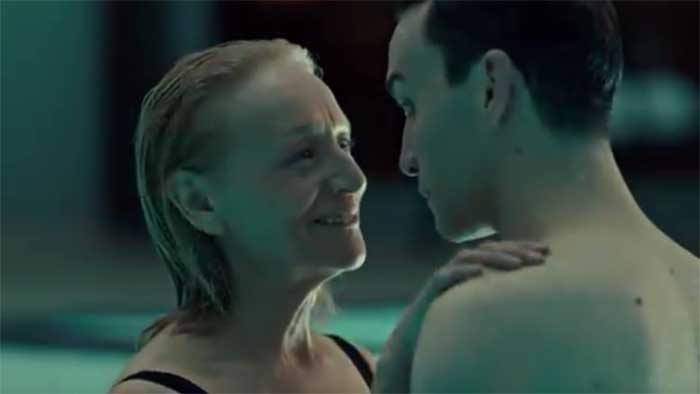 Cut to Ira in a pool. Susan climbs in talking about the Leda clones and being close to the original. Then she kisses him. A huge kiss, not a motherly peck. I'm going "Eww." Not because she's so much older than he is, but because she's having sex with a boy toy clone she bred herself.
Some Thoughts
Sarah's fighting with everyone. With Alison, with Felix. She's a wreck. She still looks exhausted and like she hasn't washed her hair in two weeks.
Speaking of hair, Cosima has a new hairdo this season. I miss the old one. And speaking even more about how people look, Ira is sporting eyebrows that Krystal, as a beauty professional, would be proud to claim.
I don't trust Adele. Do you? And if she really is Felix's sister, does Mrs. S know all about it already?
When is Krystal going to find out what's really happening? Why didn't they tell her when they had her in the Dyad Institute with a patch over one eye pretending she was Rachel?
Methinks the Hendrix family is headed for trouble with the police, big time. I hope they don't still have tubs of pills stashed around the house. And I hope the fresh concrete on the garage floor is dry.
Why aren't these people all stumbling around drunk? They drink ALL DAY LONG!
Fan Tweets
and here we have delphine, the host-parasitic immunologist, holding season four's entire storyline pic.twitter.com/xykARrEwnp

— lauren (@dlphinecormier) May 15, 2016