Only two episodes of Orphan Black remain in season 2 after this week's "Variable and Full of Perturbation." This episode introduced quite a lot of variation and perturbation to resolve in that time, especially with a new clone Tony (Tatiana Maslany) showing up.
Yep, Tony. Formerly Antoinette Zwicky, now a trans man named Tony. He's a bit of a thug with too much long hair and sparse, wispy facial hair. (I can't believe I once complained about Cal's hair and beard.)
The introduction of a trans clone ties a blue ribbon and big bow on the nurture position in the nature vs. nurture debate that has been ongoing since this show began. Rachel even said, "nurture prevails" last week. I'm not saying your upbringing makes you trans. I'm saying your biology doesn't determine your individuality.
Tony's buddy Sammy is killed by "suits." His dying words are for Tony to find Beth Childs. Since suspended cop Art Bell (Kevin Hanchard) still has Beth's phone, Tony reaches Art. Art takes him to Felix (Jordan Gavaris) who quips, "Holy Tilda Swinton" at the sight of Tony. Felix and Art want to hear the message for Beth, Tony wants to know what's going on, and nobody trusts anybody.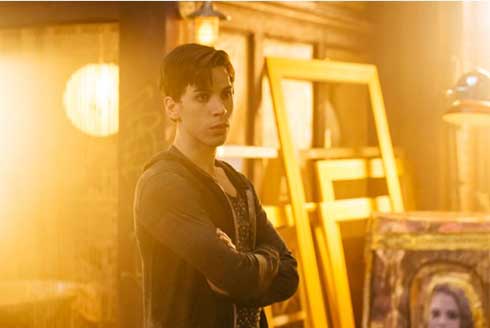 While at a standoff over who will give who what information first, Tony takes a bath at Felix's place, first showing off his monster package bulging in a pair of tight shorts. Felix definitely notices. There's a bit of sizzle between them.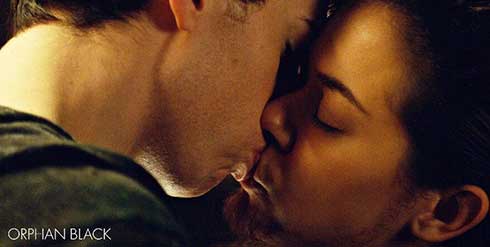 Tony tries getting information out of Felix with sex. It's a little strange with Tony looking so much like Felix's favorite sister and all. Felix pulls back.
Tony finds paintings of the clones in the apartment. Felix still won't reveal anything to Tony. Tony still won't reveal anything to Felix. Tony's about to give up and leave when Sarah arrives.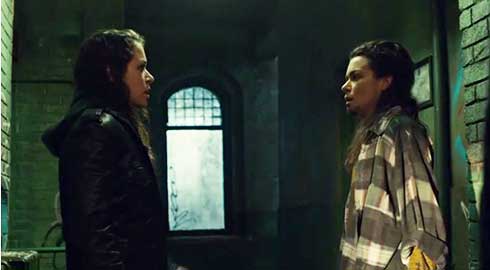 With Sarah there, we finally get the message from Sammy (who Felix and Sarah assume was Tony's monitor) to Beth Childs. Sammy was ex-military like Paul. The message is, "Tell Beth, keep the faith. Paul's like me. He's on it. He's a ghost."
Speaking of Paul, Rachel spends the whole episode trying to find him. He's disappeared.
Allison
Allison goes home from rehab to find Donnie (Kristian Bruun) drunk in bed. Later that night she finds him in the basement, packing to leave.
Now that they are finally using the C word together, they have a bit of mutual talk therapy. They both confess their problems with murdering people. Once they are honest with each other, it's clear that they actually do care about each other. Instead of leaving the family, Donnie shows Allison Leekie's body in the trunk of the car. And he mentions that he shot Leekie with Allison's gun. Boy, do they have a lot to do.
Sarah, Cosima, Delphine, Duncan, Mrs. S, Rachel and Kira
Sarah, Kira (Skyler Wexler), Ethan Duncan (Andrew Gillies), and Mrs. S (Maria Doyle Kennedy) are all at Mrs. S's place, waiting to see if they are going to give Duncan and his floppy disks to Dyad. Duncan is taken with Kira. He reads to her from and old copy of The Island of Doctor Moreau, a copy he used to read to Rachel. He gives Kira the book. Duncan tells Sarah that he can cure Cosima – no question about it.
At Dyad, Rachel tells Dolphine (Evelyne Brochu) that Leekie died of a heart attack and that she, Rachel, is in charge. She dispatches Delphine to get Duncan. Delphine thinks Rachel killed Leekie and the situation for Cosima is more urgent than ever.
Cosima has more or less forgiven Delphine over the Kira stem cell incident. They have a talk in which Delphine assures Cosima that she loves her. Cosima says, "You have to love all of us." Cure one, cure them all. Delphine says she does love all of them and Cosima finally admits, "I love you, too."
Delphine convinces Mrs. S and Sarah to let Duncan go into Dyad. When Rachel meets him again, she is cold and professional. He tells her what equipment he needs. Then he tells her that Sarah's fertility was a failure, not a success. "You were all barren by design." Rachel is frozen in place on the outside, but inside she cracks. Inside she throws a tantrum, tossing everything on her desk, throwing furniture, and hanging on to her emotions by the thinnest of threads.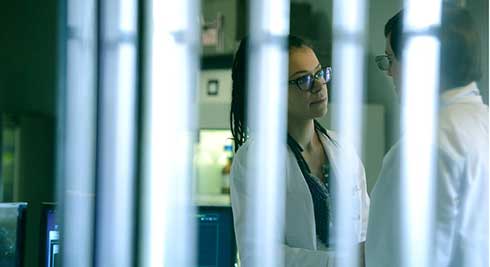 When Delphine shows up at the lab with Duncan in tow, Cosima says it feels strange to meet her "maker." Scott (Josh Vokey) is there to help. (Cosima told Scott that she is 324B21.) All of them are ready to get to work when Cosima has a seizure. She's writhing on the floor with blood gushing from her mouth.
At Mrs. S's, Kira wakes up early. She sneaks out of bed and sits on the floor with the copy of The Island of Doctor Moreau. She smiles as she leafs through the pages, which are filled with hand-written scientific drawings, chemical equations, and annotations in the text.
Helena was only mentioned in passing in this episode. Presumably she is still with the Prolethians, being impregnated with her own eggs fertilized by God's representative on earth, Henrik.
The quote for the episode title, "Variable and Full of Perturbation," comes from Francis Bacon's Novum Organon, and reads:
the spirit of man (according as it is meted out to different individuals) is in fact a thing variable and full of perturbation, and governed as it were by chance.