Happy Valley season 2 previews and publicity teasers are coming our way. Here's a preview, if you can call 10 seconds of video a preview, of what's to come. Here's everything I know about the second series.
Really, BBC One, 10 seconds?
What we can learn from this 10 seconds is that Sarah Lancashire as Sergeant Catherine Cawood looks pretty grim on her way to what is probably Tommy Lee Royce's trial. Which brings us to the second thing we know: James Norton as the villain Tommy Lee Royce is still around.
The press is starting to tease about Happy Valley, too. Another sure sign the premier of series 2 is approaching.
According to the TV Times, there may be a serial killer in the Calder Valley and in Sergeant Cawood's life in season 2. Writer Sally Wainwright is quoted as saying, "It's going to be quite different from the first series, but we have kept elements of the first series. It's a whole new ball game."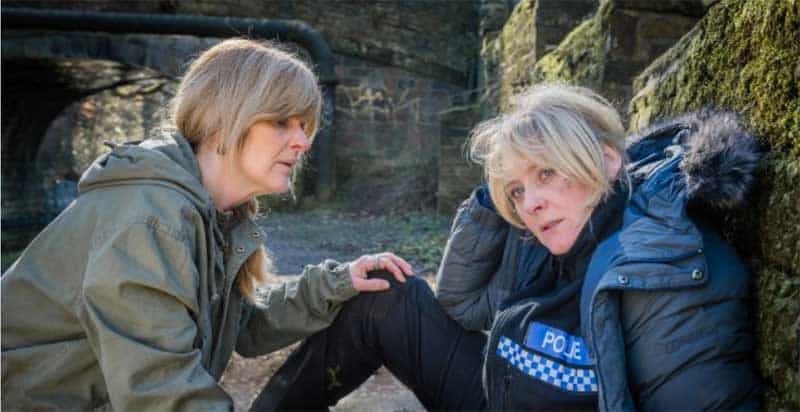 Returning for season 2 are Karl Davies, Siobhan Finneran, Rhys Connah, Rick Warden, George Costigan and Charlie Murphy. Karen Lewis will still be producing. Directing duties will fall to Euros Lyn and Sally Wainwright.
New faces in the cast include Shirley Henderson, Kevin Doyle, Julie Hesmondhalgh, Katherine Kelly, and Amelia Bullmore.
In addition to the frustrating 10 second teaser, there is no announced date yet for the premier of the second series. "Coming Soon" is the announcement from BBC One.
However, a Sarah Lancashire fan Twitter account seems to know more.
Happy Valley Series 2 arrives on your screens in March 2016. #HappyValley2

— Sarah Lancashire (@SarahLancsUK) January 17, 2016
March is almost here! [Ed.: BBC One released some press more recently that gives the starting date in Feb. 2016.]
If you haven't seen series 1 yet, it's available on Netflix, Amazon Video and iTunes.