The world has gone mad today
And good's bad today,
And black's white today,
And day's night today
– Cole Porter
Cole Porter might have added "And trust's not right today" to that song to fit what Bo in Lost Girl. She's giving her trust – and her power – to the wrong people. People and things are not what they seem and nobody can figure out what to do about it except read old books.
And, damn it all, Hale is really dead. Dyson (Kris Holden-Ried) is delivering a eulogy at Hale's funeral.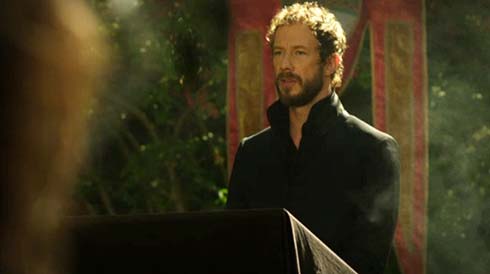 Bo (Anna Silk) and Tamsin (Rachel Skarsten) are seated to one side, Kenzi (Ksenia Solo) is by herself on the other.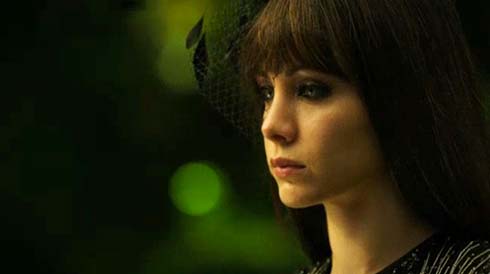 Kenzi is more alone than ever, but this time she's alone by choice. She chooses not to be near Bo. After everyone else leaves, Kenzi still sits there. Bo walks up.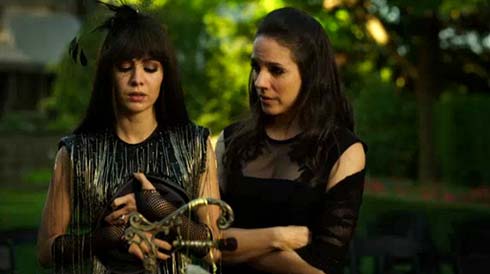 Bo offers only platitudes. Her arms are crossed, she's not there for Kenzi, even though she's promising she will be.
Someone in a metal face mask and cape steps out of the brush. She (Casey Hudecki) removes her mask, bows before Bo and says she's a knight in the order of Raina. Her name is Rosette.
Later, at the Dal, Rosette tells Bo that she's in danger and that she is there to protect her Queen. She mentions a prophecy that with the death of the Una Mens the Pyrippus would rise. (The Showcase Blog recap of this episode is spelling this Per Apice, which they translate as dragon or The Apex. With all the horses everywhere in this episode the spelling Pyrippus, which is a bat-winged horse from hell, actually makes more sense.)
Rosette hands them a book that says Pyrippus will rise and seek out the succubus.
Kenzi is leaving the room and Bo follows, telling Rosette that she doesn't give a shit about prophecies when her family is hurting.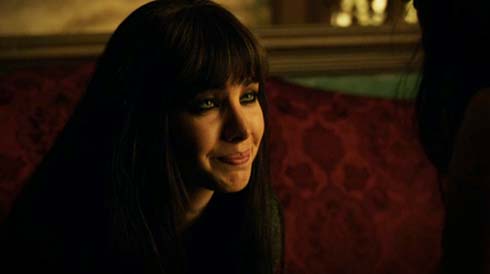 Kenzi tells Bo that they have to get Massimo and kill him. Bo promises, "he will pay."
Bo, Dyson, and Kenzi enter Massimo's (Tim Rozon) rooms. He's concocting something. Kenzi holds her bloody sword (Hale's blood?) to his throat.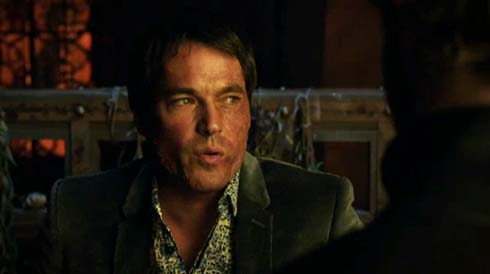 He tells them they have no idea what's going on. He says Rainer is going to die, and soon. Massimo says when The Wanderer arises, another curse shall befall Rainer unless the curse is broken. Kenzi asks about the Twig of Zamorra and he mocks her pathetic human weakness. She shouts in frustration. Massimo whispers something in Dyson's ear and Dyson says, "We can't kill him yet."
Apparently there are larger things at stake than revenge, but Kenzi's not interested. She rails at Bo who promised her revenge. Bo says only that Massimo will suffer, Dyson will make sure of it. Kenzi says, "First you betray me. Then Dyson betrays me." Bo shouts after her as she leaves, "We have to trust him." Bo's done a lot of trusting and not much independent thinking the last few episodes and it isn't working out well so far.
Lauren (Zoie Palmer) digs through books in the Dark Fae library looking for anything she can find about Rainer. The ink isn't even dry yet when she finds it. She reads, "Behold the beast: evil pure. Fanged teeth, horned. Him they call Rainer. A 1000 years shall be ended. He shall be unbound to wreck torment beyond comparison and betray the Fae."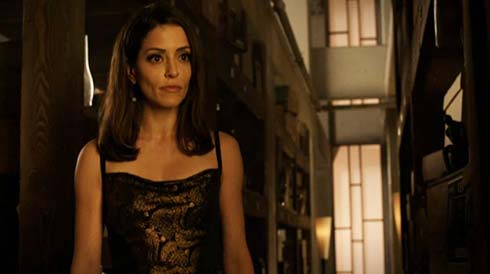 Lauren hears Evony (Emmanuelle Vaugier) talking to someone about wanting the succubus dead. Lauren grabs books and scrolls and heads off to warn Bo.
After she's gone, we see that Evony is talking to Trick (Rick Howland). Trick doesn't want to kill his granddaughter but he's willing to work with Evony to try to figure out what to do with Rainer.
At the clubhouse, Tamsin pours through more old books. (Where is Anthony Steward Head when you need him?) Bo and Rainer (Kyle Schmid) are there. Rosette comes in and Rainer's glad to see her. He praises her efforts to get him off the train. Rosette tells them that an alliance between Bo and Rainer would assure that the earthly curse was lifted and that Rainer would not die. Tamsin reads that if the first curse fails, a second will kill him within 7 days. He's been here 6 days by Tamsin's count.
The second curse can only be broken by blood. Since Trick cursed him, Bo thinks she has enough of Trick's blood in her to break the second curse.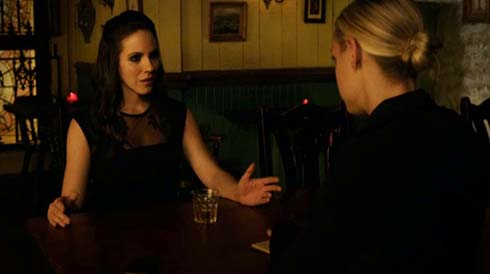 They need a clue: The Wanderer tarot card.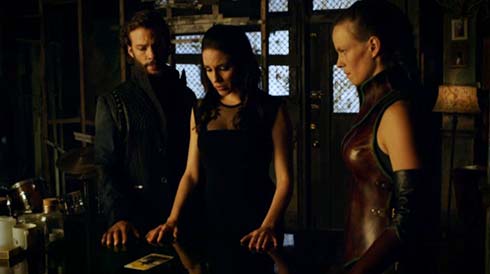 Bo burns the card and MMXV appears. 2015. They think it's a time. Lauren comes in laden with books and says it could be map coordinates. Lauren asks to talk to Bo.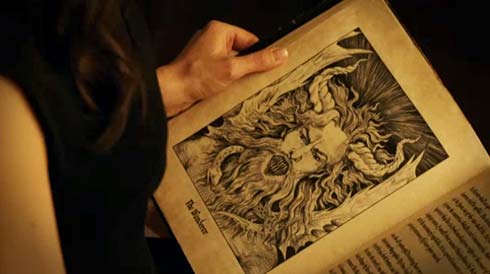 In the bedroom, Lauren shows Bo the image of The Wanderer in a book. Bo says it isn't the guy in her kitchen, but personally, I see a resemblance.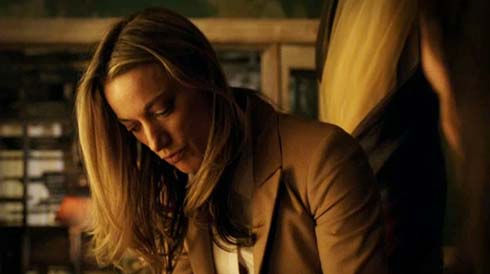 Lauren reads, "The warrior shall escape his curse, the Valkyrie shall be reborn. The blood of Zamorran shall be spilled. The women of the horse shall rise. Between the warrior and the queen, one of the two shall die."
Lauren wants to get Bo out of there, keep her safe. Bo wants to talk relationship. She says, "Why are you doing this? Are you with The Morrigan to get back at me?"
This isn't a great time for a lover's quarrel, but they have one. Lauren says she has isolated herself with the Dark to help Bo. "Everything that I do is for you!" Bo complains that Lauren didn't tell her the truth. Lauren counters that Bo had to believe it if she was going to make The Morrigan believe it. Bo's angry that Lauren's rooting around in the Dark archives digging up shit on the man who is her destiny.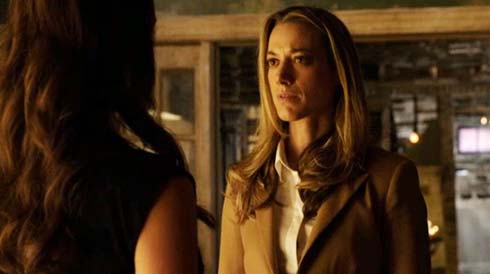 "So that's it? You choose him?" asks Lauren. Bo says it's not like that. "I chose you and you broke my heart." They stand there a moment staring at each other, a pause that might have led to a moment of communication and understanding between them, but Rainer interrupts them. Lauren looks at Rainer, nods her head, her expression says she gets how it's going to be.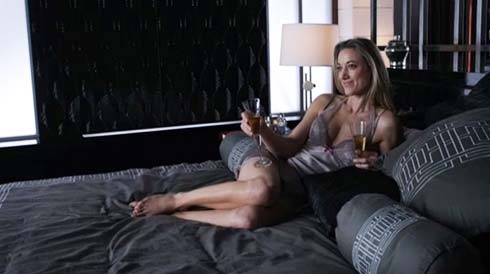 Evony arrives home to find Lauren in her bed with wine already poured and seduction on her mind. Lauren tells Evony she wants to join the Dark – officially. Evony's suspicious. Lauren's convincing. Evony takes the bait.
Bo, Rainer and Rosette enter a spiritual center. There's an image of a horse on the wall. Sister Epona (Eve Harlow) enters and asks them what they seek.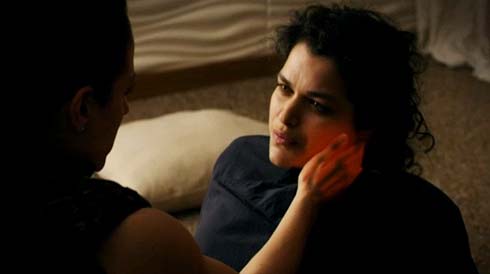 Bo gets the following info out of Sister Epona: the almighty horse will reign over life and death. Only the mighty will denote the worthy from the fallen. Then the Sister gets scared. She says Bo's blood will destroy him (whoever him is) and he must be protected. He is Pyrippus. Then we learn that Pyrippus is Bo's father.
Can't say we haven't seen that one coming for a while, but then there were several episodes when we thought Rainer was Bo's father. With Lost Girl it's hard to say you really know the answer to something, but we're running out of season 4, so maybe this is the final answer.
Kenzi's at the Dal, looking at a photo of her with Hale. She called Vex to meet her there. Bo has deserted her. Dyson has deserted her. She wants Vex to help her get revenge.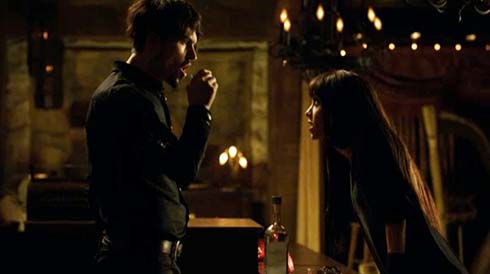 Vex loves the idea until he finds out the victim is Massimo. He's conflicted on that one. He finally agrees to help if he can go in alone. Kenzi insists on being there.
Bo and Rainer discuss the situation in the clubhouse. Bo saw a horse in the dawning. It was in the room where her father was singing to her. Then she was haunted by a carousel.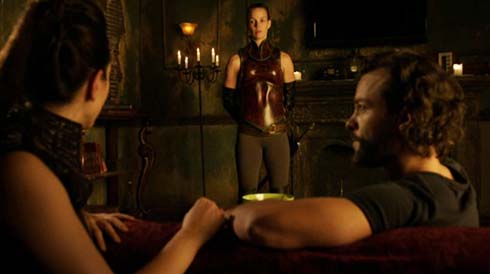 She touches Rainer, believing in his goodness. Rosette reminds them that the prophecy says that an alliance between Bo and Rainer will release her father from his prison. Wow, she is a real Johnny One Note on this alliance thing, she brings it up every few minutes.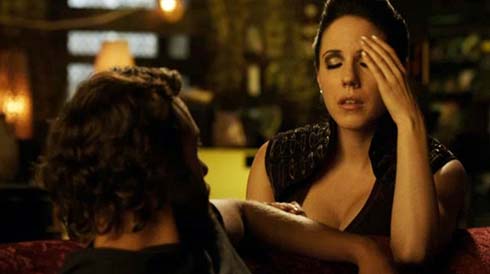 Bo can't make a decision. If they align, Rainer will be saved but her father will be released. She keeps looking outside herself for a decision instead of listening to her own instincts, which has been her greatest strength for the previous 3 seasons. This season, Bo doesn't seem to be in touch with herself or her instincts.
Vex lets Massimo out of a cell in Trick's lair. Kenzi again is ready to run her sword through him. She wants the twig of Zamorra. Massimo says, "Vexie," and Vex mesmers Kenzi's sword out of her hand. Vex says, "I'm sorry love, but this hot mess is mine." Massimo is his because Vex raised him when his mother abandoned him. Vex won't kill Massimo, but he won't let Massimo hurt Kenzi either.
Evony enjoys a loud orgasm, and Lauren crawls up from beneath the sheets.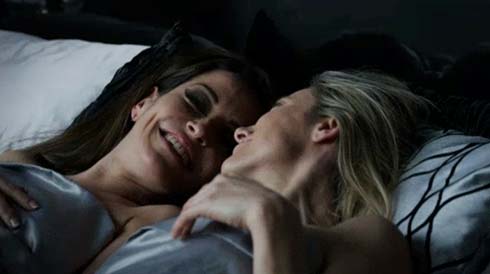 They are both delighted with what they are doing, but for different reasons. Evony complains about the taste of salt. Lauren says, "You're sweating. Good sex will do that."
"Not to me," says Evony. She sits up and says she feels weird.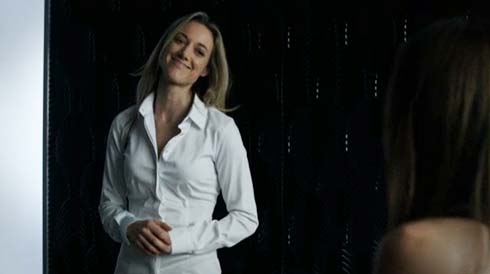 Lauren is already dressing. She says, "You've been transformed. Welcome to my world. You're 100% human." Lauren used Evony's DNA (Oh, an answer at last to Lauren's DNA scheming.) to create a serum that transformed Evony.
"What serum?" says Evony.
"Forgotten already? It was only 20 minutes ago you were down there," Lauren says. Bo's been called Wonder Snatch and Sugar Snatch on this show. Now I give you Dr. Serum Snatch. She delivers humanity like an STD. Take your medicine, ah, that's good.
Only on Lost Girl do you get hilarious plot points like this! Now that Evony's lost her powers, maybe she can get work doing public service announcements about dental dams.
Evony makes snide remarks about Bo's weakness for humans and Lauren slaps her hard enough to make her nose bleed. She takes some of the blood and puts it into a device attached to her phone to analyze it.
Bo seeks advice from Dyson and Tamsin. They don't have much advice, but Dyson has a scroll from Hale's family with the Zamorran family code.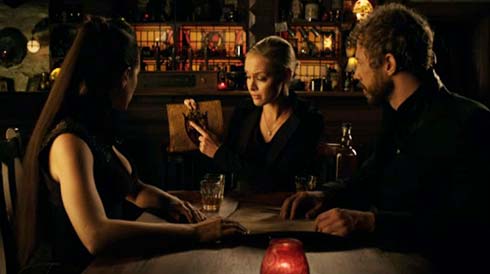 As they look at the scroll, a new line appears on it about reuniting with the Queen. On the back is a crest from the Order of the Knights of Reina. It means loyalty to their Queen.
Tamsin says, "Not just their Queen. THE Queen." She points to a bee in the crest. The Queen Bee. They think Bo is the Queen. Queen doesn't just mean their queen. It means Bo is the one.
When Bo went all powerful and sucked the chi out of a whole room in a couple of past episodes, she announced herself that she was the one. This is the first time it's been mentioned when she wasn't doing one of her power sucks.
Massimo is packing a bag: Valkryie hair, small box, vial of something. Vex thinks they're headed for England to lay low for a while. Massimo wants to finish what he started. Massimo's phone rings.
Evony is dressing when Massimo enters her bedroom. She's angry it took him so long to get there. Yet she gives him a kiss, hugs him. Makes soothing noises.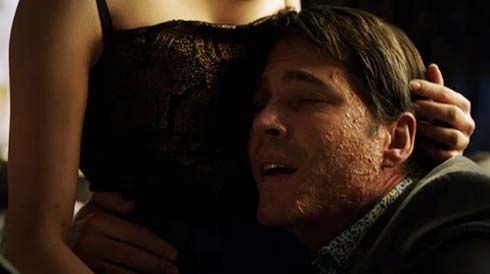 Evony complains of feeling strange and wants to know if Massimo brought her a cure for being human. She inspects his bag: shitty ass rosemary, some blonde extension, bad Barbie rattan furniture. She throws it at him. He picks up the rattan box and says he has something fantastic. She curses and humiliates him. He says, "Stop it mother!" just as Lauren appears. Lauren's a bit shocked by the "mother" remark, as am I.
I must pause to pay homage to the brilliant deconstruction of all things Lost Girl by bloggers like Mehlsbells and Drinks at the Dal, who figured out long ago that Evony was Massimo's mother, that Massimo was the one who took the origin seed, and a whole lot of other stuff that I didn't analyze to their depth.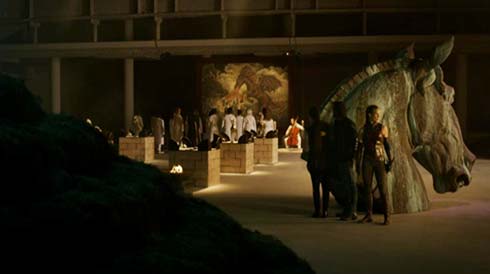 Bo, Rainer and Rosette enter a sanctuary where women worship an image of Pyrippus and there are statues of horses all around. Bo touches each horse while Sister Epona blathers about destiny. Bo finds a horse that alerts her spidey senses somehow. Inside is a leather thingy. That and a remark about hand fasting make Bo think that she and Rainer are supposed to get married.
Before anybody gets hitched, Bo goes home. Kenzi's torn the photo of herself and Hale in two. Kenzi reads to Bo from another old book. "One with eyes both brown and blue. One who shifts. A Valkyrie, too. One with blood that rules the world. One who sings, his life unfurled. A warrior to be her guide. A healer always by her side." Kenzi says everyone is in there except the weak human girl.
I would argue that Kenzi is the warrior to be Bo's guide, but Kenzi's not seeing it that way. And if she is the warrior, one of the other in the multitude of prophecies in this episode – in the book Lauren was reading – said that either the succubus or the warrior would die. No dying for Kenzi, please. No. No. No.
Kenze asks Bo to unclaim her.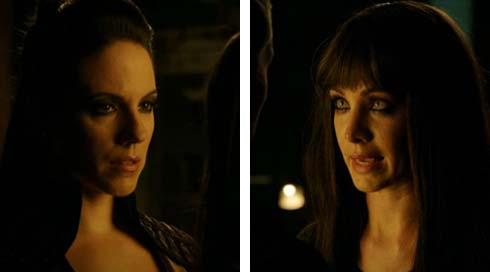 Bo doesn't want to unclaim Kenzi. They both show so much emotion and pain in this scene. Anna Silk and Ksenia Solo are at their best when they are together and this scene is powerful proof of that dynamic. Kenzi insists. Finally Bo unclaims her. As Kenzi walks out the door she says, "We're done."
Even though she's limited by being human, Evony has somehow put Lauren and Massimo in a dungeon. Massimo is screaming, acting crazy, yelling about hating his mother. And loving her.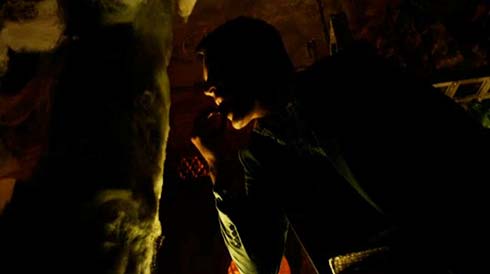 Massimo takes the origin seed out of the little rattan box and eats it. Lauren watches in horror as he begins to transform and falls on the floor in agony.
Bo and Rainer meet in front of some flaming logs, with Rosette looking on. Bo agrees to bind with him to save his life and face her father on her own terms.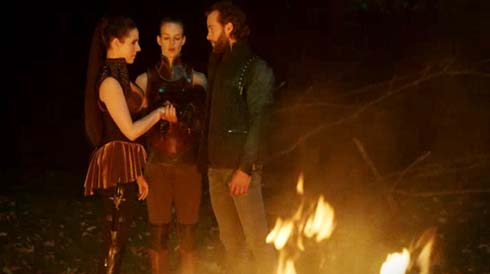 Bo says it isn't about love, it's about what's best for her family. Rosette quotes some Latin, they hold the leather thing from the horse, and they are bound, or married, or something. Can someone translate the Latin and explain what these two just agreed to?
Rosette laughs crazily and says, "Bo will rise with the Wanderer as her companion and together they will release the Lord of Darkness. The Dark Lord rises from hel." (A bit of exposition from Rainer here explains that hel is the mirror of Valhalla.) Rainer says Rosette betrayed him. Rosette is expecting to be rewarded by The Wanderer for binding Bo and Rainer, but instead she is somehow force marched into the fire.
Kudos to the special effects people, the shots of her burning up are very well done.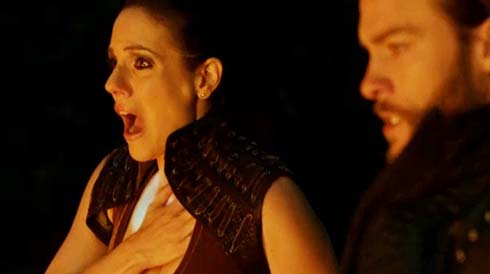 As Rosette screams in the fire, both Bo and Rainer clutch their chests where their "marks" are. Bo asks, "What have we done?"
A pyramid looking construction in a dark room fills with light and power and the door explodes outward.
Personal Thoughts
MMXV is the year 2015, in which we will enjoy season 5 of Lost Girl. Oh, there I go indulging in wishful thinking again.
After 12 episodes of misdirection, confusion, lost characters who aren't the same characters we grew to love in 3 previous seasons, and unresolved story lines that feel endless, I concluded this: I like shorter story arcs and less mystery about what's actually going on. I don't want predictable or formulaic, but I don't want 13 episodes of questioning and obfuscation either.
Lauren has somehow remained Lauren through all of season 4. I love her more than ever for her steadfastness.
Ksenia Solo is an amazing actress. Give that woman some awards.
Rainer is Mr. No Personality. If he's so damn important, why is he a cipher? Plus, shouldn't Bo have made him release her from being Dark Fae by now?
I was all wrong about what Lauren was doing with the DNA. I thought she'd find a way to turn herself and Kenzi Fae. Instead she made The Morrigan human. That caught me by surprise. The way she did it was so perfectly apt for this show and so funny at the same time. Great plot twist.
Kenzi unclaimed and gone. That's the worst thing ever. There is making up to do among many characters on this show, but Bo and Kenzi in particular have to find their way back. Is there a Lost Girl support group that will come by and hold the fans until Bo and Kenzi are back?