Broadchurch is a small town on the coast of England. Broadchurch, a new series on BBC America, takes its name from that location. A young boy is murdered there at the opening of this excellent police drama.
Episode 1 aired last Wednesday, but you can watch it before episode 2 on this coming Wednesday. Stay tuned to find out where.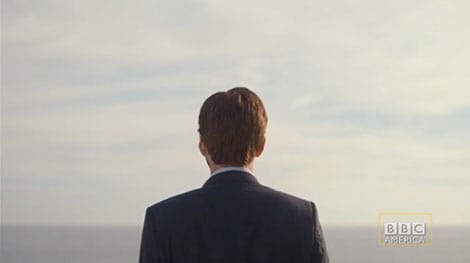 Two police officers investigate the murder. David Tennant from Doctor Who plays DI Hardy. Olivia Coleman is DS Ellie Miller. Their first interaction is unfriendly, since DI Hardy is new in town and new on the job. Ellie Miller, a long-time Broadchurch officer, thought the DI job was going to be hers.
Jodie Whittaker and Andrew Buchan play the murdered boy's parents. Broadchurch is a small community where everyone knows everyone else. At least they seem to. There are secrets. The death of the boy impacts everyone in the community. DS Ellie Miller and her son Tom were close to the family of the murdered boy. In episode 1 we begin to see some of the ripples within the community as the town tries to deal with the event and the search for a suspect intensifies.
When news of the murder is leaked on Twitter, a media circus comes to town which adds to the ensemble of characters and to the drama going on in the homes of the community members.
I was immediately hooked on the drama, the characters, and their many secrets. The relationships between the police officers, the townspeople and the journalists is compelling.
Season 1 contained 8 episodes, which were well received in the UK. A second season is scheduled, even though reports are that we learn the identity of the murderer at the end of episode 8.
If you missed the premier, BBC America has made the whole episode available on YouTube. You can also see the entire episode on BBC America. Episode 2 will air on Wednesday.
I recommend you watch the premier of this excellent police drama and check your local listings for the time you can catch the rest of the episodes on BBC America.
All images ©BBC America.