Barefoot can now be steamed from services like Netflix and Amazon Prime. It's a rom-com starring Evan Rachel Wood and Scott Speedman, released in 2014.
Spoilers ahead.
Here's the meet cute for these two. Jay's an in-to-his-bookie-big-time janitor in a mental hospital. In comes gorgeous, barefooted Daisy as a patient. He defends her from an inmate attack and she follows him out the door.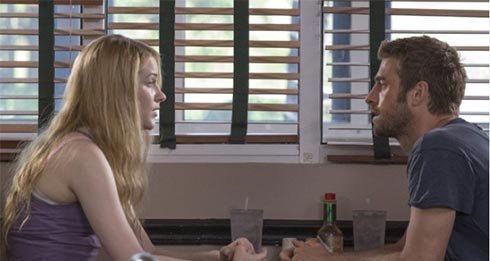 Obviously, Jay doesn't take Daisy right back into the nut house, or there would be no story. He figures out pretty fast that she isn't crazy, just hidden from normal life by her mentally ill mother.
This mismatched couple go through a lot before we get to the happy ending. I don't want to spoil the adventures for you by revealing too much because their story is interesting and unusual. An original in a field of always similar romantic comedies is not easy to create.
It's a great cast. Scott Speedman and Evan Rachel Wood do an excellent job with their material and their characters. In addition to the people already named, J.K. Simmons plays the part of the mental hospital's head doc – the guy whose ass is on the line because Daisy disappeared along with the missing janitor.
There's a cross-country drive in the plot, and plenty of beautiful scenery from the good old U.S.A. to charm your eyeballs.
Barefoot is funny and sweet. If you like romantic comedies, give it a try. I think you'll like it.