Blood and Water is Netflix second effort with South African content after the success of Queen Sono. This time they chose to go with characters younger in age set in a posh high school. They scored plenty of drama with the decision.
Blood and Water got off to a rocky start. The first episode was full of plot gaps. Once it found its footing, things hung together better. Later episodes were filled with angsty high school drama and soapy plot twists. At the end of episode six, the central question of the series was unanswered. Which means a season 2 is needed immediately.
Puleng (Ama Qamata) went to a public school. Her father was in legal trouble because he was accused of selling his newborn 17 years ago. The family celebrated the birthday of the missing child every year, and had a room about her with a wall of clues like police use to track a crime.
One night Puleng went to a party. A guy taking photos, Wade (Dillon Windvogel), suggested to Puleng that she and Fikile (Khosi Ngema) looked enough alike to be sisters.
The series is watchable, but not not brilliant.
Puleng became obsessed with the idea that she'd found her missing sister. Then she made about 100 bad decisions – she was 16 years old, after all. She got herself into the posh private school that Fikile attended and began studying everything about her.
Wade found Puleng stealing Fikile's birth certificate from the school filing cabinets. He wormed Puleng's secret investigation into Fikile out of her. He sometimes helped her try to find the proof she sought. He liked her.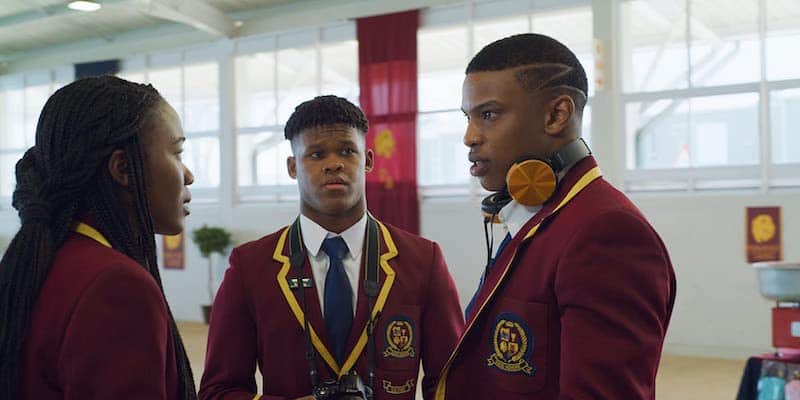 Puleng developed numerous friends and relationships in the new school, including a boy she liked, KB (Thabang Molaba).
Her relationship with Fikile seesawed up and down, depending of what bad idea she had most recently implemented to try to prove their sisterhood. In the meantime, normal high school things like classes, parties, experiments with sex, and trips to the principal's office were filling out the story. Teachers, parents, and other adults figure into the mystery as well.
There are plenty of interesting characters and many unanswered questions to carry forward into another season.
The actors in this series were very good. The setting in Cape Town was among expensive homes and wide streets. The series was mostly in English, although a few words and phrases in various African languages were sprinkled in. The series is watchable, but not brilliant. As far as I know, a second season has not been announced yet.
Check out the trailer.
Have you watched Blood and Water? What did you think of it?