Based on the trailer for Book Club, I thought it would be a series of double entendres. Thank goodness it is more than that.
I would have been heartbroken if four rocking elders and lifetime favorites of mine – Diane Keaton, Jane Fonda, Candice Bergen, and Mary Steenburgen – signed on for something lightweight.
It took a while to get into it, but we eventually reached an understanding of each woman. Her problems, her needs, and her potential solutions. The only thing I didn't like about the storyline was when one of the four women, who were lifelong friends, left town to be with a man. I didn't like her breaking up the quartet of friendship for any reason.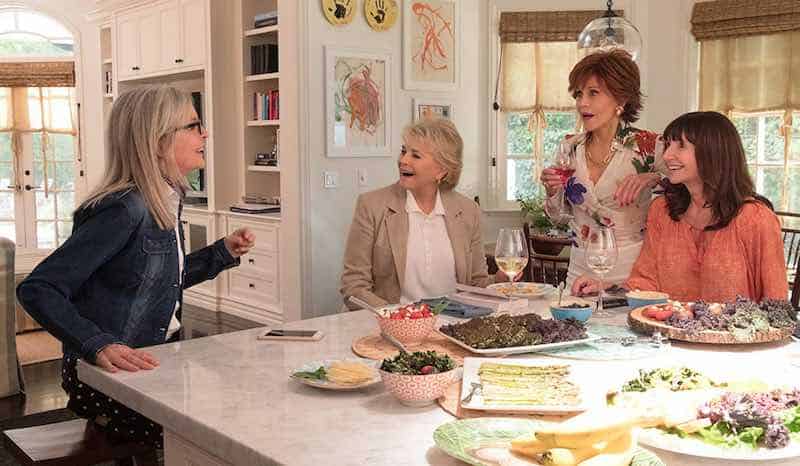 Book Club was four love stories about four 60+ women. Married, single, sexual active, sexually dormant, widowed – they covered all the bases. They supported each other as they were sexually aroused and awakened by reading the erotic novels of British author E. L. James. That awakening led them to self-awareness, exploration, and possibly more fulfilling love lives.
They were all straight – so boring. Wouldn't it be nice to see a movie like this about four older lesbians? Just imagine the cast!
The men involved with the leading ladies included Andy Garcia, Craig T. Nelson, Don Johnson, and Richard Dreyfuss. Wallace Shawn did a funny turn as an online dating prospect, and Ed Begley Jr. was the ex with the new young wife.
Book Club is a comedy with a heart about older women and sex. My demographic, a topic of enduring interest, and funny. So much yes. It's currently steaming on Amazon Prime, YouTube and elsewhere.