Boy Meets Girl is a love story as the title suggests, but it's also a bit of a transgender play on words. It has romance, sex, heartbreak, and a transgender lead character. It's one of the sweetest love stories I've seen in a long time.
I found this indie gem on Netflix. It was written and directed by Eric Schaeffer.
Spoilers ahead.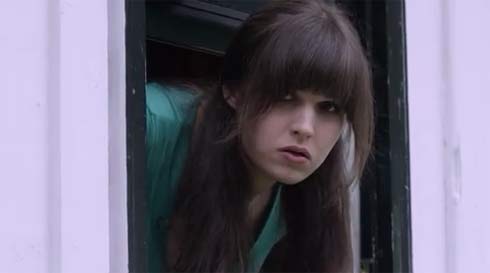 The lead actress, Michelle Hendley, who plays Ricky, is a transgender woman; that's a plus for the story already. The film is about Ricky, who lives in a small town. She dreams of becoming a fashion designer. She wants to have a sex life but isn't having much luck in the romance department.
Her best friend Robby is played by Michael Welch. Ricky meets Francesca, (Alexandra Turshen) who is home from boarding school. They begin a romance even though Francesca is engaged to a local boy now serving the Marine Corps, David (Michael Galante). When David shows up unexpectedly, it throws a wrench in things.
The way issues of gender and sex are handled in this film are gentle and lovely.
Ricky's younger brother Sam (Joseph Ricci) shoots videos of Ricky discussing her fashion creations and helps put them on YouTube. Sam sees a folder on Ricky's computer that gives some back story on Ricky's growing up and "turning into a girl," as she puts it. Ricky's mother left them when Ricky was 8; Ricky feels sure it was her gender identity issues that drove her mother away.
At the point in Ricky's life where we first meet her, she's funny and beautiful and has made it through the bad stretch her brother Sam sees documented on the computer. Her father (Randall Newsome) is very supportive, which is probably why she's as grounded as she is.
I'd never heard of any of the actors in this film before watching it. Being unknown names didn't slow them down a bit. Everyone did a wonderful job. It's a charming story and well told. I certainly recommend it.
The Trailer