The nine episodes of season 2 of Cable Girls (Las Chicas Del Cable) are available on Netflix. The new episodes open with New Year's Eve 1929 in Madrid, Spain. The women who work for the telephone company and characters who swirl around them get the season off to a dramatic start that never lets up for a second. Beware, there are a few spoilers ahead.
Comments I made about season 1 in this review still apply. In particular the music and the voice overs are still worrisome in some scenes.
There is so much intrigue, betrayal, blackmail, love, sex, jealousy, secrets, lies, and naked ambition among the characters in Cable Girls (Las Chicas Del Cable), you almost can't keep up from minute to minute. It's soapy. It's wonderful soapy drama about female empowerment.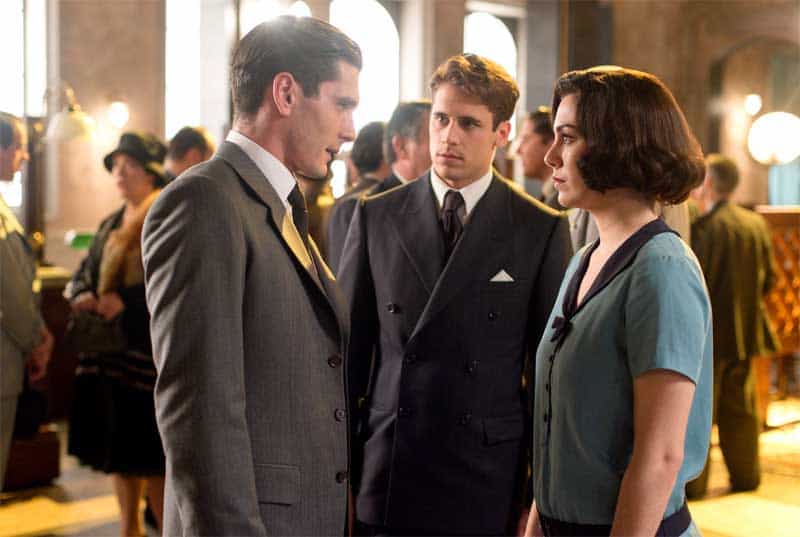 Does Carlos (Martiño Rivas) love Lidia (Blanca Suárez) or does he want to destroy her? Does Francisco (Yon González) love Lidia or does he want to destroy her? Are they working against her for for her? The answer to that changes every few scenes, so pay attention.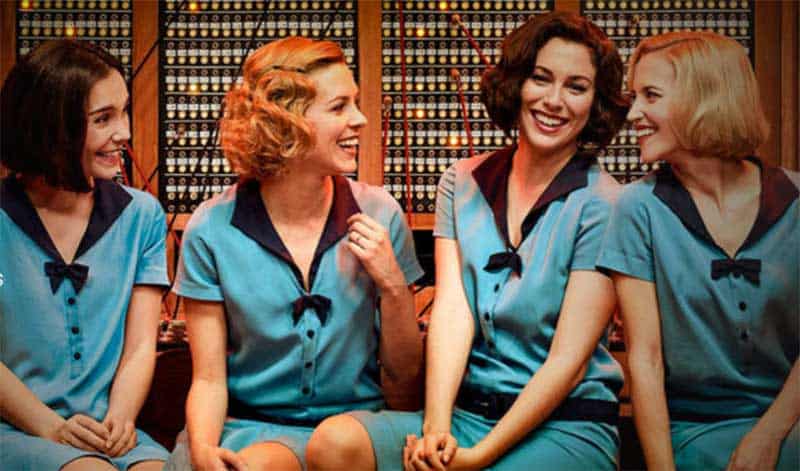 The four cable girls who are loyal friends get involved in something dangerously illegal in the first episode. It haunts them through every episode. In addition to Lidia, they are Marga (Nadia de Santiago), Carlota (Ana Fernández), and Ángeles (Maggie Civantos).
Here's a quick rundown on the cuatro chicas del cable: Marga and Pablo (Nico Romero) are still a thing, but like any love story, their story does not run smoothly.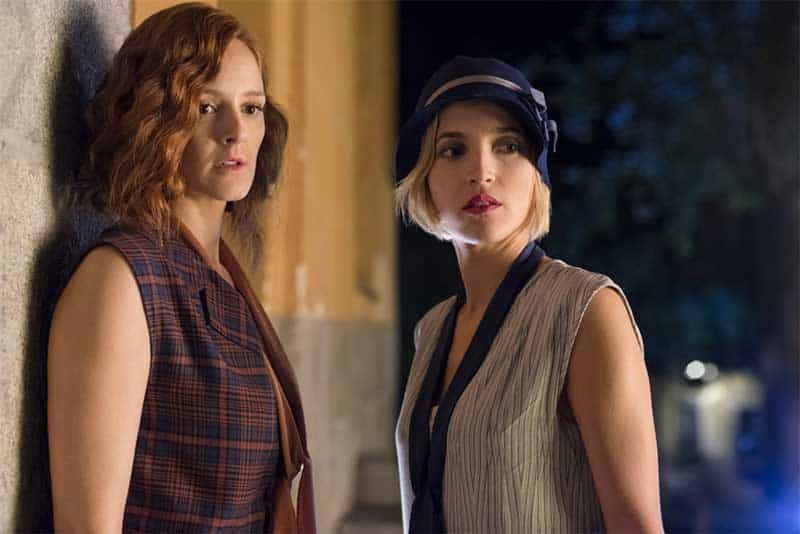 Carlota, Miguel (Borja Luna), and Sara (Ana Polvorosa) are a thing. Miguel isn't as prominent in many episodes, and the issues over rotary dial phones have moved to the rear, too. Carlota and Sara are featured more.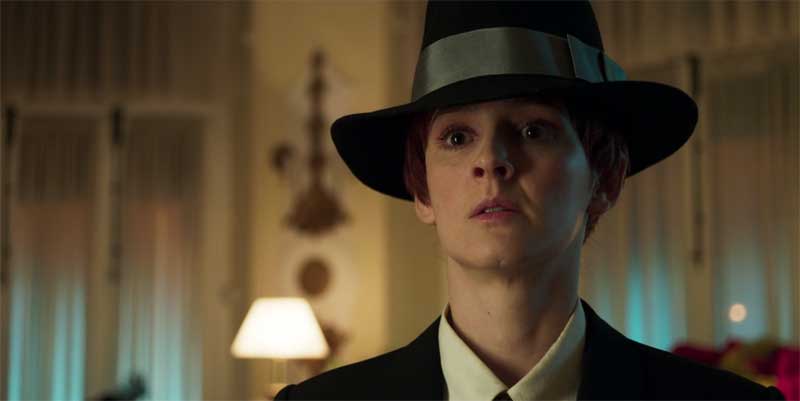 Carlota finds Sara dressed like this. Sara explains, of course. She talks about feeling trapped in a woman's body. Carlota quickly becomes supportive about Sara's secret. Miguel takes it less well.
Sara's story takes us into a horrifying look at the way the medical establishment treated transgender individuals in 1929. What a nightmare.
Ángeles, the one with the abusive husband Mario (Sergio Mur), is suddenly and precariously set free from his abuse. That freedom comes with police – nerve wracking, indeed. Police Inspector Cuevas (Antonio Velázquez) hangs around Ángeles quite persistently. He's very handsome, by the way. Maybe too handsome.
Mario's mistress Carolina (Iria del Río) isn't making things any easier for anyone. She's pregnant, then she isn't. She has a ton of money but it isn't hers.
Lidia, who I consider the lead character in the entire series, is torn between her feelings for Carlos and Francisco. She's the smartest person in the company and has to fight to get her ideas about installing telephone booths everywhere even heard. Especially after Carlos claims credit for the idea. Nobody believes a woman could have a good idea.
From the perspective of 2018, Lidia is far too concerned with which man she's in love with. Especially since she's better at business than any of them. From the perspective of 1929, Lidia needs a man to succeed and picking the right one is an important decision. Even so, I wanted her to kick both of those conniving pretty boys to the curb. And she did, just when she needed them the most. But, of course, she took some or all of them back.
Remember Elisa (Ángela Cremonte)? She's Carlos' sister and Francisco's wife. She makes a big move, much to the matriarch Doña Carmen's (Concha Velasco) dismay, to take over the company herself. But first she has to get her marriage to Francisco annulled.
The head of the company is now Mr. Uribe (Ernesto Alterio). He tries to be modern, wants to acknowledge Lidia's importance to the company, but he's under pressure from Doña Carmen to give the credit to Carlos. The Uribes come as a team. Alexandra Uribe (Andrea Carballo), his sister, wants her share of control over the telephone company.
By my rather wobbly count, there are at least 6 people who want to either seize or retain control of the company. They are all ruthless about it.
The introduction of a new character from Lidia's past at the last minute, plus life threatening danger for both Ángeles and Lidia left us at the end of the final episode with plenty of cliffhanger excitement as we await a new season. A season 3 of Cable Girls (Las Chicas Del Cable) to be aired in 2018 is already scheduled by Netflix. I'll be watching it!
I mentioned already that Cable Girls (Las Chicas Del Cable) is on the soapy side. Soapy drama aside, the female lead characters are inspiring and determined to take control of their own lives in a time and place where that was almost impossible. I admire them all. I also have great respect for the character Sara and the search for a correct gender identity in a time and place where that was almost impossible.
The women of Cable Girls (Las Chicas Del Cable) are full of grit and strength. They aren't afraid to rebel against the societal rules that restrict them. Carlota, especially, is ready to rebel not only for herself but to lead others in a battle for change.
As I write this, there's a gap in information about this series. Netflix is listing the nine new episodes as season 2. Other places consider it part 2 of season 1. IMDb hasn't been updated with any information about the new episodes. Some of the cast members are not listed in the credits. I had to read Wikipedia in Spanish to find out who some of the actors are (that was actually fun).
Are you a fan of this series? I'd love to see your comments about it.