Cable Girls (Las Chicas del Cable) is over. I'm sad writing those words, for several reasons. I loved las chicas from the beginning. I loved their friendship, their grit, their struggle for autonomy, their schemes and dreams. I loved the gender identity story line. There are some spoilers ahead.
Cable Girls (Las Chicas del Cable) came to Netflix in June, 2017. I've reviewed every season of the series. It could be soapy and melodramatic, full of improbable solutions to an endless array of problems. I didn't care. I loved those women almost as much as they loved each other. The ones left in the fight at the end were Lidia (Blanca Suárez), Carlota (Ana Fernández), Marga (Nadia de Santiago), and Oscar (Ana Polvorosa).
Because this was the end, the storytelling changed. We learned that Lidia's voice overs may have been a book she wrote about the adventures of her friends. There were lots of call-backs to the beginning that tied characters and story lines into complete arcs. There were conclusions drawn about sacrifice and struggle. There was a lot of saying goodbye. It was the final act.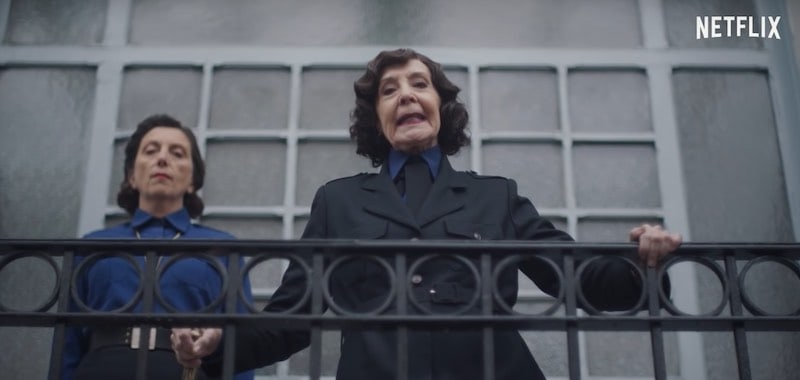 When we left Lidia at the end of season 5, part 1, she was in a re-education camp under the terrifying eye of the evil Doña Carmen (Concha Velasco). Through various schemes and machinations the friends managed to get Lidia out.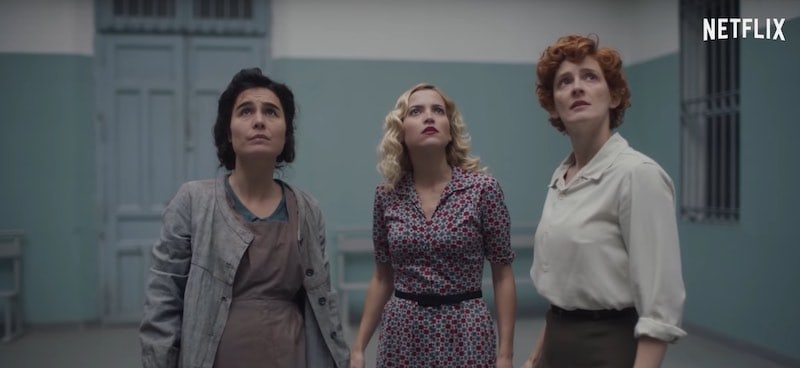 Almost the same second Lidia escaped, a very pregnant Marga, Carlota, and Oscar were taken into the camp. So, of course, they had to be gotten out.
Francisco (Yon González) was in Spain, with Sofia (Denisse Peña). They helped plan the escape. Pablo (Nico Romero) was being hunted to go into prison himself, but he helped, too.
Las Chicas got what they wanted with blackmail, bribes, deals with untrustworthy people, and chutzpah. As the final act of their adventurous career, they decided to free not only their friends but to empty out the whole prison. Set everyone free. The series raised the stakes – the women weren't just rescuing and helping each other, they were fighting for all the women of Spain. Against a background of Franco's Spain after the Civil War, their story became epic.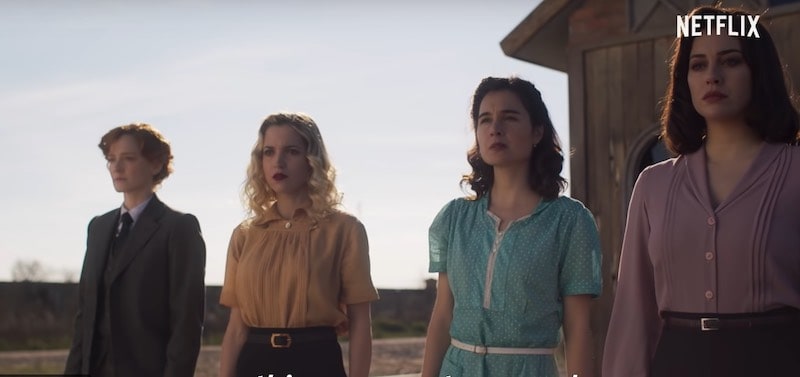 The final exploit came at a high price, which they paid willingly. I'm sorry it's over – did I say that already? I want more seasons, more time with these characters. Thanks to all the actors, writers, directors, musicians, and crew for 5 great seasons! You brought so many fans many hours of happiness.
Be sure to watch the ending credits. There's some wonderful fan art to enjoy as the credits roll.
Don't you love the heroic pose in this poster? Wouldn't it look nice on Pinterest?
Here's the trailer for the final episodes.
How did you feel about the ending? I was yelling at my television set.