A Country Called Home is a slow moving indie drama that creeps up on you. Imogen Poots stars as Ellie, who returns to Texas on the news that her alcoholic father died. 
Ellie finds some surprises as she spends a few days arranging her father's funeral and sorting through his things.
She's met at the airport by her father's drunk girlfriend Amanda, played by the always marvelous Mary McCormack. When they get out to the car, Ellie discovers that Amanda left her 5 year old grandson in the car while she waited for the plane in the airport bar. This seems typical of Amanda as we get to know her further. It sounds like the kind of thing Ellie's father would have done, too, as we learn about him from Ellie's stories.
Amanda takes her to her son Jack's (Ryan Bingham) house. In the garage is an old car of Ellie's father's. It's an old station wagon, left from the days when the family was whole and there were a few happy memories.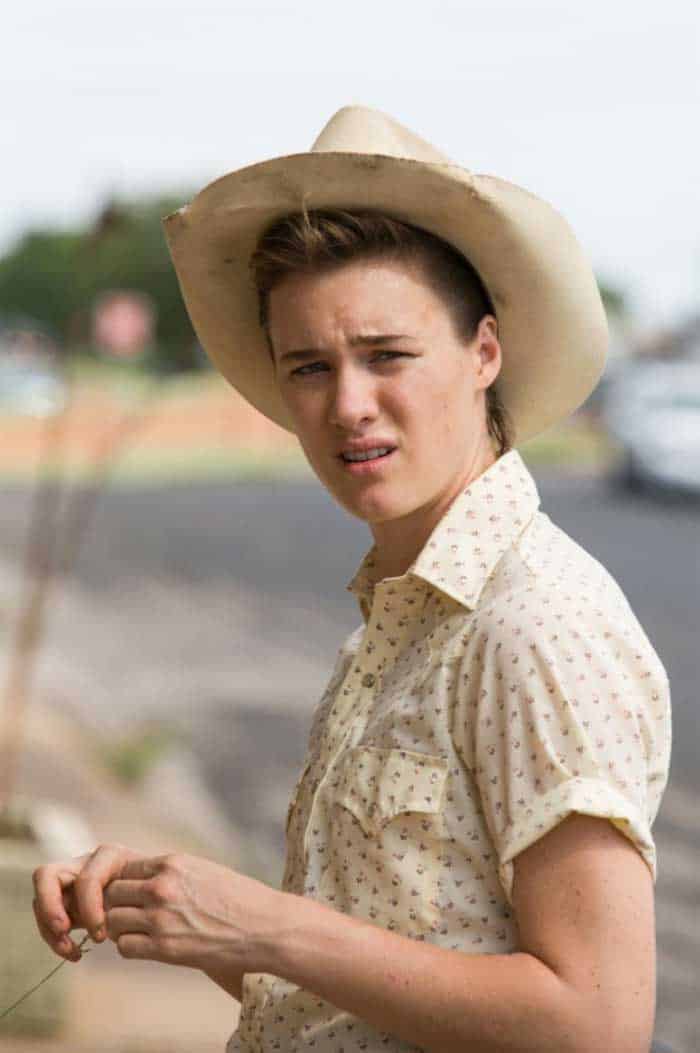 Ellie takes the car for a spin and meets Reno (Mackenzie Davis), a transgender man. Reno is singing in a bar – until the patrons throw bottles at him. Ellie accepts him without judgement. Small town Texas is not the safest place for a transgender person, but Reno stays because of his mother.
In the morning, Ellie wakes up on Jack's couch with two old folks staring at her. They are the grandparents she didn't know she had, played by Norman Bennett and June Squibb.
Ellie lives in LA. So does her brother (Shea Whigham). Ellie works at a meaningless job, but in her heart she's a furniture designer. She has a book full of beautiful designs. Even though she can't wait to get back to LA, she decides to stay through the funeral. Her brother refuses to attend.
She digs through the garage where her father made guitars and looks at old photos. She gets to know her grandparents. She gets to know Reno and invites him to move to LA with her. She gets to know Jack and his little boy. She sorts through painful memories of growing up with her father. And she searches for whatever the mysterious key her father left her might open.
An ordinary woman. An ordinary life. An ordinary event. But special.Written and directed by Anna Axster, A Country Called Home simply accumulates. It starts off to little fanfare. As you continue to watch, without any fuss or drama, the story gets into you. At some point, you find yourself glad you're watching. By the end, you're thinking you just saw something really special. An ordinary woman. An ordinary life. An ordinary event. But special. And a little beautiful.
Imogen Poots is excellent as the unassuming Ellie.
The film is available on Netflix, Amazon Video and from iTunes. The theme song "A Country Called Home" sung by Ryan Bingham is available on iTunes. You can hear it in the trailer.
Trailer for A Country Called Home