Dear White People Vol. 2 is the second season of this comedic discussion of race in America. The quality that characterized the first season continues as the story about a group of black students at mostly white Winchester University moves forward.  There are minor spoilers ahead.
The students in Dear White People contend with the usual trappings of college life: social media trolls, love and romance, unwanted pregnancy, the death of a parent, growing up, getting to class and getting assignments done. The large ensemble of characters make for various ways to tell the stories of college students.
Under that, Dear White People is a vehicle for a conversation among the black students and between the black and white students about racial inequality in America. This season, white students from the dorm that burned at the end of last season move into the black bastion of Armstrong-Parker, which makes the conversation more urgent and in your face.
It's a fascinating and engaging way to use comedy and likeable characters to keep the conversation pointed and relevant. There were 10 Chapters in Volume 2, with a different character featured in each chapter.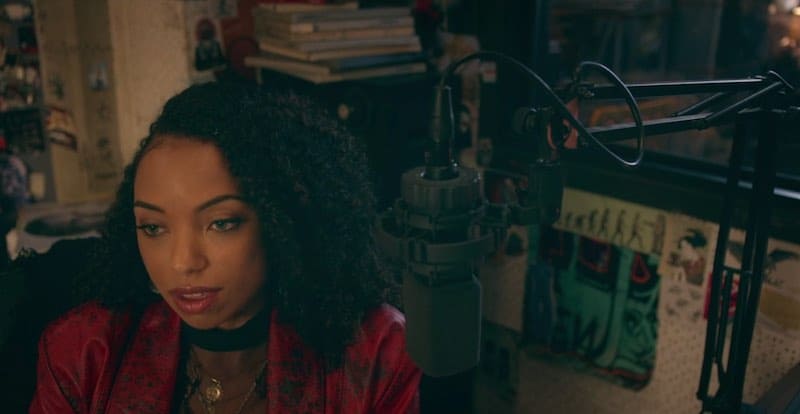 Logan Browning stars as Sam. Her radio show, "Dear White People," gives the series its name. She's attacked by trolls on the alt-right who make her life miserable for most of the season.
Lionel (DeRon Horton) figures out who the troll is. It was not someone he wanted to know was a bad guy. Lionel finally gets a boyfriend this season: Wesley (Rudy Martinez). The two of them are equally shy and inexperienced. In a series where everyone is having heavy duty sex, the relationship between these two gay men was often played for laughs. I found that sad.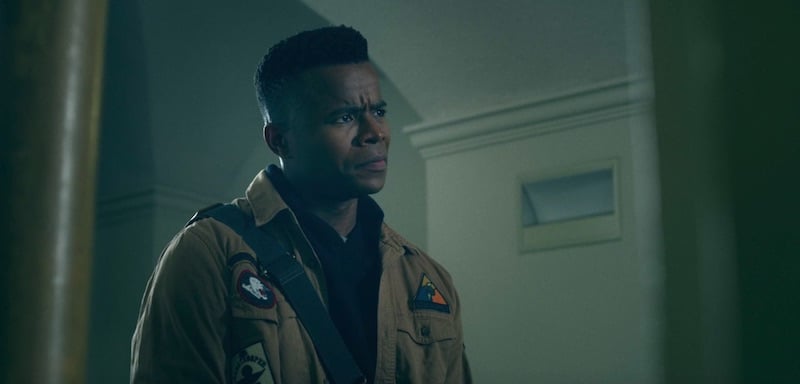 Reggie (Marque Richardson) struggles with flashbacks of the cop who stuck a gun in his face at a party last season.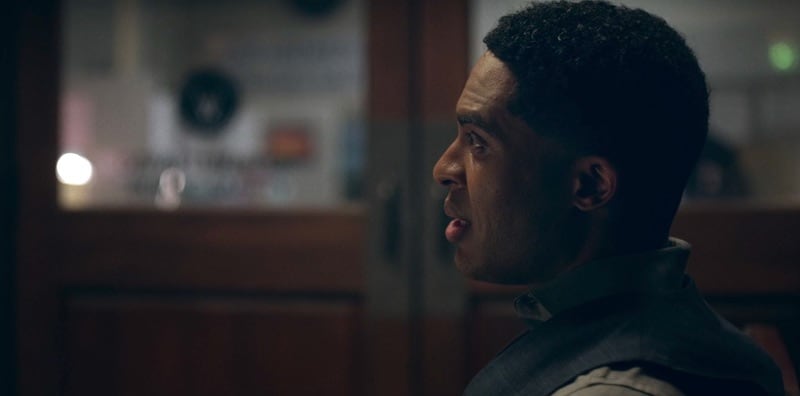 Troy (Brandon P Bell) knows he's supposed to be a great leader, but he can't find his way there. Staying drunk and stoned doesn't help, but a mushroom induced epiphany finally sets him free.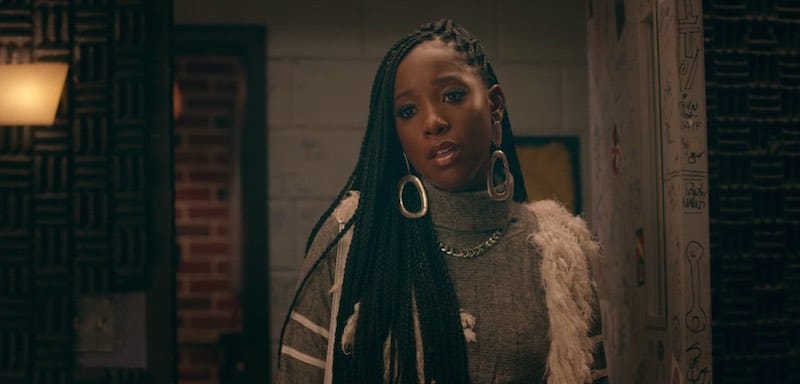 Joelle (Ashley Blaine Featherson) stays by Sam's side through thick and thin. Jo, Sam and Coco are a triumvirate of female power and friendship.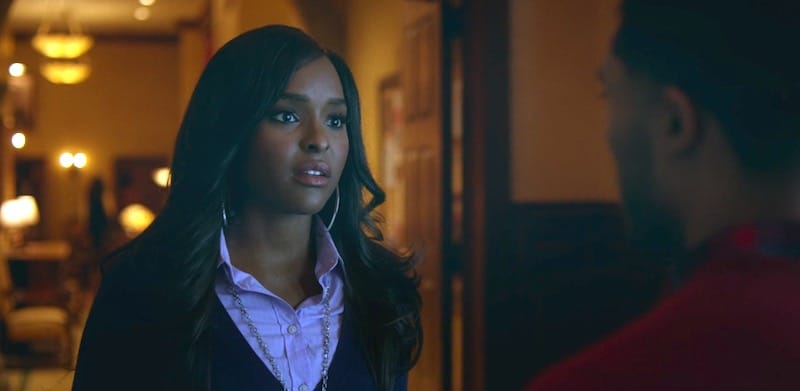 Coco (Antoinette Robertson) is another friend of Sam's. She has serious issues of her own. Interestingly the sidekick in her episode was Kelsey (Nia Jervier), a sadly underused lesbian character.
There was a lesbian on the imaginary spoof TV show the students watch together on TV night. Lena Waithe played a character in this show. Maybe next season more issues facing black lesbians will be written into the struggles facing Winchester students.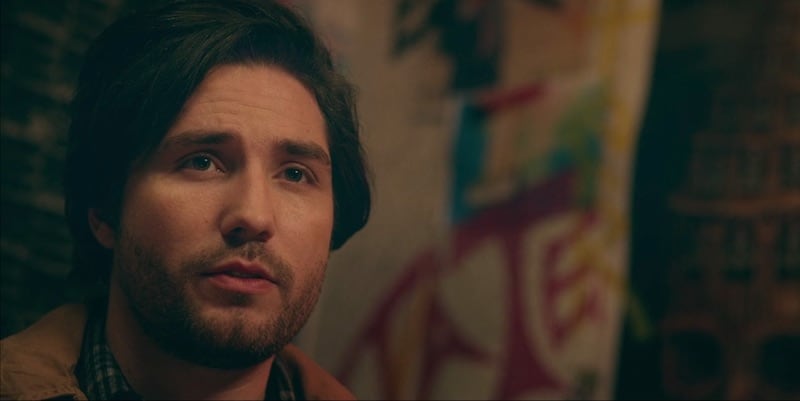 Gabe (John Patrick Amedori) and Sam were a thing last season. They broke up and spend all of this season inching back together. Gabe is interviewing Sam for a documentary he's making.  In Chapter VIII, Sam and Gabe have almost the entire episode to themselves in a remarkable and powerful conversation. The acting in this episode was outstanding, with the camera never leaving the two of them for a second.
Their conversation/argument/making up encapsulates everything that they as humans and as black and white people in general need to say out loud to one another.
A thread running through every episode is past history, in particular, past secret societies at Winchester U. We first learn of this in a guest turn by Shamier Anderson. Sam's father (Robert Curtis Brown) also had information about it. Lionel's reporter senses picked up on the scent, too. The quest for info about the secret societies leads to both an interesting climax and a tantalizing cliffhanger.
Another thread throughout the season is the arrival on the campus of right wing Fox news correspondent Nikki Carter (Tessa Thompson). All the black students hate her; most of the white students love her.
The series Dear White People is based on a movie by the same name. In the movie, Tessa Thompson played Sam.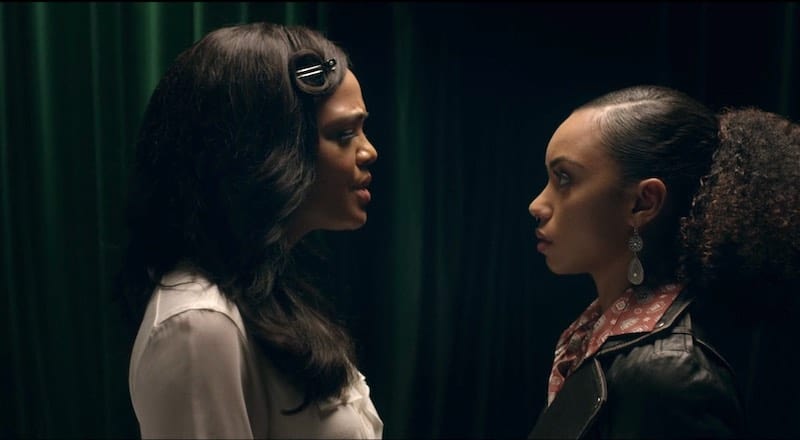 When Sam in the series goes to deliver a hate screed to Rikki Carter about her politics she learns it isn't about ideology. It's about money and power. That was disappointing to her. But we get the two Sams in a faceoff. That was not disappointing to this fan.
As if Sam2 wasn't enough of a treat for the fans, when Rikki Carter gets on stage to deliver her Fox News inspired speech, she finds herself facing an almost 100% black crowd. Surprise!
Once again there were some women directors this season. Janicza Bravo, Kimberly Peirce and Salli Richardson-Whitfield were the names I spotted. Justin Simien created the series. He deserves credit, along with Njeri Brown, for the brilliant dialog and succinct arrows to the heart of racism this season delivers. I enjoyed the RESIST signs everywhere, too.
I recommend this series for everyone. It's currently on Netflix, which means you can start with Volume 1 if you haven't seen any of it yet. Watch the season 2 trailer here.
Have you seen Dear White People? I'd love to hear your comments on the series.