Deidra & Laney Rob a Train is a fanciful and improbable story about two teens who resort to train robbery when their mother is incarcerated.
Deidra & Laney Rob a Train has a certain charm, despite its flaws, mainly because of the outstanding performances from Ashleigh Murray as 17 year-old Deidra and Rachel Crow as her younger sister Laney. It's a bit of a romp.
The two of them, along with younger brother Jet (Lance Gray), are left in a jam when their mom (Danielle Nicolet) goes nuts while working at Good Buy. She carries a TV out to the parking lot and destroys it. Good Buy charges her as a domestic terrorist and she's locked up with $10,000 bond.
That's a lot of bail for breaking a TV, but it exemplifies the broken justice system we have it this country that locks up mothers for minor crimes in increasing numbers. Especially women of color.
Deidra makes some money helping everyone with their homework. She's a brilliant kid. But it isn't enough to pay the electric bill and the mortgage and keep food in the house for when the Child Protective Services lady Gloria (Kinna McInroe) shows up checking on the motherless household.
Deidra tries talking to her deadbeat dad (David Sullivan). He works as a mechanic on the trains, which pass through town mere feet from the back of Deidra's modest home. He gives her $8 and some accidental insight into how easy it is to rob a train.
Deidra goes home and announces to Laney that they are going to rob trains. And Laney is going to help. Teddy bears will be involved.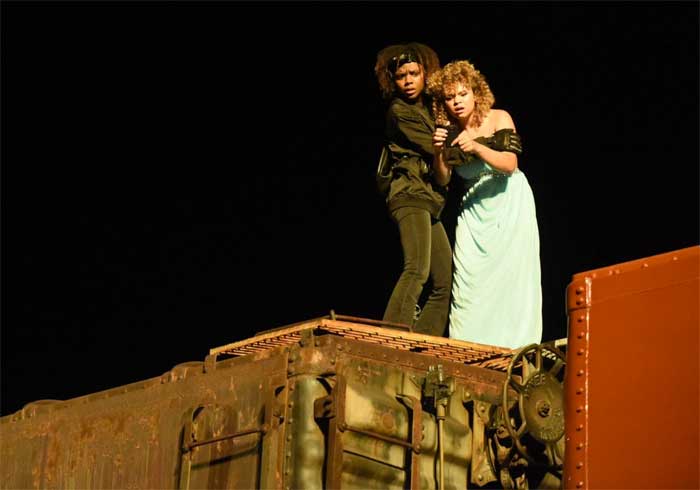 They fence their ill-gotten gains through Deidra's sort-of boyfriend Jerry (Myko Olivier). They make so much money dad wants in on the action. They make so much money Deidra realizes they will make the bail money and have money for her dream of going to college.
Both the girls have a mentor at the school. Mrs. Flower (Missi Pyle) decides Laney belongs in a beauty pageant. She insists, in fact. The school counselor Ms. Spencer (Sasheer Zamata) wants Deidra to get a scholarship and get into college. She sees Deidra as the one hope of success she has as a counselor. Somehow Deidra's success as a train robber becomes entwined with Ms. Spencer's job success.
They contend with a railroad detective named Truman (Tim Blake Nelson). Although he's a vape smoking idiot, he gives them plenty of trouble. Sharon Lawrence appears briefly in the film as Truman's boss.
Even though the plot of Deidra & Laney Rob a Train was fanciful, it was also a terrific example of an underdog story. It was full of hope and smart characters.
There were mean girl tropes around the beauty pageant. I could have done without that. There was a disgusting trope about desperate fat lady swayed by the attention of any man in the form of the Child Protective Services lady. These two parts of the film were a disappointment since the writer (Shelby Farrell) and the director (Sydney Freeland) are both women.
A Netflix original, Deidra & Laney Rob a Train became available on Netflix US on March 17, 2017. I think tweens and teens will love the story. I'm no teenager, but I enjoyed it.