Feel Good is the achingly particular comedy based on the life of the star and creator Mae Martin. It's a volatile, emotional, and hilarious trip through a few weeks of Mae's life.
Feel Good begins in a UK comedy club. Mae is telling jokes. Back watching for the third time is George (Charlotte Ritchie). George is too British, too straight, and too socially acceptable for the likes of the queer Canadian on the stage. Nevertheless, before the night is over they are in George's bed.
They are a hilarious couple. There's the innocent-faced, proper George. She's a school teacher who looks like she could pass as a kindhearted midwife if she'd lived 75 years earlier. And there's Mae, the androgynous lesbian with the great hair, who is effortlessly comedic.
Mae moves in with George almost immediately. Naturally.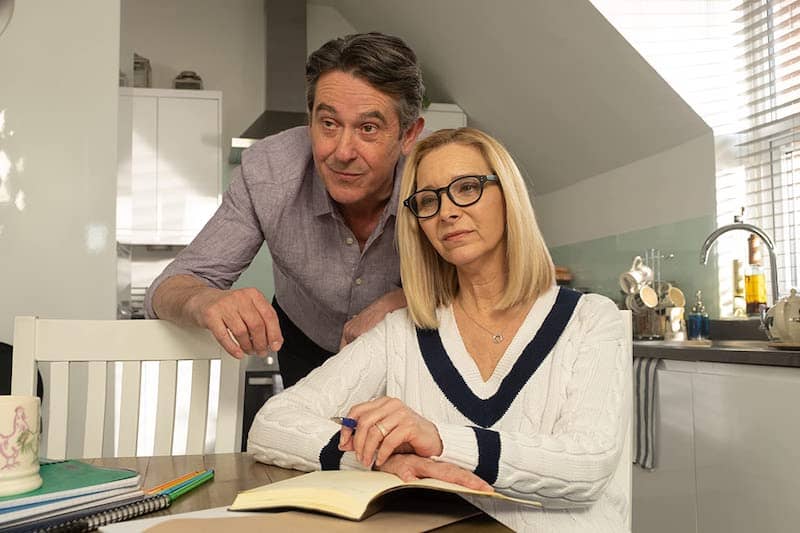 While Mae is FaceTiming with her parents Linda (Lisa Kudrow) and Malcolm (Adrian Lukis), George overhears a question about whether Mae is attending NA meetings.
The first chink in their sexual bliss.
Then Mae realizes that George's mother (Pippa Haywood) and her friends – chiefly Binky (Ophelia Lovibond) and the gawdawful Hugh (Tom Durant Pritchard) – are not going to hear the news that George is in a relationship with a woman.
The second chink in their sexual bliss.
The specifics of this story and its progress through Mae's addiction are beautifully told and well-written. Mae Martin and Joe Hampson did the writing. Every episode was directed by Ally Pankiw.
The revelations are vulnerable and painful and so very human. Both Mae and George are failing at what they are trying to do together, but you love them anyway. Both have terrible relationships with their parents.
There were 6 brief episodes in the series. I would like to stick with Mae and George longer, see what happens, and if they last. I'm ready for more of Feel Good. The second season should release in 2021 on Netflix. Yea!
Take a look at the preview.
Mae Martin has a number of stand up comedy shows, interviews, and whatnot on YouTube.