Happy Valley series 1 is a 6 episode British drama starring Sarah Lancashire as a Yorkshire police sergeant. It began airing on Netflix on August 20. I will be writing reviews of all 6 episodes over the next few days. There will be spoilers!

The series was written by Sally Wainwright. The show was renewed for a second season just last week.
In episode 1, the characters and their problems are introduced. There are quite a few characters and plot lines.
The Characters & Their Stories
Catherine Cawood (Sarah Lancashire) is the head of a small Yorkshire police force in an area ironically called Happy Valley. Happy Valley is riddled with drug problems.
In a conversation with her ex husband (Derek Riddell) Catherine learns that Tommy Lee Royce has been released from prison.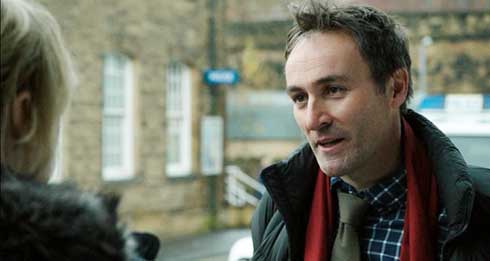 Catherine's ex is married to someone else now, but wants to take her out to dinner that night. He's a journalist who's just lost his job. He's trying to get a story out of Catherine about a guy she foamed with a fire extinguisher that morning because he was about to light a cigarette while soaked in gasoline.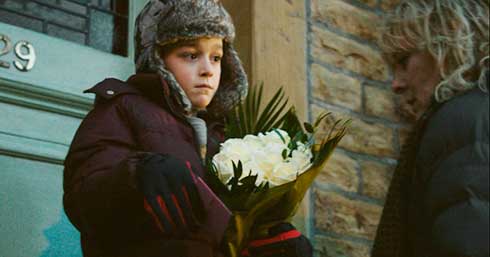 When Catherine picks up her grandson Ryan (Rhys Connah) from school she learns that he is having anger issues in the classroom. They go home. Catherine lives with Ryan and her sister Clare (Siobhan Finneran). Clare is a recovering heroine addict and helping Catherine raise Ryan.
Clare knew that Tommy Lee Royce was out of prison as well. She hadn't mentioned it to Catherine because she didn't want to upset her.
Catherine spends the night with her ex. The next day she tells Clare, "We didn't do anything we hadn't done 1000 times before. I get lonely. I didn't want Tommy Lee Royce running around in my head all night." Clare asks, "Did it work?" Catherine answers, "No."
My personal interpretation of her night with her married ex is that it has more to do with the oft mentioned but unexplained character Tommy Lee Royce than loneliness.
Catherine goes to the cemetery to the grave of her daughter, who died very young.
Catherine again gets called into speak to the school officials about Ryan's behavior. She tells her story. She's a no-nonsense cop, but she cries as she talks and we find out why everyone is so concerned about Tommy Lee Royce.
Catherine's daughter was raped. Ryan is the child of that rape. The rapist was Tommy Lee Royce, who has been in jail for 8 years on a charge unrelated to the rape. Her daughter didn't want the baby, but by the time she faced the fact that she was pregnant, it was too late to do anything about it. Her daughter hung herself over it when Ryan was just 6 weeks old. When Catherine decided to raise Ryan herself, it broke up her marriage.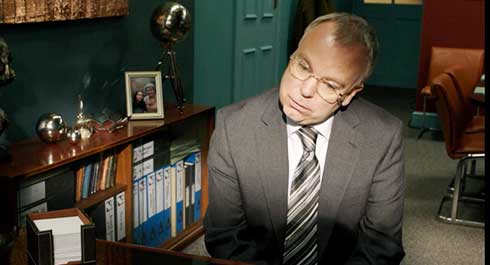 Kevin Weatherill (Steve Pemberton) is an accountant. He works for Nevison Gallagher (George Costigan) and he's mad as hell about it. He wants a raise, he feels unrespected, he's seething with rage. He asks Nevison for a raise so he can send his girls to a good college. Nevison says he wants to think about it, which Kevin interprets as a no. Kevin's wife is in a wheelchair.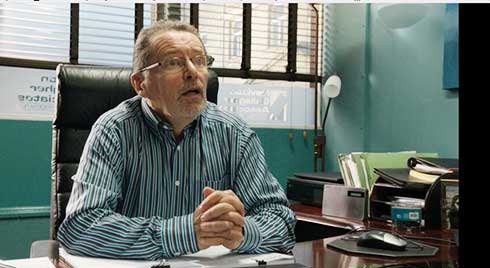 Kevin takes his family to a caravan park for the weekend. The park is run by Ashley Cowgill (Joe Armstrong). Ashley has men unloading bags of sand for a construction project. When one breaks, Kevin realizes that they are smuggling marijuana into Happy Valley in the bags of sand.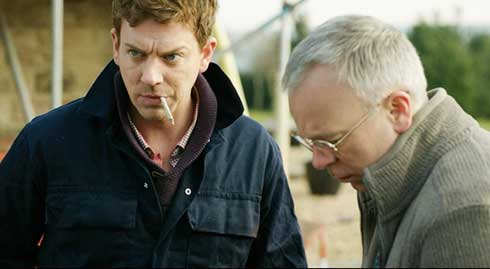 Kevin pays little attention to the two men unloading bags of sand, but one of them is named Tommy.
When Kevin realizes Ashley is a crook, he suggests an idea to him. Ashley and his men will kidnap Nevison's daughter Ann for half a million pounds ransom. Ashley agrees and offers Kevin £100,000 as Kevin's share.
When Kevin goes back to work on Monday, Nevison tells him he won't give him a raise but he will pay for college for both Kevin's girls. Over the weekend Nevison's wife, who was just diagnosed with liver cancer, and his daughter Ann convinced him that he needed to do better for Kevin.
Kevin regrets his rage and wants to call off the kidnapping but it's too late. Kevin is scared. He goes to the police and talks to Catherine but can't get the story out. As he flees, she copies down his license plate number.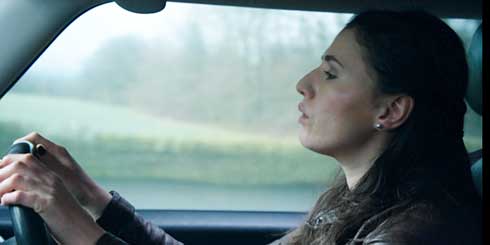 Ann's out driving alone. Ashley's two helpers, Tommy and Lewis (Adam Long) snatch her and take her to a house in Happy Valley. Lewis seems like a decent guy and tries to reassure Ann. Tommy threatens her and slugs her.
When Ashley calls Nevison he asks for £1 million. Nevison asks his accountant Kevin to help him put the money together.
Catherine sees Tommy in front of a Curry House buying food. It's Tommy Lee Royce (James Norton) all right. She parks and tries to catch up with him but cannot. He disappears inside the house where Ann is held prisoner, puts on a ski mask, and leans over Ann menacingly and asks, "Are you a virgin?"
Some Thoughts
As you can see from the number of characters (some of whom I haven't even mentioned yet because their part in the drama isn't obvious at this point) there are going to be many threads weaving together in this tale. It's part police procedural over a kidnapping. But there's a lot of history and anguish present in Catherine's character that will be important before things are resolved.
We know from experience (Last Tango in Halifax, Scott & Bailey) that writer Sally Wainwright can bring the drama in an engaging way. There will be drama in Happy Valley.
Steve Pemberton as Kevin got to do some of the most effective acting in this episode, but don't rule out a strong performance coming from Sarah Lancashire. James Norton as the antagonist in this tale may get a chance to show some acting talent before it's over as well.
Ready to Binge?
This is on Netflix, so binge watching is in order. If I get ahead of you on my reviews, just hold off to read them until you've seen an episode. And if I review an episode you've already seen, I'd love to hear what you think about it.
All images from Happy Valley © Red Production Co.