The Heart Guy is an Australian series called Doctor, Doctor by its Aussie creators. When it reached Acorn TV, where I watched it, it became The Heart Guy. This is a review of season 1 only. The series has four completed seasons with a fifth on the way.
Rodger Corser (Glitch) stars as Dr. Hugh Knight, the heart doctor in the title. The show revolves around him, but has a large cast with plenty of interesting characters and subplots to keep the story moving along at a rapid pace. Season 1 had 10 episodes.
Hugh Knight is barred from operating for a year in his Sydney practice as a heart surgeon. Mostly because he's an overgrown adolescent who can't control his mouth or his behavior. Being a brilliant doctor doesn't save you from everything. He's sent to his hometown of Whyhope to work as a general practitioner for a year.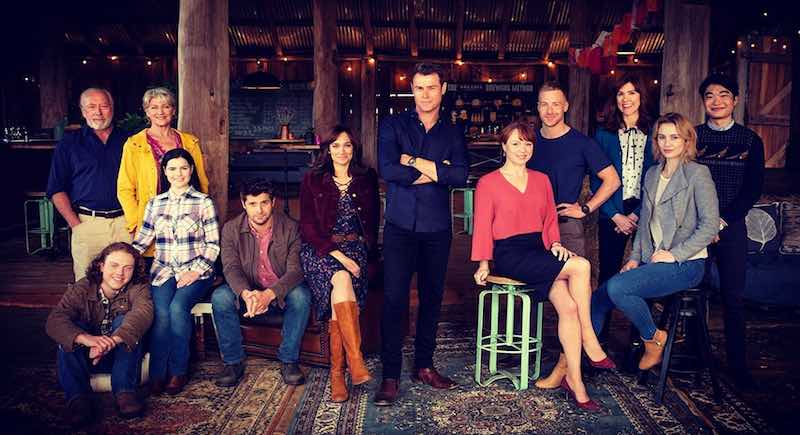 Hugh Knight's life in Whyhope is split between his family, which you see to Rodger Corser's right in the photo above, and his work in the Whyhope Hospital where the folks to Rodger Corser's left in the photo work. Also to his left are some characters we don't meet until season 2.
I may not get to everyone in the photo in this review, but let's talk about the two women on the stools to each side of Hugh.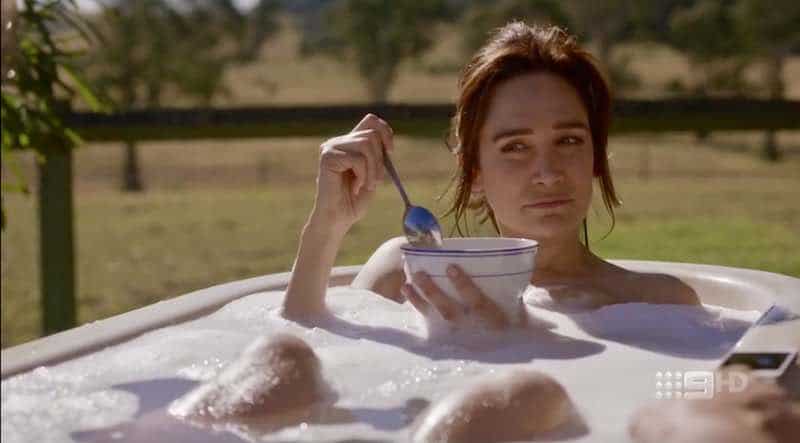 On his right is his sister-in-law Charlie (Nicole da Silva) who is the reason I started watching the series after seeing the trailer. I'm a big fan of hers from Wentworth and follow her anywhere. Charlie and Hugh were a thing back in high school. When he broke her heart and went off to become a heart surgeon she married his brother Matt (Ryan Johnson).
The rivalries, jealousies, and affections between the three of them are an ongoing source of story lines in the series. Both Hugh and Matt harbor bad feelings towards their parents, especially their father.
To Rodger Corser's left is Penny (Hayley McElhinney), his boss at the Whyhope Hospital. They clash about everything but they need each other and have to learn to work together. They may also fall in love, but that isn't spelled out completely in season 1. Hugh does have a problem committing to a relationship.
Hugh is an arrogant prick (his own description). He's handsome and charming and SO MUCH TROUBLE. Women know better than to care about him, but they all fall in love with him anyway. I was impressed with the way Rodger Corser played Hugh. He managed to make me care about him in spite of the fact that he's an ass toward women. No small feat.
While Hugh may be an arrogant, adolescent, prick of an man, he's a truly caring doctor. That's his saving grace. When we see him in action to help a patient, save a life, or offer a brilliant diagnosis we realize that he is actually a good man. Two particularly important patients Hugh serves in season 1 are his father Jim (Steve Bisley) and his best friend Joey (Dave Eastgate).
Hugh's mother Meryl (Tina Bursill) is a force of nature. She wants to be mayor of the small town and is adept and getting her way. When the season begins Hugh thinks Ajax (Matt Castley), who was adopted by his parents, is his younger brother. Ajax has a devoutly Christian girlfriend Hayley (Chloe Bayliss) who worships at Meryl's feet and is her campaign manager, social media manager and much more. And she's only 16, like Ajax. The story about Ajax turns out to be more than Hugh expected and provides quite a lot of conflict as the season progresses.
The series is full of lighthearted drama and many, many laughs.
Season 1 had all male directors. The series creators Ian Collie, Alan Harris, Claudia Karvan and Tony McNamara shared the writing credits for season 1 with several women writers who did selected episodes.
I'll definitely watch season 2 of The Heart Guy and look forward to reviewing it here. Have you seen this series? What did you think of it?