Hello, My Name is Doris starring Sally Field is an absolutely fabulous film in so many ways. Sally Field, as Doris, gives a fantastic performance. Is it better than her performances in Norma Rae or Places in the Heart? Maybe not, but it is 100% on the mark in creating the peculiar, unique individual known as Doris Miller.
Some spoilers ahead.
Doris, who is in her late 60s, spent her entire adult life caring for her mother. Her mother dies at the beginning of the film. The remainder of the film deals with how Doris comes into and out of this major transitional moment in her life. She does it in true one-of-a-kind Doris fashion.
The story is that Doris falls in love with John (Max Greenfield), a much younger man at her work. The details of that relationship – both real and imagined – are unique. Everything about this film is unique. That's the beauty of independent film. Fascinating characters like Doris don't get their stories told anywhere but in independent film.
Sally Field dances to techno beats, she does joy, apprehension, fear, anger, disappointment, sadness and much more in this film. She does comedy, she does romance, she does unreasonable hoarder, and she does it all with perfection and nuance. Doris is a complicated woman and Sally Field plays her brilliantly.
Another reason Hello, My Name is Doris is absolutely fabulous is the humor. It is supremely funny. Part of the humor comes from the over the top ancient outfits Doris wears. When Doris asks her 13 year old Facebook advisor Vivian (Isabella Acres) what to wear to a concert featuring John's favorite band, Vivian asks, "Do you have anything neon?"
Doris does.
To her family, it looks like a clown suit, but at a rock concert it is très chic.
The film has funny one liners, funny physical comedy, funny situations. A lot of funny.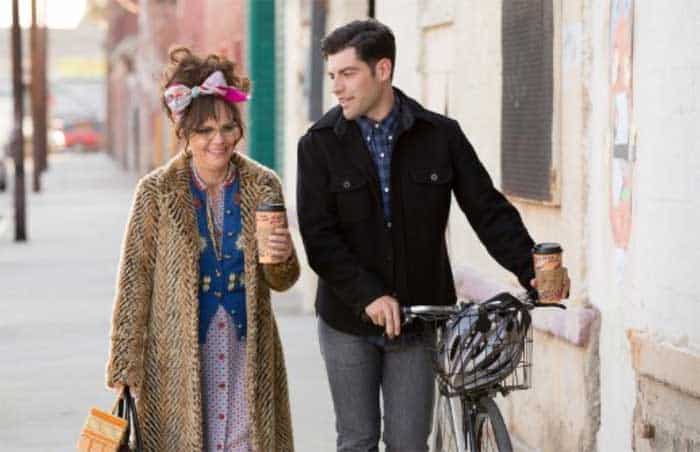 John likes Doris, he talks with her, he encourages her to pose for the album cover of a techno band. But it's only friendship to him. She pictures romance-novel situations between them, but they are all imaginary. When he asks her if she'd be interested in dating a younger man, he's talking about his uncle. She misunderstands.
The third reason the film is absolutely fabulous is the film is sad. Sad and real. Sad and full of hope. You know the story between Doris and this young guy won't end well, but you love Doris yourself and you don't want to see her hurt.
In a way, getting her heart broken helps her wake up and take a realistic look at her life. As her best friend Roz (Tyne Daly) and her brother Todd (Stephen Root) point out, Doris never throws anything away. Todd wants to sell their mother's home on Staten Island where Doris lived all her life. That means dealing with a hoarders nest of stuff first. Doris is not in favor. She's been cast aside her whole life – left to care for her mother with no opportunity to live a life like her brother had. She doesn't want to move and she doesn't want to sort through the detritus of her life – not even the empty shampoo bottles.
By the end, Doris has found herself and moved on to a new version of life. She has some bittersweet memories to take with her on her new journey.
Elizabeth Reaser, Wendi McLendon-Covey, Peter Gallagher, Natasha Lyonne, Beth Behrs, Kumail Nanjiani, and Caroline Aaron are also featured in Hello, My Name is Doris.
Have you seen Hello, My Name is Doris? What was your reaction?
Watch the trailer