Hometown Cha-Cha-Cha brings a mostly heartwarming series from South Korea to Netflix. It's the story of a dentist who moves to a small town on the coast and finds a new family there.
Hometown Cha-Cha-Cha, like other K-dramas, has absolutely gorgeous lead characters, beautiful photography, and plenty going on. If you like Hallmark Channel movies, this series will appeal to you. It has the same feel with a wholesome love story, thematic material ranging from gently treated grief, guilt, and parenting to friendship and loyalty.
I've reviewed several K-dramas now, and this one is the most family friendly of them all, even though it's rated TV-14. I think the rating is because there's some talk about suicide and a bit of bad language.
When we meet Hye Jin (Shin Min-a) she's a dentist working in Seoul. She disagrees with the greedy way her boss runs the practice and quits. She takes a day to drive to a small coastal town where she spent one of the last happy days she shared with her mother before her mother died.
She crosses paths with Du Sik (Kim Seon-Ho) numerous times during her overnight stay there. He's a Renaissance man who seems to do everything. As the townspeople are fond of saying, Du Sik is good at everything.
These two form the chief romantic storyline in the series. There are 16 episodes in the season and the romance develops very slowly. Unable to find a new job in Soeul, Hye Jin moves to the small town and opens a dental clinic. Because Du Sik does everything like renovate apartments, serve coffee, organize community meetings, deliver food, and more, they are together often.
The community is full of likeable, gossipy characters. Kim Young-ok plays the woman Du Sik calls grandmother because she raised him. There are older people, cute kids, irritating adolescents, and many business owners. Behind grandmother above you see Hwa Jeong who owns a restaurant and works as a realtor. All of them have stories to add to the series.
IMDb lists more than one actor for some of the roles – I suspect they are voice actors who did the dubbing. Because I'm not sure who we see on the screen, I'm not going to be able to give you all the actors names properly. But here's a bit of a run down on some of the characters.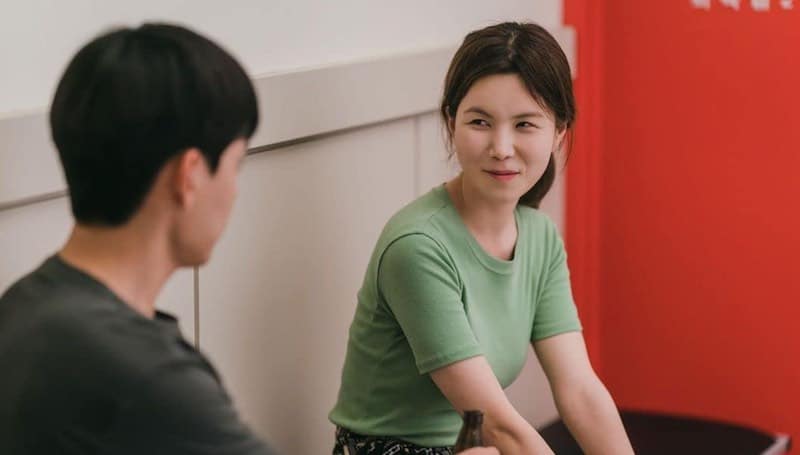 Mi Seon is Hye Jin's best friend. She moves with her and works in the dental office. She falls for a local police officer.
Hwa Jeong, the restaurant owner, is divorced from Yeong Guk. They have a very smart son. They bicker all the time.
An elementary teacher moves back into the town. She's Cho-hui. Yeong Guk used to be in love with her and wants to date her again. Cho-hui, however, has lingering feelings for Hwa Jeong. This lesbian storyline is so low-key, barely hinted at, that many people may miss it until she openly speaks of her feelings.
The owner of the coffee shop had a hit song once years ago but is now a widower raising his daughter alone. He clings to his past glories and still calls himself a singer.
A TV director named Seong Hyun is filming in the town and the townspeople are part of the filming. That creates plenty of excitement.
The action revolves around the developing relationship between Hye Jin and Du Sik. She's very independent and opinionated. He has dark secrets that haunt him. The secondary characters are related to them in ways that aren't revealed at first.
Food and eating is a central activity in everyone's life. There are traditional Korean foods and one surprising episode with a Domino's pizza. Food is used in traditional ways when honoring the dead and at a funeral. Clothing, too, varies from modern denim jeans and tee shirts to gorgeous designer fashions to traditional garb at important events.
The episodes were over an hour each. One or two a day is probably all you can get done, so it will take you a while to watch this series. Like an American soap opera, there were remembered moments that showed certain scenes more than once. The music was light and cheerful, usually just a piano or guitar or some soft vocals.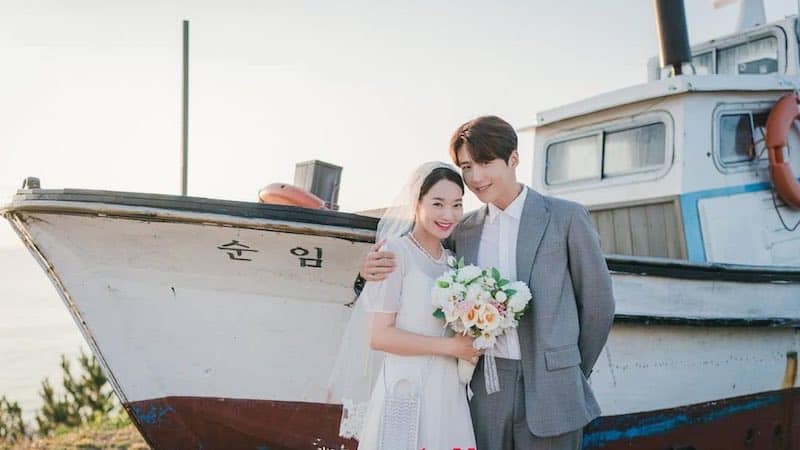 There were some sad moments, with plenty to cry about on occasion, but overall it was a bright and likable cast working toward a happy ending.
Shin Min-a and Kim Seon-Ho did exemplary jobs in their roles. Both showed range and nuance in their performances. Since they both have attractive dimples, you might get a laugh out of this dimple competition with the two of them being themselves.