Kiri is a four-part drama out of the UK's channel 4, now streaming on Hulu following National Treasure. There were no starring roles in this tightly-drawn cast, but the standout player for me was Sarah Lancashire as Miriam Grayson, a social worker.
Kiri Akindele (Felicia Mukasa) was a young black girl about to be adopted into a white family. Miriam was her carer. She arranged for Kiri to have a day with her biological grandfather Tobi (Lucian Msamati).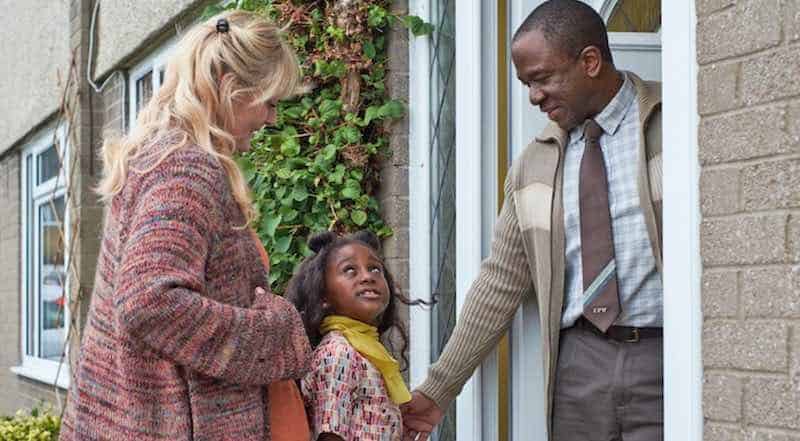 While Kiri was at her grandfather's house, her biological father Nate (Paapa Essiedu) showed up. He wasn't supposed to be around Kiri. He took her away from the house and by the end of the day Kiri was dead.
The media went wild. The public was up in arms. Blame was cast everywhere. Nate was the first and only suspect in the murder, although there was evidence that Kiri walked away from him and he was not the one who killed her. Miriam was blamed for bad judgement in arranging the visit. The media delighted in talking about the racial issues in the case.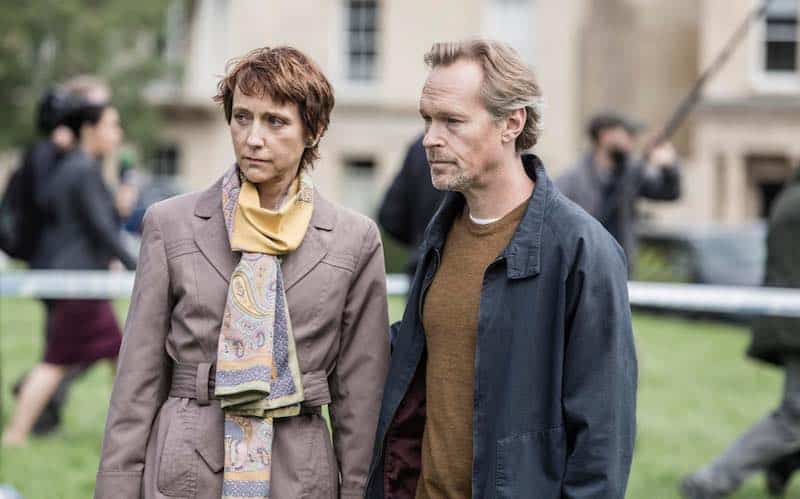 Kiri's adoptive family included the father Jim Warner (Steven Mackintosh), the mother Alice (Lia Williams) and a teenage brother Si (Finn Bennett).
The case went to DI Vanessa Mercer (Wunmi Mosaku), a woman of color who Tobi hoped would be sympathetic to his son's avowals of innocence. She was not.
The identity of the killer was skillfully hidden with misdirection until the final act of episode 4. The framing of shots, the music used, the slow release of the truth made several characters look guilty.
The members of the adoptive family were all made to look suspect, especially the annoying son Si. There were some scenes with Si and Alice that made my skin crawl. In other scenes Si seemed like a teenager who was so smart he didn't know how to live in the world.
None of the characters in this drama were blemish free. That made casting blame easier.
Miriam was a drinker. I have to complement Sarah Lancashire on her drunken walk and her ability to toss her cookies on a friend's floor. She was also as disheveled and defensive in Kiri as a woman who dosed her morning coffee with booze would be.
Alice was having an affair and was sent home from her teaching job because she slapped a student. Jim was revealed to be a manipulative prick.
One storytelling device used to keep us guessing was the way the same event would be covered several times as more and more of the truth came out. It painted each character in a bad light at one point or another.
I thought the Brits were better about racial justice than we Americans, but after watching Kiri I'm not so sure. The wrong guy, the black guy, was in jail at the end. The real killer, a white person, was free. Miriam's career was over. Lives were shattered. Grief was everywhere.
Amid all the tension, there were some funny moments, especially from Miriam. Miriam's female coworker had a crush on her. In fact, more than one woman seemed a little hot for Miriam. Miriam's conversations with her dog were quite funny. Miriam often took sausages to Gabby (Scarlett Brookes), a woman she'd formerly been the carer for. Gabby hated sausages.
Everyone in the cast did a superb job, but I want to single out Sarah Lancashire, Lucian Msamati, and Lia Williams as exceptionally effective.
Kiri was written by Jack Thorne. Euros Lyn directed all 4 episodes. I recommend watching it if you can, but don't expect a perfect ending.
Talking with Talks Too Much
@TalksTooMuch and I had a talk on Twitter about the women crushing on Sarah Lancashire in Kiri. She responded with this GIF from her recap of Kiri. You have to be a fan of Last Tango in Halifax to get the joke, but it struck me as perfect.
Hahaha, I totally thought this was a fourth-wall reference to all of us Kate-Caroline shippers out there pic.twitter.com/U7ChhT3nav

— TalksTooMuch (@gingesbecray) April 5, 2018
What did you think about Kiri?