Last Tango in Halifax season 4, episode 1 is the first hour of the 2016 Christmas special for this BBC series. It's been 18 months or so since the last episode of series 3 when Gillian (Nicola Walker) and Robbie (Dean Andrews) got married. Beware the spoilers!
Caroline (Sarah Lancashire) calls her mother Celia (Anne Reid) with the news that she's taken a new headship at a new school. She'll be selling the house and moving to Huddersfield.
Caroline tells Gillian that she wanted a challenge and a change. But she may have done it because Olga (Lorraine Burroughs) who has been spending time in Caroline's bed of late, accused her of being a privileged, rich bitch.
At the same time she's made these drastic changes trying to prove how un-rich-bitch she is, Caroline is telling Olga that they were never meant to be. She tries again and again to give Olga the brush off, but Olga is determined. The move won't come for 6 months, at Christmas time.
And, boom, it's six months later.
Quick Last Tango in Halifax news flashes! Greg (Marcus Garvey) has a new girlfriend and doesn't want to watch Flora as much as he was. John (Tony Gardner) and Judith (Ronni Ancona) are together again. AGAIN. She's just won a medal for her children's book. She's in possession of her sobriety and a damn fine push up bra. They are living in a posh place and don't want Lawrence (Louis Greatorex) to make a mess of its sterility. That's enough about them.
It's time to move into the new house. Celia finds mouse droppings. Celia thinks her bedroom is damp. Alan (Derek Jacobi) is hilarious when she asks him to back her up about the damp.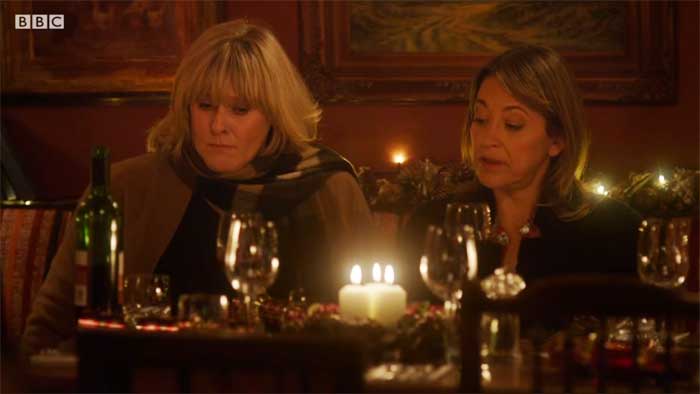 Gillian fights with her family. She meets Caroline for dinner. Caroline describes her moving adventures – complete with a reference to Emily Brontë. Really, the Brontës are everywhere. Gillian unloads a long tale of woe about how having Robbie underfoot since his retirement (last Friday) is driving her crazy. She says she's thinking of becoming a lesbian. Caroline listens to Gillian go on for a very long time. What a great friend she is! If Gillian ever makes good on her threats to switch to the other team, would Caroline throw the first pitch?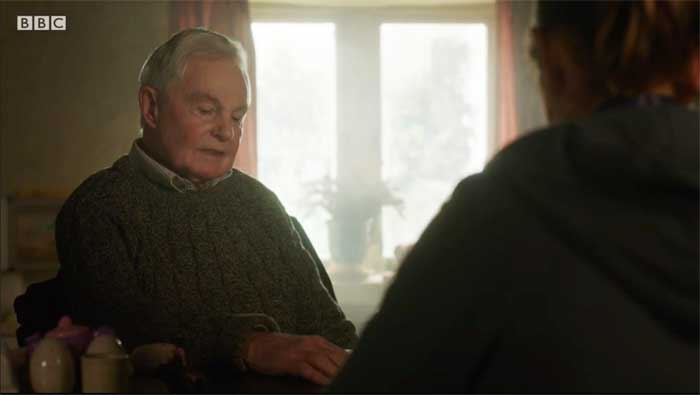 Next morning, when Gillian is in no better a mood, Alan shows up at the farm. He tells Gillian that he and Celia changed their wills. And they want to be buried together.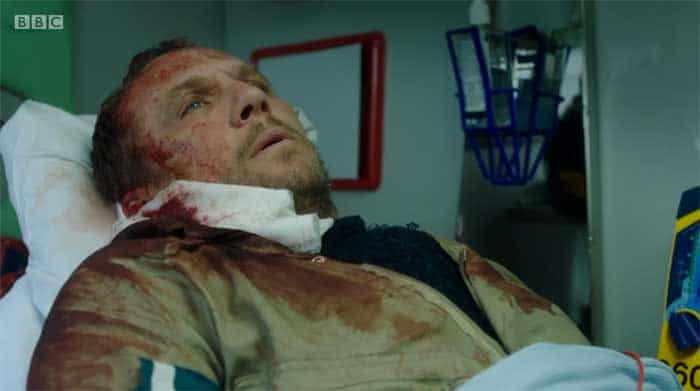 When Gillian goes out to the barn to tell Robbie about the news from her dad, she startles him. He jumps and cuts his neck badly. It's off to the hospital. Gillian expects Robbie to help her process the news from her Dad while bleeding from the neck in an ambulance.
Celia is asked to step into a role in Blithe Spirit. She auditioned for it last summer but didn't get it. Now someone dropped out. Just like that she's a Thespian. She wants Caroline to take her to the theater, where she might meet a nice fella. Before Celia gets out of the car, Caroline and Celia have one of their patented mother/daughter snipefests. Celia complains about Caroline being a lesbian – she whispers the word. Caroline tells her to never lower her voice to use the word lesbian in front of Flora again. Well, 2 years haven't done anything for Celia's progress as an LGBTQ ally, have they?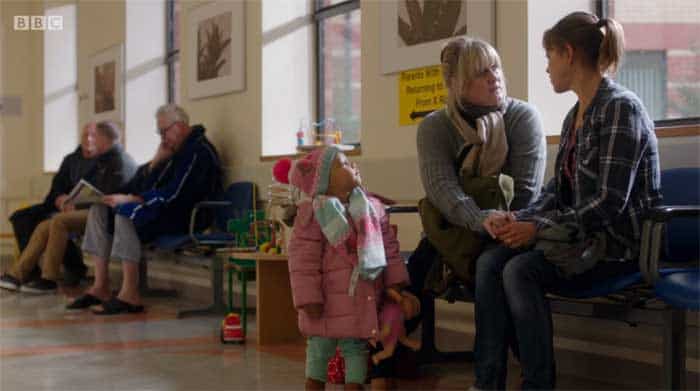 Gillian calls, and Caroline goes to be with her at the hospital. Gillian tells Caroline that 3 things have happened in the barn since she and Robbie got married. She thinks Eddie is still in the barn, mad about the marriage. Caroline assures her that it's okay – in fact she still has conversations with Kate. Gillian says it isn't like that. The thing in her barn is evil. It seems to me, the thing about the barn is really what's putting Gillian in such a foul mood.
Everyone ends up at Gillian's for dinner. Celia drones on about the play forever. Raff (Josh Bolt) and Ellie (Katherine Rose Morley) and everyone else at the table are paralyzed with boredom. When they leave, Gillian goes to the barn and tells whatever is out there she isn't afraid and it can just shit off.
Gillian returns to the hospital. She goes on to Robbie about how much work Christmas dinner will be without his help. He assures her that their lives are the best they have ever been since he's retired. Well, today was a bit weird, but otherwise. Gillian isn't buying it.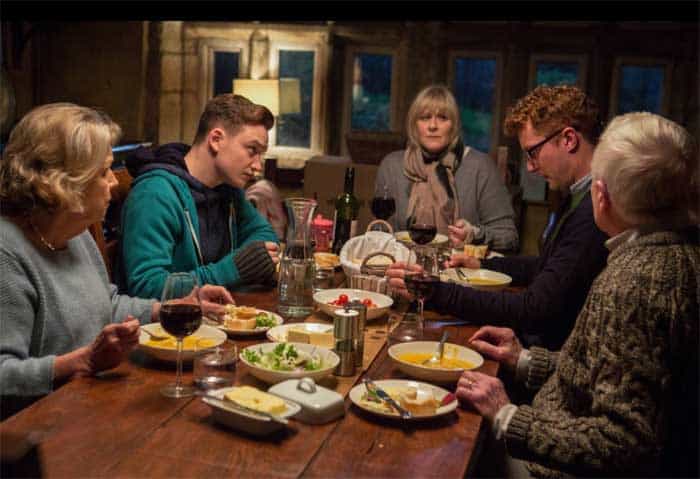 At the new place, William (Dean Smith) misses the old house that he never got to properly say goodbye to and Lawrence is complaining about everything. Lawrence is supposed to be living with his dad so he can finish school in Harrogate, but John and Judith want to kick him out. In short, Caroline is putting up with piles and piles of complaining from her family about the move.
A knock on the door. Dashing in from the rain are Harry (Paul Copley) and Olga. Harry introduces Olga as his new girlfriend, even though he just met her on the doorstep. Olga brought a case of wine as a housewarming present. She gives Caroline a kiss on the cheek. Caroline makes it clear that she isn't happy to see her and wants her to leave. But Olga wants to come in to meet everyone so she barges in as eager as anything. The look of dismay on Caroline's face is worthy of an award.
In the kitchen, Lawrence notices lipstick on Caroline's cheek and signals her to rub it off. Olga is looking at Caroline like, hey, baby, I'm here and Caroline is looking at Olga like don't you need to be going?
Harry spins a tale about how the house is haunted. William is nervous about it, but Lawrence thinks it's great fun. That's about the time a flash of lightning knocks out the lights.
In the morning, Caroline rushes Olga off the couch (she made her sleep on the couch?) and out the door with nothing but a cup of tea and a glass of something fizzy for her hangover. Olga says Caroline was easy to like at first. Then she became quite hard work. Caroline admits this isn't the first time someone has observed this.
William asks Caroline about Olga. She explains that she was an ill-advised foray into . . . she can't quite define what. William asks about the fact that you aren't supposed to make any big decisions in the first year of a bereavement. Caroline says it's been more than a year, but William rightly points out that she's still bereaved.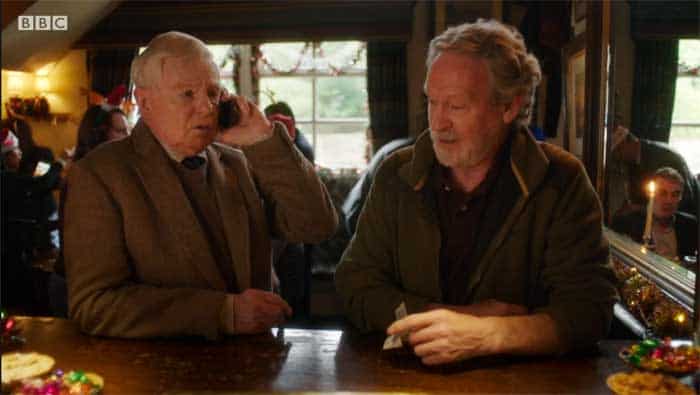 Alan and Harry are having a pint when Celia calls. Someone in the play had a stroke. Can Alan take the part? Sir Derek Jacobi then says lines like, "I can't act," and "I can't learn lines at my age." What a splendid idea – leave us laughing as the episode ends.
Juliet May directed. Sally Wainwright wrote this episode and every other episode of Last Tango in Halifax.
I'm happy to see these people back in action, even if only for a couple of hours. I love them all (well, I have some reservations about Celia) and want a whole new series from them. There will be one more episode in this Last Tango in Halifax Christmas gift to the fans. Look for a review here soon. Then we have to wait heaven knows how long for more.
MORE! MORE! MORE! Please, Sally, I want some more.