Lingua Franca takes us into the world of Olivia (Isabel Sandoval), a Filipino trans woman working as a carer for an elderly woman. She needs a Green Card to stay in the U.S. This independent film is streaming on Netflix.
Lingua Franca slowly and gently helps you understand the kind of odds stacked against Olivia and other undocumented American workers. She transitioned after coming to the US, so her passport and ID information is in the wrong name and gender.
She lives with the fear that black ICE vans await her around every corner. A fear based on seeing people get carted off by ICE all the time.
She's paying a guy to marry her as soon as she pays him $5000. She cares for Olga (Lynn Cohen), an elder who is losing her memory. She gets support and help from her best friend Trixie (Ivory Aquino), another trans Filipino woman – they grew up together.
Into this precarious existence comes Alex (Eamon Farren), Olga's grandson. He begins staying at his grandmother's as another of the caregivers. He also works in a meat processing shop. And he has a drinking problem.
Olivia and Alex develop a relationship. They care about each other, but is he the solution to Olivia's green card problem?
The brilliance of this film is that it takes us into a world we haven't seen before: Filipino culture, transgender experiences (including sexual ones), immigrant experiences. It builds slowly, helps you get to know Olivia and the people around her.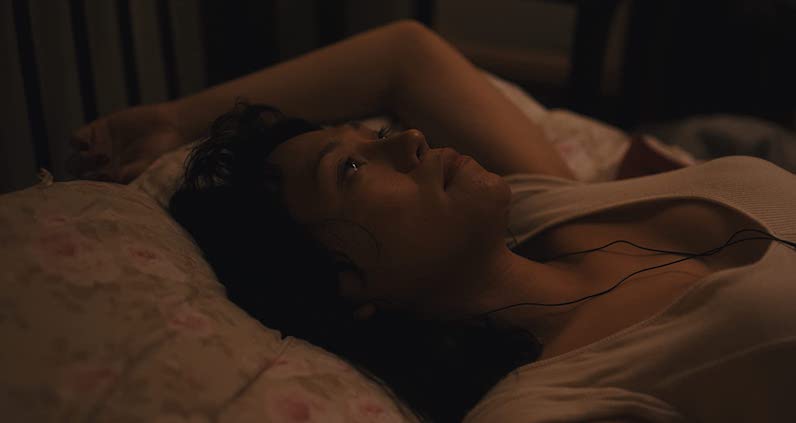 In addition to starring in the film, Isabel Sandoval also wrote and directed it. She chose to make it visually dark. Often almost black. There were many scenes where nothing could be distinguished. There were many scenes with no light or almost no light. I can understand that in a metaphoric sense, because Olivia's life was indeed dark. But as a movie viewer I would like to be able to see just a bit of what's happening.
The film was bought by @ARRAYNow for distribution on Netflix.
The film was made after Trump was elected, so we often hear his voice in the background, railing against immigrants, spewing danger and hatred. Transgender immigrants have even more to worry about – the Trump double whammy.
The beauty of the film is that you care about Olivia, and want desperately for her to escape the Trump double whammy and get the documentation she needs to stay in the US.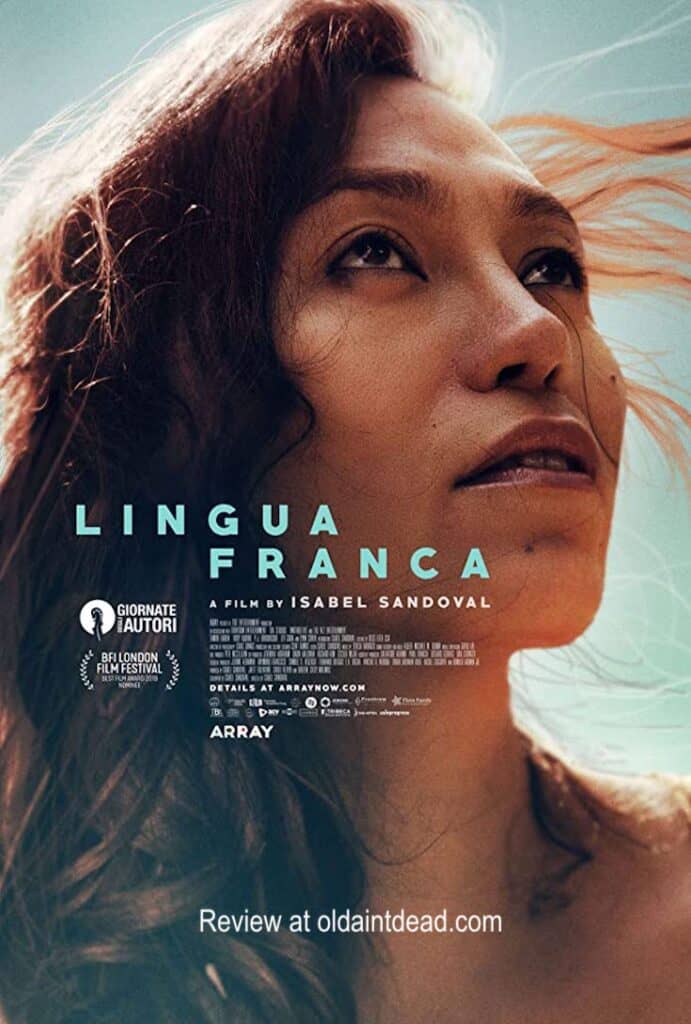 This is the trailer.
If you want a look into a different world from the normal content you see on television, give Lingua Franca a try.