Moving On from writer and director Paul Weitz brings Jane Fonda and Lily Tomlin together again. This time they demonstrate their dramatic acting abilities in a beautiful story about healing the past.
Moving On does have flashes of humor, but labeling it comedy is not correct. It begins with Claire (Fonda) taking a plane to the funeral of an old college friend. There she runs into her other college best friend Evelyn (Tomlin). Claire informs Evelyn that she's there to kill Howard (Malcolm McDowell), the grieving husband of their old friend.
This film does not explain anything. It shows. The writing is perfect. We don't know why Claire is determined to kill Howard, but we soon figure it out simply because Jane Fonda is a great actress.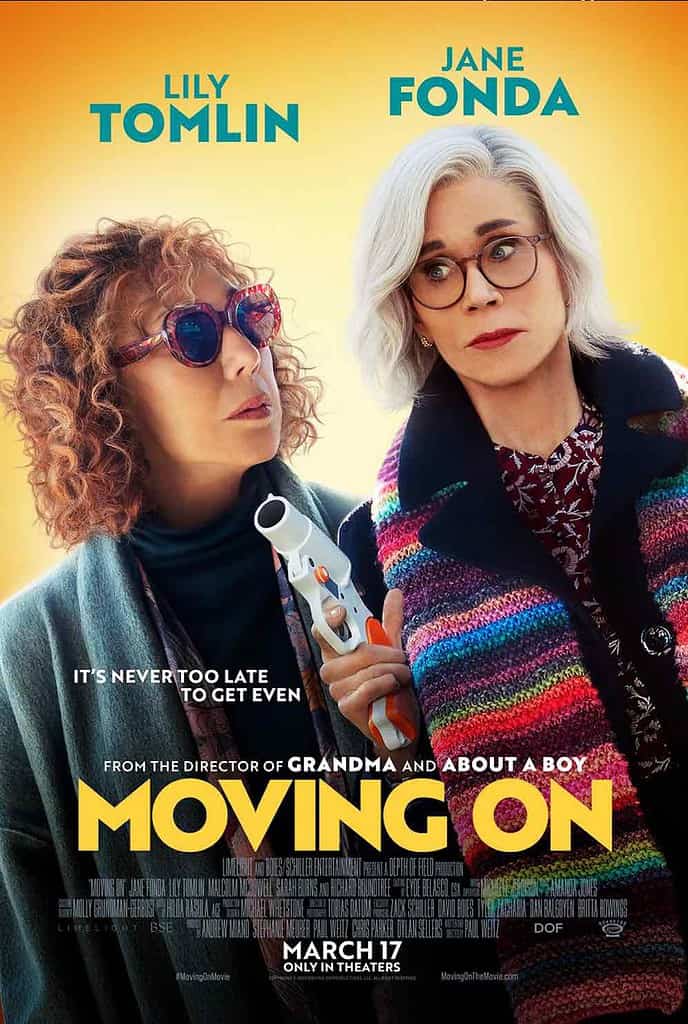 It's been years since Howard did whatever he did that traumatized Claire. She's never gotten past it. The only person Claire told about it at the time was Evelyn. When Claire and Evelyn meet again at the funeral, Evelyn decides to help her old friend secure a gun and get revenge. They may be arthritic and breakable, but by damn, they aren't dead yet!
The gun idea was a bust, but there were other options.
Claire also sees Ralph (Richard Roundtree) at the funeral. Ralph was Claire's husband all those years ago and the trauma with Howard led to the breakup of their marriage.
Ralph and Claire still carry a flame for each other. I love a movie that shows elders in love, elders acting sexual, and elders kissing.
Evelyn, on the other hand, was once in love with Howard's future wife. The two women shared an affair all those years ago and there are letters to prove it, although Howard won't believe it. As Claire and Evelyn get reacquainted we learn that Evelyn had been married to a woman and had a career as a musician. She played cello, and the score honors that by being predominately gentle string melodies.
Evelyn lives in an independent living place. The grandchild of one of the other residents loves her. The child asks if they can play fashion show again. Evelyn can't right then, but she sees who the child is, what he is. Instead she gives him a pair of sparkly red clip on earrings that please him very much.
Evelyn pulls Claire back from doing what she wants to do to Howard several times in the film. In one emotional scene that speaks volumes about trauma, Evelyn says something like, "Aren't you glad you didn't succeed? You have kids, grandkids, a home. You can enjoy it." Claire shoots back with, "You know what you have? You lived the life you wanted to live." The scene carried the same weight as the confrontation between Kerry Washington and Reese Witherspoon in Little Fires Everywhere when Kerry Washington said, "You had choices."
There's no telling in this film. Just action, just doing. It's amazing how effectively it paints a character, lets you see who they are and what their hearts carry. When you couple good writing with talented performers the results shine. This story about healing and doing the right thing resolves with a touch of poetic justice.
You can see this gem on Hulu.