Never Have I Ever tells a coming of age story. The heroine is a first generation Indian American teenage girl. The story is based loosely on creator Mindy Kaling's high school experiences.
Never Have I Ever stars Maitreyi Ramakrishnan as Devi, the high school girl with the complicated life. She's an A student, a sophomore who wants a boyfriend, and an overachiever. Her dad (Sendhil Ramamurthy) died a few months ago.
After her father died, Devi became paralyzed for 3 months. She's been in therapy with a no nonsense therapist (Niecy Nash) ever since. Devi isn't dealing with her grief very well.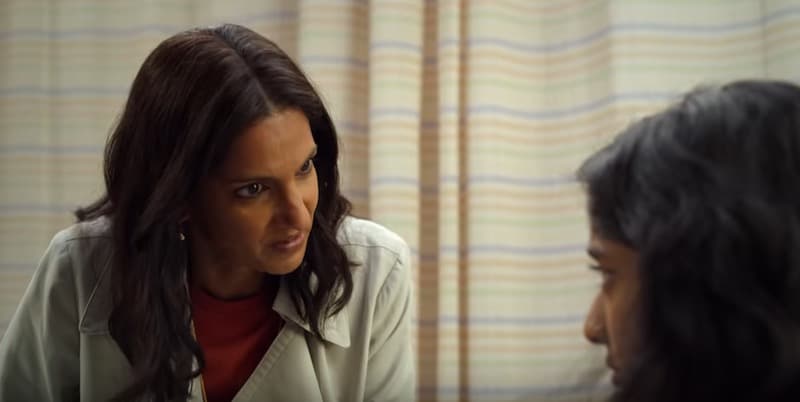 Devi lives with her mom (Poorna Jagannathan) and her college student cousin Kamala (Richa Moorjani). Her mother is very strict, as opposed to her father who was more openly loving and less strict.
Devi's two longtime best friends are Eleanor (Ramona Young) and Faviola (Lee Rodriguez). In the boy department are hot and hunky Paxton (Darren Barnet) and Devi's academic competition, the irritatingly smart Ben (Jaren Lewison).
The series wasn't quite as funny as I expected. It's got its funny bits – can you deal with John McEnroe as narrator? – but mostly the topics and themes are around grief, friendship, loyalty, family bonds, finding a boyfriend (or girlfriend, in Faviola's case) and surviving high school.
There are serious situations in these kids' lives. All around Devi, every other kid in high school is going through their own trauma and trouble. Devi doesn't always notice because of her own mental state. Devi makes a mess of almost everything that's happened since her father died.
Devi can be self-centered and hurtful, but I was rooting for her anyway. First time actor Maitreyi Ramakrishnan gave Devi a depth and genuineness that felt real.
The series was created by Mindy Kaling and Lang Fisher. Exactly 4 of 8 episodes were directed by Linda Mendoza and Anu Valia. I thought there were a few glaring holes in the plotline and a few oversimplified plot developments, but overall the series is a success. It's definitely worth seeing. It boasts a terrific inclusive cast, as well as having women in lead roles and women writers and directors.
Never Have I Ever is streaming on Netflix. Here's the trailer.