Obvious Child was advertised as "The most winning abortion themed rom-com ever made." The title comes from the Paul Simon song of the same name.
Donna Stern (Jenny Slate) is trying to be a comedian. She gets on stage and talks about everything from her sex life to her dirty underwear. She's kind of funny on stage but much funnier in real life. One of her problems is she hasn't figured out how to translate her natural humor into something that works when she has a microphone in her hand.
Donna has more problems. Her boyfriend just dumped her and the bookstore where she works is closing. Her friend Nellie (Gaby Hoffmann) gives her grown up advice on how to deal, but Donna is far from grown up.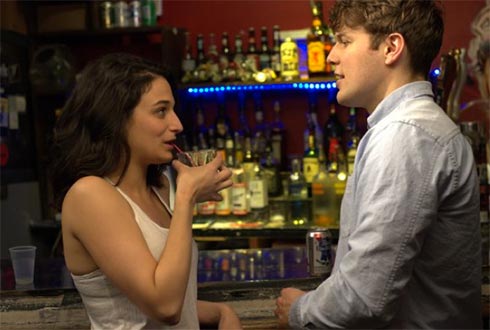 Donna deals by getting roaring drunk and picking up a buttoned-down guy named Max (Jake Lacy) for a one night stand. They have fun while having sex, but the results are not fun. Donna's preggers.
Max, instead of disappearing like a good one night stand should, hangs around. He asks Donna out. They tentatively like each other. He turns out to be a student of her mother's. Her super-smart and highly organized mother is played by the fabulous Polly Draper. Donna's flaky father is played by Richard Kind. Let's just say Donna didn't fall far from the old man's tree.
Donna, Nellie, Mom: everyone agrees abortion is the only option. Should Max be told?
I won't give you any more plot spoilers, but I will say that the actual romance part of this rom-com doesn't begin until the end of the film. There may be a romance in the future of Donna and Max – it's possible but not guaranteed.
Gillian Robespierre wrote and directed the film. Big cheers to female writers and directors making films! Support it for that reason alone if you want, but it's also a funny film that you will enjoy seeing.
Watch the Trailer
Obvious Child was released in the U.S. in October 2014. It's available on DVD and from streaming services.