The Canadian comedy How to Plan an Orgy in a Small Town is a romp as funny as the title suggests. The film stars several favorite actors of mine. It's funny and poignant at the same time.
Financed on a crowdfunded shoestring budget, with actors who worked for free, the film looks as good as a high budget studio picture. The actors are perfection. It's about a group of sexual idiots who decide an orgy would solve all their problems with sex, sexual orientation, fertility, love, and revenge.
The orgy part is ridiculous but the sex, sexuality, fertility, love, and revenge parts almost turn out right in the end. At the least everyone ends up free of a lot of their former restraints.
Jewel Staite plays Cassie Cranston, who comes home to Beaver's Ridge (yeah, the humor is none too subtle) after her mother (Lauren Holly) dies. She left town after a humiliating high school experience in which she was branded a slut.
Now she writes a column about sex for a magazine  and everyone thinks she's not just a slut but also a sex expert. While she's home, they ask her to coach them through an orgy.
Cassie's hidden secret is this – she actually knows nothing about sex. Her high school experience scarred her so much she hasn't trusted anyone enough to get into bed with them.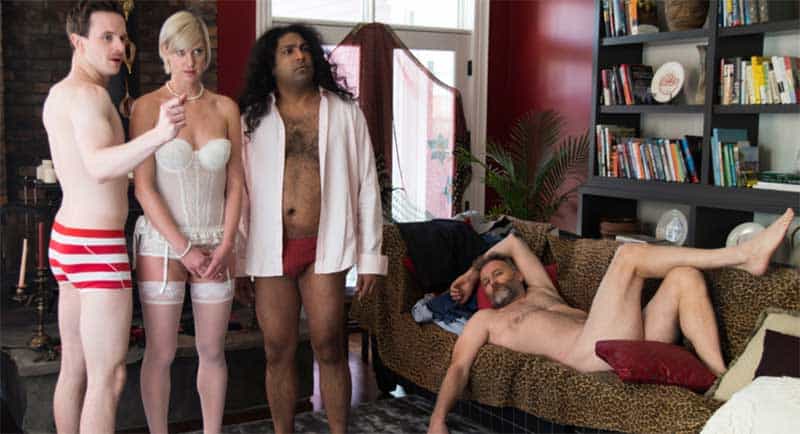 The actors who get involved in the bare assed shenanigans of several attempts at an orgy include Ennis Esmer, Lauren Lee Smith, Katharine Isabelle, Mark O'Brien, Tommie-Amber Pirie, Jonas Chernick, James McGowan, Kristian Bruun, and Gugun Deep Singh. Christine Horne and Rosemary Dunsmore make brief appearances unrelated to the orgy scenes.
In many ways the characters are cartoon characters. Most, but not all, of the sexual activity is cartoonish. There is a human nugget in each of the characters, something they really need from life and sex that is revealed amid all the comedy. We see the humanity of the people in Beaver's Ridge. Such good actors could never let their roles be mere caricatures.
How to Plan an Orgy in a Small Town was written and directed by Jeremy LaLonde. I loved it. Take note, it is rated TV-MA because of all the frank sex talk and scenes.
In addition to Amazon Video
, How to Plan an Orgy in a Small Town is also available on Hulu and Vudu.