Portrait of a Lady on Fire (Portrait de la jeune fille en feu) tells the story of an artist who travels to a remote island to paint a wedding portrait of a young woman. There are spoilers ahead.
This French film had a small cast of women. It was directed by Céline Sciamma, who also wrote the film. Sciamma created a beautiful film that perfectly exemplifies the power of the female gaze in storytelling.
Portrait of a Lady on Fire (Portrait de la jeune fille en feu) begins and ends with the artist Marianne (Noémie Merlant), who recalls the intensely emotional love story between the painter and her subject in a flashback.
Marianne traveled to an island in Brittany at the end of the eighteenth century. Her father had painted the wedding portrait of the mother (Valeria Golino). Marianne followed in her father's footsteps. Her status as a woman with a career and a means of support set her apart. It meant she wouldn't have to marry like her aristocratic subjects.
On arrival, she was informed that there had been a portrait painter there before her. The young woman, Héloïse (Adèle Haenel), refused to sit for him. The portrait was unfinished. Marianne was to pretend to be there to accompany Héloïse on walks and observe her carefully enough to paint her from memory. She did this, but she also fell in love with the woman she watched so closely.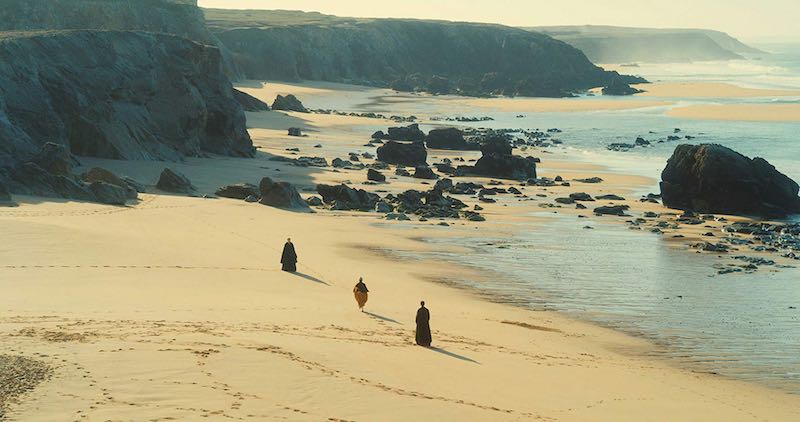 The setting was stunning. A rocky coast, a dark mansion. (Which you can soon visit as a tourist.) There was no sound track. Instead we heard the crackling of fires, booming footsteps on hardwood floors, crashing waves, and the breathing of the lovers as they explored their attraction.
Even though the mansion was dark and candlelit, the women's faces were always lit. The women's faces were like portraits themselves, glowing with life.
Their first kiss was in this secret sea cave. The film was full of beautiful metaphoric images like that.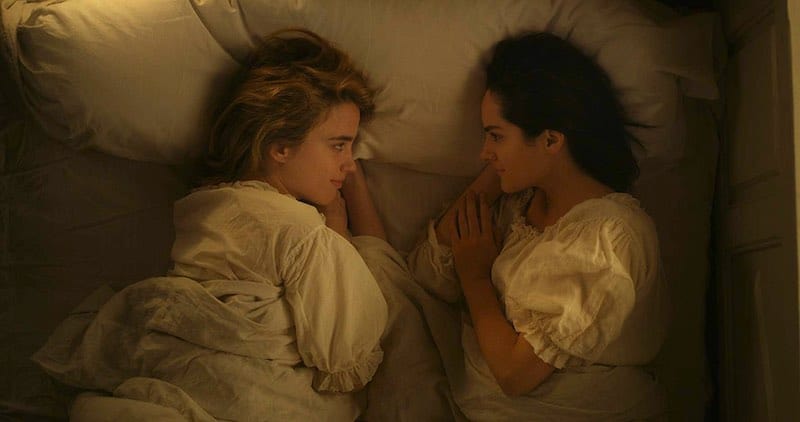 When Héloïse's mother left for a few days, they openly took their love inside the house. They made love, they worked on the wedding portrait, they read about Orpheus and Eurydice with the maid Sophie (Luàna Bajrami). They discussed why Orpheus turned back to look at Eurydice. They tried to help Sophie abort a baby. They obtained a hallucinogenic drug from a local woman and used it during sex. Marianne attempted to play "Summer" from Vivaldi's Four Seasons on the harpsichord for Héloïse, who longed to hear music.
Several times, Marianne saw a premonition of Héloïse in her wedding dress. When Marianne was leaving, Héloïse called to her and she looked back and saw Héloïse in her wedding dress.
The structure of the film was a series of mirror images. Marianne burned the first artist's unfinished portrait when a candle came too close. Héloïse's dress caught on fire at a feast when she stood too close to the fire. The story of Orpheus and Eurydice was repeated when Marianne turned to see Héloïse in her wedding dress. The final scene was a lingering shot of only Héloïse as she listened to a full orchestra play Vivaldi. As Marianne had recalled the love story that we saw played out in the flashback, Héloïse recalled the romance as the music played. Every emotion played across her face as she relived the great love affair of her life through the music.
The film was set in a sweeping panorama of a place while filled with the most intimate moments of looking, longing, touching – lips, hands, eyes. Adèle Haenel and Noémie Merlant gave luminous beauty to the emotional connection that developed between the women.
It's so important to see stories by women, about women. Women are multifaceted and always have been. This story about two women who fell in love over 300 years ago in France is an exquisite example of what people today need to see, long to see.
The artist Hélène Delmaire did the paintings and sketches made during the film. It was her hands we saw painting and drawing.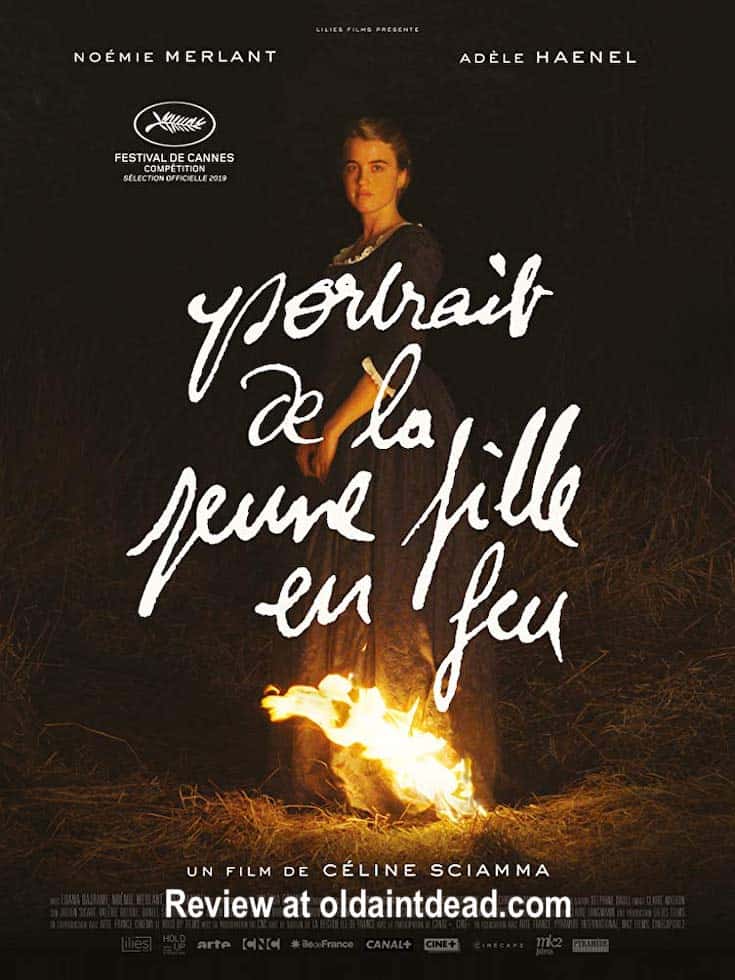 The trailer tells you the same spoilers that I've revealed in my review.
Have you seen Portrait of a Lady on Fire (Portrait de la jeune fille en feu)? What was your feeling about the film?