RBG explores the life of Ruth Bader Ginsburg. Ginsburg is a towering figure in American life and an active justice on the Supreme Court of the United States.
Using old photographs, home movies, news reports, television clips, sound recordings from within the Supreme Court, legal documents, and a few talking heads, the film covered every aspect of Ginsburg's life.
RBG concentrated much of its attention of several key cases that Ginsburg argued as a lawyer in front of the SCOTUS before she was a justice. The effect of these cases on equal treatment of women under the law changed America. RBG also looked at cases and opinions – and dissenting opinions – that Ginsburg has been part of since being on the SCOTUS.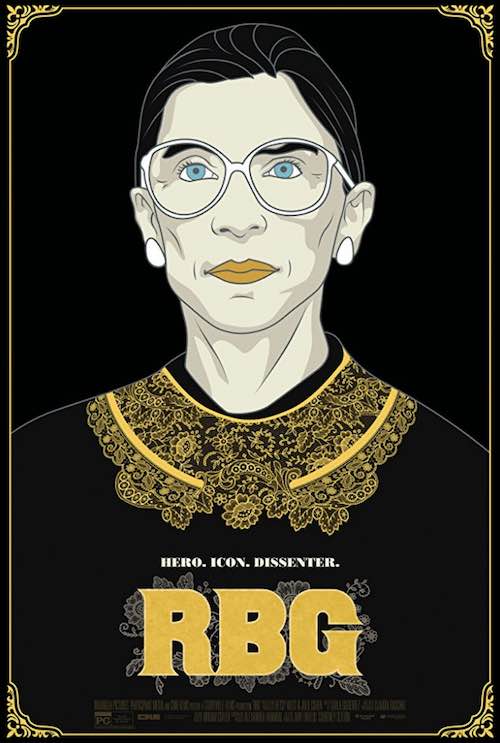 Ruth Bader Ginsburg is an inspiration. She's rightly a legend and a hero to many Americans who value equal treatment under the law. The poster for the film shows her in a heroic pose for good reason. She's truly an American hero.
Julie Cohen and Betsy West directed the film. We saw footage of RBG's husband and children and heard from a number of people about her such as attorneys, justices, friends, journalists, and family members. We saw her at the opera and working out with a personal trainer – it wasn't all about the law.
The two young authors of Notorious RBG: The Life and Times of Ruth Bader Ginsburg
(affiliate link) talked about her and brought us into the internet age with a series of memes and blog postings that have made her famous in the last few years.
It's a testament to how important Ruth Bader Ginsburg is to America that a documentary about the law and legal decisions could be utterly compelling and inspiring.
In the theater where I saw it both men and women were hooting and applauding for her when the film ended. Never has a woman who spent her life digging through legal briefs been admired and cherished to such a degree. She's a brilliant warrior for justice.
In case you missed it, watch the trailer for RBG
Do yourself a favor and go see this documentary. Also, read the book Notorious RBG.
Update
This post was first published in 2018. Ruth Bader Ginsburg passed away on September 18, 2020, at the age of 87. This film about her life is available now on Hulu. The book is still available from Amazon. There's also a film called On the Basis of Sex on Showtime that tells about RBG's life.