Restless stars Hayley Atwell, Charlotte Rampling and Michelle Dockery. When I saw the cast list on Acorn TV, I thought, "What could be better?"
It turns out, quite a few things could be better.
Restless has only 2 episodes for a 3 hour turn at a World War II spy tale. And even though I was unimpressed with much of the detail, I did enjoy watching Hayley Atwell, Charlotte Rampling and Michelle Dockery.
Ruth (Michelle Dockery) is Sally's (Charlotte Rampling) daughter. In 1970 Sally tells Ruth she used to be a spy from 1939 to 1941 and thinks her past has come back to find her. She thinks she's targeted for murder.
We jump back and forth between those years. The younger Sally is played by Hayley Atwell. She starts out the story as a Russian woman living in France named Eva Delectorskaya. After her brother Kolia (James Norton in a tiny part in this 2012 series) is murdered, she learns he was a spy.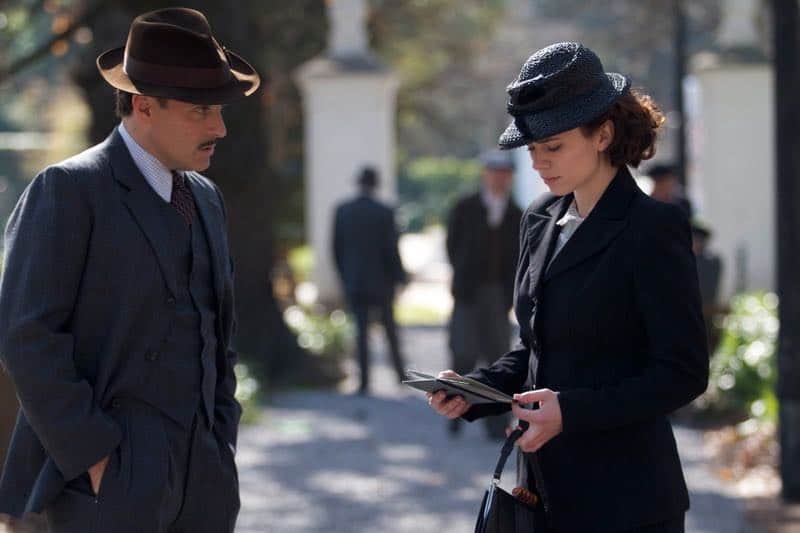 Her brother's handler Lucas Romer (Rufus Sewell in 1939 and Michael Gambon in 1970) recruits Eva Delectorskaya as a spy. He makes her a British citizen with a new identity. She goes to work writing fake news reports meant to mislead all kinds of leaders, but mostly meant to bring the U.S. into the war in Europe.
Sally and Lucas have a love affair. This doesn't protect her from his devious plots however. She soon learns not to trust him. He sends her to the United States where she's supposed to get close to top Washington officials. Later he sends her to Albuquerque where she's supposed to deliver a phony map that will convince the US military that Germany is about to attack from the southern border. Things don't go as planned. Naturally.
There are some exciting scenes in the three hours. There are plenty of spycrafty plot points. But there were so many glaring errors in geography, historical accuracy, and casting that it overshadowed the good parts. One example of a geographical error that hits close to home for me: Sally is going to leave Las Cruces, NM, in the year 1941 and drive her post-war manufactured Chevy to Dallas by the afternoon to catch a plane. The distance from Las Cruces to Dallas is around 700 miles and there were no interstate highways then.
My advice regarding Restless is to watch it for the stars, not the production values. The actors are very good. You'll find it on Acorn TV.