All the superlatives you've read about Russian Doll are true. It's wild, inventive, unique, unexpected, deep, funny, and must see TV.
Push play and study this image. It's an exact representation of what Russian Doll is about.
Russian Doll is a kind of a video game choose your own adventure story (think Bandersnatch). It's kind of a dying over and over story (think Groundhog Day). It's also neither of those things. It's unlike anything you've seen or thought about.
It's about looking at yourself in the mirror on your 36th birthday and deciding whether or not the life you've lived so far is the life you want to keep living. It's about looking at yourself in the mirror after being dumped by your childhood sweetheart and deciding if the life you've lived so far is the life you want to keep living.
Is it about dying, or about living? That's the central question.
Natasha Lyonne, along with Leslye Headland and Amy Poehler, wrote Russian Doll. They conceived this story about a woman who unearths smaller and more concise versions of herself until she reaches her essential self. It's partly about what she finds. It's partly about being brave enough to search.
There's really no describing this series in a coherent way. I'll give you some of the basics so I can mention the actors/characters who worked in it. Natasha Lyonne plays Nadia Vulvokov, a snarky New Yorker. She smokes constantly, talks fast, uses drugs and booze. Nadia works as a software engineer. As we get into the story, vernacular from the world of video games is often used: Easter eggs, alternate timelines, repeating loops, resetting the game.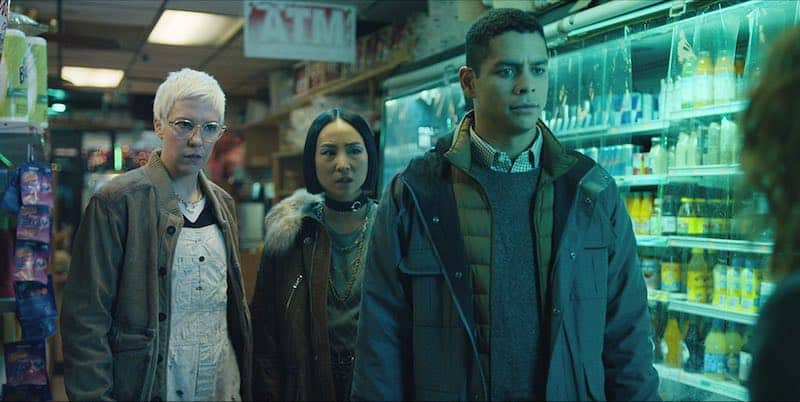 Nadia's looking in the mirror in the bathroom of her friends Lizzy (Rebecca Henderson) and Maxine's (Greta Lee) apartment. They are throwing her a 36th birthday party. When she leaves the party, she dies. And then she's back in the bathroom starting over. Same people, same song, same party. Repeat.
She doesn't always die in the same way or at the same point in time. Each time she starts over, things change. She investigates all the reasons this could be happening: bad drugs? some Jewish ghost? bad behavior? Her investigations are quick, impressionistic. Sometimes we don't know what we learned until something else happens later when the timeline restarts.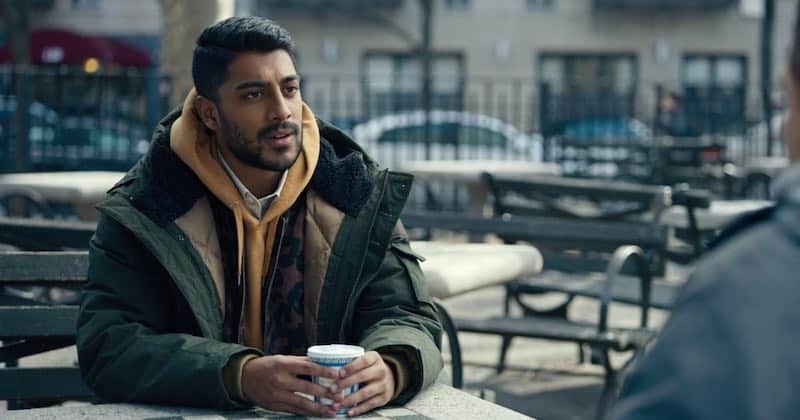 She interacts with an asshole named Mike (Jeremy Bobb). She talks to her ex John (Yul Vazquez). She looks for her cat Oatmeal and talks to the deli owner Ferren (Ritesh Rajan). She sees a guy in the park who looks familiar. He is Horse (Brendan Sexton III).
Nadia visits with Ruth (Elizabeth Ashley), the woman who raised her. Ruth is her rock. Nadia's mother Lenora Vulvokov (Chloë Sevigny) was an out of control mental case. Ruth took over from her. We see more and more of Lenora as Nadia digs into the littlest parts of herself each time her life restarts. Young Nadia was played by Brooke Timber.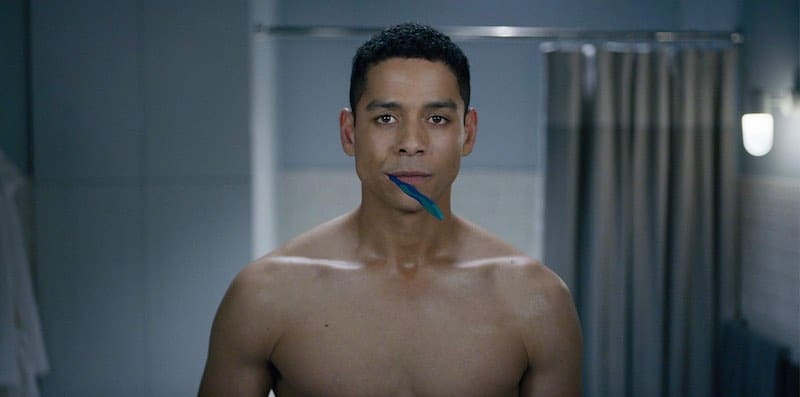 Most importantly, Nadia meets Alan (Charlie Barnett). He's dying over and over again, too! He's distraught about being dumped by Bea (Dascha Polanco). Their timelines intersect in multiple ways.
Nadia and Alan team up to try to understand what's happening.
The Brilliance of Russian Doll
Russian Doll is brilliant for numerous reasons. It was written by three very funny, creative women. It was directed by Leslye Headland, Jamie Babbit, and Natasha Lyonne.
It brought together more than an amazing assemblage of writers and directors. Some of Natasha Lyonne's life was in here – friends, people she worked with elsewhere, a dangerous entity named Horse, an unexamined high speed life.
The metaphoric language and symbolic imagery used are a whole study in themselves. The mirrors, the reflections. The moldy fruit. The orgy of watermelons chopped into a running mass of red. The bloody shards of glass. The smoking. The gas leak. The cat. The night sleeping in the open with Horse. The disappearing people and things. The title itself with its images of smaller and more precious dolls the more you look, the more you open, is an apt metaphor for this tale.
Natasha Lyonne needed a part where she could be PERFECT. A part meant for her. This is that part. This is that amazing part. This perfect, amazing character is why more women and other marginalized members of society need to be free to create stories for themselves. For that reason, Russian Doll is much more like Sorry to Bother You than it is like Bandersnatch or Groundhog Day.
I urge you to get in front of Netflix and watch this series. It's 8 episodes of about 30 minutes each. The trailer makes you think it's about Alan, but it's really about Nadia.
Like what you read here? Share it with your friends!