Santa Clarita Diet is a 10 part horror comedy on Netflix. It's about a married couple who are severely tested when their normal existence is changed because the Mrs. turns into a zombie. The pretty lady is forever undead.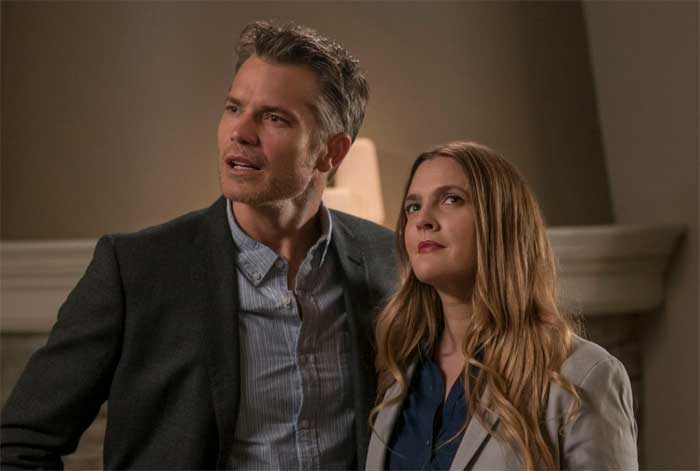 Timothy Olyphant and Drew Barrymore play the married couple, Joel and Sheila. Their chemistry and comedic timing is flawless in Santa Clarita Diet. I've always liked Drew Barrymore, but I've never been convinced that she could act. In Santa Clarita Diet, she reached a peak performance moment and did everything very well. She was funny, gruesome, physical, motherly, loving, dangerous, moody, sexy and manic – all with a kind of natural grace I've never seen in her acting.
Timothy Olyphant went from a happily married guy of some 25 years who smoked a little pot for excitement to a completely unraveled man prepared to do anything to save his wife and his life. He's a genius at the comedic moments.
Liv Hewson plays their teenaged daughter, Abby. Skyler Gisondo is Eric, the nerdy guy next door. Eric provides answers and helps Joel look for a cure. He's also Abby's friend and partner-in-crime on several adventures.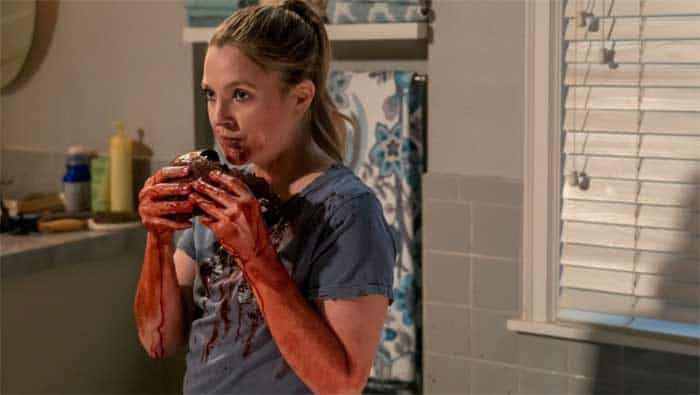 Once Sheila joins the undead, the couple face a huge problem. Together. Much as she'd like to dine on chicken or beef, the only thing she can eat is human flesh. Fresh human flesh. Which means killing people. Yep, the nice realtors from the nice middle class neighborhood in Santa Clarita are suddenly in the business of looking for people who would be good candidates for the chest freezer and the giant smoothy-making blender.
There is blood and guts and body parts. A lot. There is crude sexual humor. A lot. There is family, love, and loyalty. A lot. You've been warned. Santa Clarita Diet isn't for everyone.
I enjoyed it. A lot. I think Netflix has a winner here.
This series squeezes a great many plot twists and guest characters into 10 episodes of 30 minutes each. Some of the more important and interesting regulars are Richard T. Jones, Mary Elizabeth Ellis, Ricardo Chavira, and Joy Osmanski. Jones and Chavira play a cop and a deputy sheriff – one on either side of Joel and Sheila in their cozy cul de sac. Cops are everywhere. Little hard to sneak bodies out of the house under those conditions.
Some of many excellent guests includes Nathan Fillion, Grace Zabriskie, Portia de Rossi, Deobia Oparei, and Patton Oswalt.
By the end of season 1, Sheila is taking steps to protect her family from her unchecked appetites. There's plenty of room for a season 2, which I hope will happen. Joel has a lead on a cure, or at least a way to put a hold on Sheila's descent into zombieland. There were mentions of mothers and fathers and sisters who might be very funny to meet in season 2. Abby, the teenaged daughter, is proving herself strong and capable and may be the one in the family who doesn't fall apart under the stress. I'd like to see what they do with her character in a second season.
Watch the trailer for Santa Clarita Diet.