Silent Night, the first feature length film from writer and director Camille Griffin, is a funny and terrifying morality tale about an environmental disaster rolling over the countryside on Christmas night.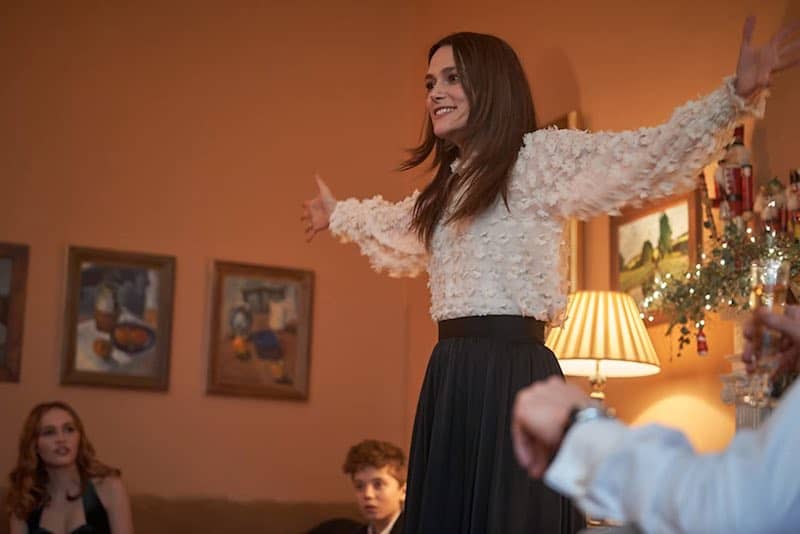 With a terrific ensemble cast ostensibly lead by Keira Knightley and Matthew Goode, I thought the film belonged to young Art (Roman Griffin Davis). He was the voice of all the young activists fighting for the planet. Plus, he did an outstanding job in the part.
There are many layers to Silent Night. People arrive at a country home for Christmas together. The are family and friends with history, old grudges, and a desire for love and forgiveness in light of a pact they've made. We very slowly learn what the pact is.
It's a bit of a spoiler to tell you the pact is they are all going to take a suicide pill (even their kids) just in time to avoid a horrible death from a cloud of poison gas that is on the way. The government has warned about the poison gas. They say it can't be avoided. Everyone has been supplied with a pill so they can die with dignity.
Here's who is in attendance. Nell (Keira Knightley) and Simon (Matthew Goode) are hosting the event. They have three sons: Art (Roman Griffin Davis), and the twins Thomas (Gilby Griffin Davis) and Hardy (Hardy Griffin Davis).
Sandra (Annabelle Wallis) and Tony (Rufus Jones) are there with their horrid daughter Kitty (Davida McKenzie). Newly pregnant Sophie (Lily-Rose Depp) is there with James (Sopé Dìrísù). Finally there's the lesbian couple, Alex (Kirby Howell-Baptiste) and Bella (Lucy Punch).
In the long lead up to the moment when the pill popping is to take place there are presents, Christmas dinner, dance marathons, drinking, secret glances at government issued dire warnings on phones, and many personal revelations about the assembled party.
There are questions and doubts, mostly from the younger people. The adults all trust what the government has told them. There are ominous views of the coming gas clouds as they sweep across the country. There are confessions and revelations. It's funny and scary at the same time.
There were a few continuity issues involving blood that caught my attention, but overall I found the film well done. I thought the twist at the end could have been given a few more beats.
The message I took away from the film was don't trust the government. Or perhaps, don't trust whatever authority figure you cherish. This film was made before COVID, but it spoke so strongly of how the Trumpers refuse vaccines and won't wear masks while they die in disproportionate numbers. They are willing to die for their beliefs, even as their numbers dwindle because of it.
What Silent Night is asking you to think about is whether the government (or whoever you follow) actually tells the truth. It's putting those questions to you from young Art, the family rebel, who quotes Greta Thunberg at the dinner table. The film is also suggesting young people will be the ones to save us.
You don't often find Christmas horror, especially on the channels that run holiday movies 24/7 for a solid month. This film both makes you think and entertains you with its unique tale. It's streaming on AMC+.