Still Mine is simply exquisite. The actors, the story, the drama: everything about it is beautifully done. It's a gem!
The Canadian film stars James Cromwell and Geneviève Bujold as a couple married for 60+ years. They live in a big drafty house in New Brunswick. The husband, Craig, decides to build a smaller house nearby that will serve his wife Irene better. Irene is in the early stages of Alzheimer's disease. It's starting to affect the way they live and the way they interact.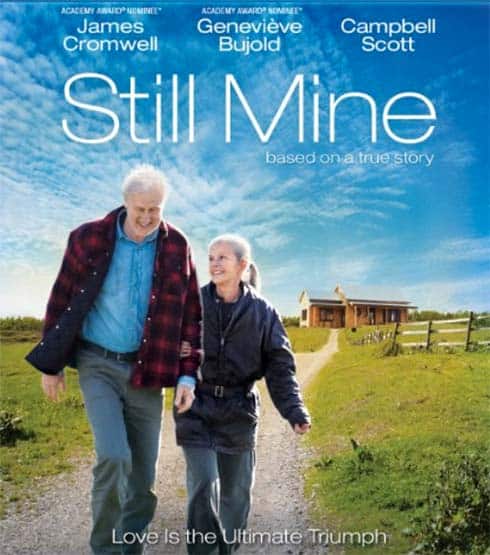 The beautiful relationship between Craig and Irene is inspirational. They even have a sex scene! I stand up and cheer when I see a movie where people in their 70s and 80s are allowed to remain human and still be the sexual creatures they've always been. This movie would have my vote based just on that one scene.
However, there's much more to the movie. There are excellent performances from all the actors, particularly James Cromwell and Geneviève Bujold. There is the stiff-backed stubbornness of a man who knows what he's doing and doesn't take kindly to people telling him he can't. There's the worry, fear, confusion, and anger of a woman who knows she's losing her memory. There's the concern of the couple's children. There's the bureaucratic ass who tries to put the kabosh on every single thing Craig does to build his wife a better place to live.
The film was written and directed by Michael McGowan. It is based on a true story. It was released in the U.S. in 2013.
I absolutely recommend this lovely film. Look for it on Netflix and Amazon Prime.