Facebook Watch series Strangers from filmmaker Mia Lidofsky finished up a second season with the lead character in a rather unsettled state. Season 2 of this warm and clever comedy series is longer and better than ever.
The lead character Isobel (Zoë Chao) is actually unsettled through all of season 2. If you recall from season 1, she was renting out her LA bedroom as an Airbnb space. In season 2, she and her best pal Cam (Meredith Hagner) moved to New York City.
In a clever reversal, Isobel struggles to make a living as a writer and rents different Airbnb spaces for herself to save on rent expenses. She's in a different place every week. This again allows Isobel to meet an interesting assortment of characters, most of them lovely people.
Isobel gets a day job in a children's entertainment company. There she meets Robbie (X Mayo) and Henry (John Hans Tester). They become friends. Henry spends a rather funny and unsuccessful night in Isobel's bed. They tried, but . . .
Check out this interesting interview with X Mayo.
Some of the wonderful guest stars who wander through episodes of season 2 include Sarita Choudhury, Tara Summers, Maria Dizzia, and Edward Akrout.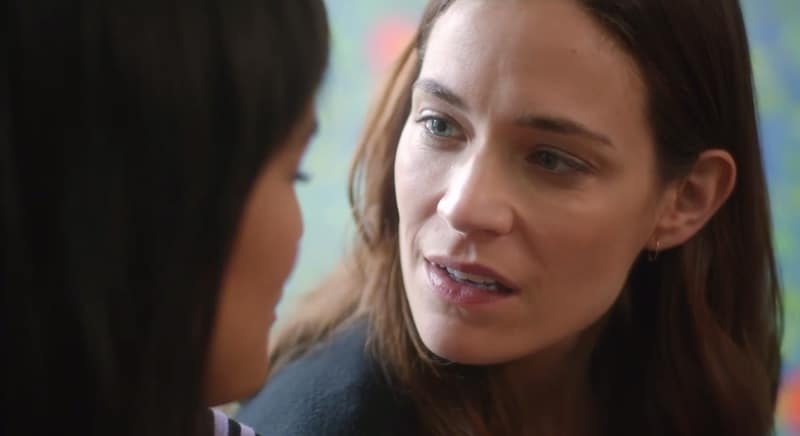 The most important new character this season is Mari (Kathleen Munroe). Isobel falls for her. Hard. Mari likes Isobel, too, but there are several complications in their relationship. Whether or not they can make it as a couple is uncertain, despite how much they feel for each other.
Strangers has a lot going for it. The lead character is Asian American, bisexual, and likeable as a new puppy. Zoë Chao is absolutely wonderful in this part. The rest of the cast is excellent as well. Strangers has a polished look and a diverse and skilled cast of players. It's definitely as good as anything you'll find on television.
Each of the Strangers episodes is under 30 minutes in length. Season 2 has 10 episodes. Get over to Facebook Watch and take a look now. Here's a video review of season 1 and a brief look at season 2.