Sweet Bean is also titled An (the Japanese name for bean paste) and Sweet Red Bean Paste. No matter what you call this Japanese film, Sweet Bean is a warm, loving film about three people and food.
Sentaro (Masatoshi Nagase) runs a small dorayaki shop. Dorayaki is two small pancakes with bean paste inside as a filling. His shop is visited by locals and high school girls, including the loner Wakana (Kyara Uchida). One day an elder woman Tokue (Kirin Kiki) shows up and asks about the part time job he's advertising. He turns her away.
Sentaro is using inferior commercial bean paste. Tokue returns the next day with her own bean paste, which is delicious. He is convinced by the bean paste to give her the job.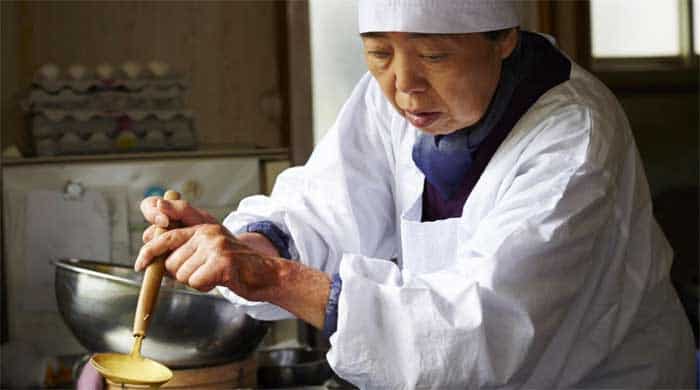 Tokue begins teaching Sentaro how to talk to the beans, hear their story, and listen to them tell when they are ready. She bases her cooking on the smell of the steam, the temperature of the rinse, the amount of sweetening, and maybe a bit of magic.
As Tokue and Sentaro are bonding over a copper pot of boiling beans, Tokue also befriends the young girl Wakana. The three become three generations united by a love of each other, nature, and good food. They share their painful pasts and their hopes for the future with each other.
When the cause of the deformity in Tokue's hands is discovered, she leaves the shop and business comes to a full stop. No one will buy from Sentaro now. It's an interesting exploration of the prejudices and historical treatment of certain illnesses among the Japanese, but I'm sure the story would be similar in many other places.
The film slows down toward the end with voice overs from Tokue sharing wisdom and love for Sentaro and Wakana. It winds its way through some sadness to an upbeat ending.
Written and directed by Naomi Kawase, Sweet Bean is artfully filmed with images of cherry blossoms, the moon, birds and other symbols of freedom, beauty and wisdom. The scenes inside the crowded dorayaki shop must have been technically difficult to manage, but they work well.
Kirin Kiki is wonderful as the wise elder. I'm trying to think of an actress more familiar to Americans with as much experience (Kiki has 116 credits on IMDB) who gets leading roles in her 70s. Maybe Judi Dench or Maggie Smith would compare. Kiki has a long list of awards and nominations for Best Actress and Best Supporting Actress – and I'm her latest fan.
The 2015 film is currently available on Netflix, Amazon Video, iTunes, YouTube, and Google Play.
Watch the Trailer for Sweet Bean