Tallulah is a fascinating character study of broken people and how they deal with their responsibilities and relationships. It features a neglected baby, a homeless woman, and a lonely writer.
With superb performances from Ellen Page and Allison Janney as well as Tammy Blanchard as the neglectful mom, we see these women turned inside out and opened up completely because of a toddler.
Tallulah (Ellen Page) lives in a van with her boyfriend Nico (Evan Jonigkeit). One day Nico takes off. He wants to go home to New York to see his mom.
Tallulah, or Lu as she calls herself, heads for NYC looking for Nico. She is stealing leftover food from trays in a hotel hallway when drunk Carolyn (Tammy Blanchard) pulls her into a room on the assumption that Lu works at the hotel.
A toddler wanders around naked, unattended. Carolyn gives Lu $100 to watch the baby for the night. When Carolyn returns, she passes out drunk on the bed, unable to watch her child. Lu takes the baby.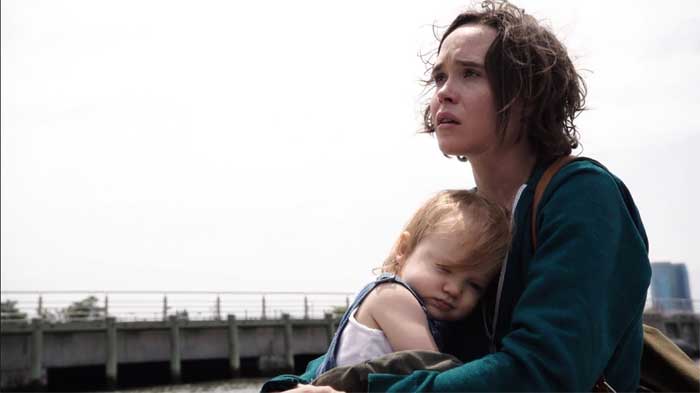 She tries keeping the baby in the van, but realizes she needs help. She goes to Nico's mom, Margo, (Allison Janney) and leads her to believe that the baby is her grandchild. Margo is a writer, famous for writing about marriage. Margo's own marriage is breaking up.
Margo lets Lu spend a few nights in her apartment. Margo describes Lu as "feral" and "raised by wolves." Lu is indeed that untamed and unschooled in the normal way of living. But she understands love. And freedom.
Carolyn wakes up to a missing baby and calls the police. David Zayas plays the detective. Uzo Aduba arrives as a cop from child protective services.
Margo, Lu, and the baby go to lunch with Margo's husband Steven (John Benjamin Hickey). He's trying to get Margo to sign divorce papers because he's now living with a man (Zachary Quinto). He does not buy the story that the toddler with Lu is his grandchild and asks Lu a lot of questions.
After lunch, the men see an article about the missing baby in the newspaper, along with a CCTV photo of Lu holding the baby in an elevator. They call the police.
A few days with the baby changes both Lu and Margo in stirring and powerful ways. Days without the baby also have an effect on Carolyn, the child's mother. The three principle women characters make emotional dives that go deep. The actors cast in these parts are perfectly chosen and flawless performers. I was particularly impressed by Tammy Blanchard's agonizing turn as the bad mother.
There are occasional moments of fantasy, when Lu or Margo imagine or dream themselves in some other magical reality. But in the end, they realize the reality they live in is worth grabbing.
In one of the fantasy scenes, Ellen Page dives into the water and the camera moves under the water as she swims. It looked exactly like that film where she sneaked into a pool with a boy – was that Juno with all the underwater scenes? Does Ellen Page have such an oeuvre now that one of her films can pay homage to another of her films?
Tallulah was written and directed by Sian Heder. It's her first full length feature film. I look forward to more of her work in the future. She has an insight into women's lives and stories that could make her a powerful cinematic voice.
I thought the film was excellent. Have you seen Tallulah? What did you think of it?